Table of contents

Introduction
There are many possible reasons why a business might be looking to change their current ad server. Generally, the main reasons would be that they require more advanced targeting capabilities, experience poor performance, require additional ad formats or better reporting, seek more cost-effective options, or need better integration with other platforms. If you are looking for an alternative to Admixer, or another ad server, then you are in the right place! There is no need to look any further for Admixer competitors. EXADS has the AdTech knowledge and flexibility to provide you with the ideal ad server for your business.
EXADS Solutions
EXADS assists advertisers, publishers, ad networks, and agencies in creating robust ad platforms that can be tailored to their specific needs. EXADS provides a comprehensive range of scalable ad tech solutions that enable you to expand your business at your desired rate and boost your revenue with the necessary tools and support.
Our teams have dedicated the last decade to developing one of the top-performing ad servers available in the market. EXADS suite of ad serving solutions, includes ad network infrastructure, publisher ad servers, as well as native, video, mobile, and email ad servers that support cross-channel and cross-device campaigns.
Additionally, our programmatic real-time bidding (RTB) integrations can aid publishers and advertisers in expanding their businesses, diversifying their offerings, and boosting their revenue.
EXADS Demand-Side Platform (DSP), enables advertisers to manage their campaigns, media library, and content, while automatically optimizing images, videos, and creatives. It is an all-in-one platform that allows advertisers to add all their programmatic supply and create direct deals with publishers, all from a single interface.
EXADS also offers a self-service, white-label solution for publishers seeking to sell directly to ad networks, exchanges and DSPs. Our Supply-Side Platform (SSP) can be tailored to your business requirements and within weeks you can start taking part in programmatic RTB auctions or header bidding.
Given that our clients represent a variety of industries with diverse needs, we recognize that a universal solution is not feasible. This is why we maintain a "Developers First" approach, making it very easy for clients to build their own ad platform based on our core modules, or add our APIs to their existing ad serving solution to increase performance.
Enhanced Features for an Improved Experience
To maintain a competitive level and increase the advertising revenue, businesses require an ad server that surpasses their competitors in terms of a wide range of features. At EXADS, we equip our clients with cutting-edge premium features that yield rapid, robust results across all channels, without any additional costs. Moreover, EXADS provides comprehensive documentation, expert guidance, and ongoing support to enable our clients to utilize our features to their full potential right from the start.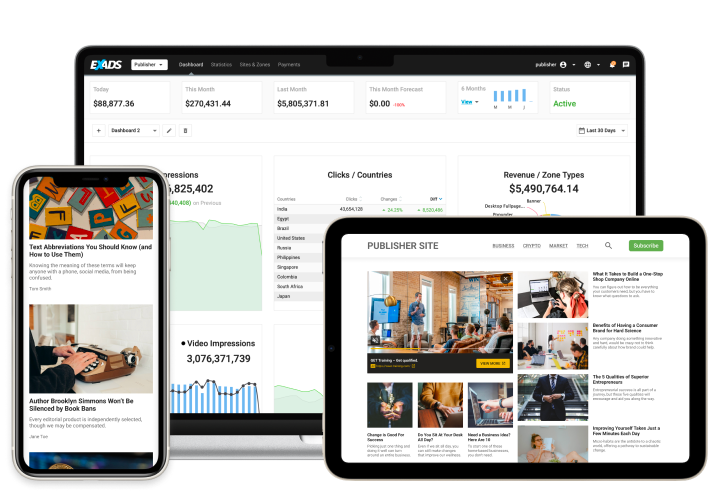 A Comprehensive Range of Ad Formats to Choose From
Our wide selection of ad formats is built to adhere to IAB industry standards and fully compliant with Chrome and the Better Ads Coalition. This ensures that our clients' ad campaigns are effective and reach their target audiences while maintaining a positive user experience.
Compared to Admixer, our list of ad formats is more extensive and includes a variety of formats that can help businesses reach their target audience in new and innovative ways. Amongst these, there are:
Instant Messages. These are non-intrusive ad formats that can be used to deliver short messages to users, such as promotional offers, reminders, or alerts.

Native Exit ads, which are designed to appear when a user is exiting a website.

Sticky Banners are a type of ad format that remains visible on the screen even when the user scrolls down the page.

Video Sliders, which can be used to display short videos in a non-intrusive way.

Email clicks, which can be used to deliver targeted messages directly to a user's inbox.
With EXADS' Media Library your advertisers can store all their ad creatives in a centralized location for easy access and management. It facilitates the reuse of ad creatives, saving them time and effort when creating new campaigns.
Precision Targeting
Impactful targeting translates into higher ROI for both Advertisers and Publishers, while providing a better experience for the targeted audiences. At EXADS we provide unrivaled targeting options that help achieve a better message reception, better engagement, and higher conversion rates.
EXADS provides the ability to reach highly specific audiences through a range of targeting options, including mobile carrier, sites and sub-ID targeting, features that are not available with Admixer.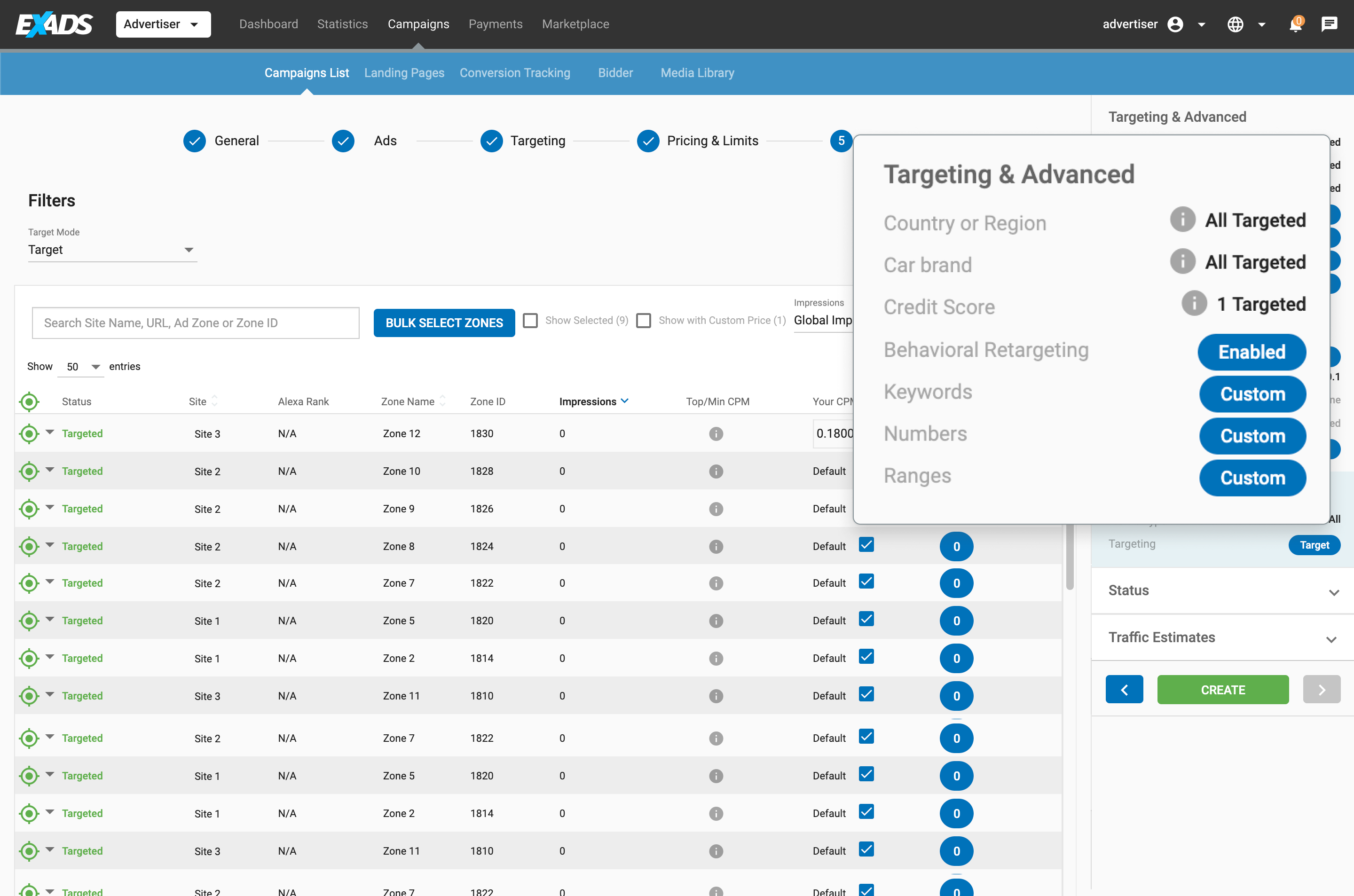 Our Custom Targeting settings enable the serving of ads to precisely defined audiences based on first-party data. This level of targeting is particularly powerful because it allows targeting audiences with messaging that is relevant and personalized. By leveraging data such as customer behavior, purchase history, and demographics, advertisers can create highly targeted campaigns that are more likely to resonate with their desired audience.Our targeting options don't stop there, as we also offer language targeting, time-scheduling, behavioral retargeting, and much more.
Unlock Your Data Potential: Discover Powerful Analytics
In digital advertising, optimizations are crucial for achieving success. Accessing reliable real-time analytics and intelligent data analysis is essential to determine which optimizations to implement.
EXADS offers the flexibility for users to create unlimited customized dashboards that cater to their specific needs. The dashboards are designed to be easy to navigate and provide real-time updates, allowing users to make data-driven decisions quickly and effectively.
EXADS takes pride in offering comprehensive and detailed insights to its clients through powerful analytics tools. With access to data from over 25 dimensions, 50 metrics, and 25 filters, our clients can customize their reports to gain valuable insights into their advertising performance. In comparison, Admixer only offers 6 dimensions, limiting the range of data available to its clients.
Furthermore, the filter sets can be saved for future use, and the required reports can be easily accessed from the "Saved Reports" tab. The reports can also be copied or downloaded to be shared with others as needed.
By providing access to a wide range of data dimensions, metrics, and filters, EXADS ensures that its clients have the ability to deeply analyze their advertising performance and optimize for maximum impact. Our powerful analytics tools allow for a granular view of advertising performance, enabling our clients to make data-driven decisions with confidence.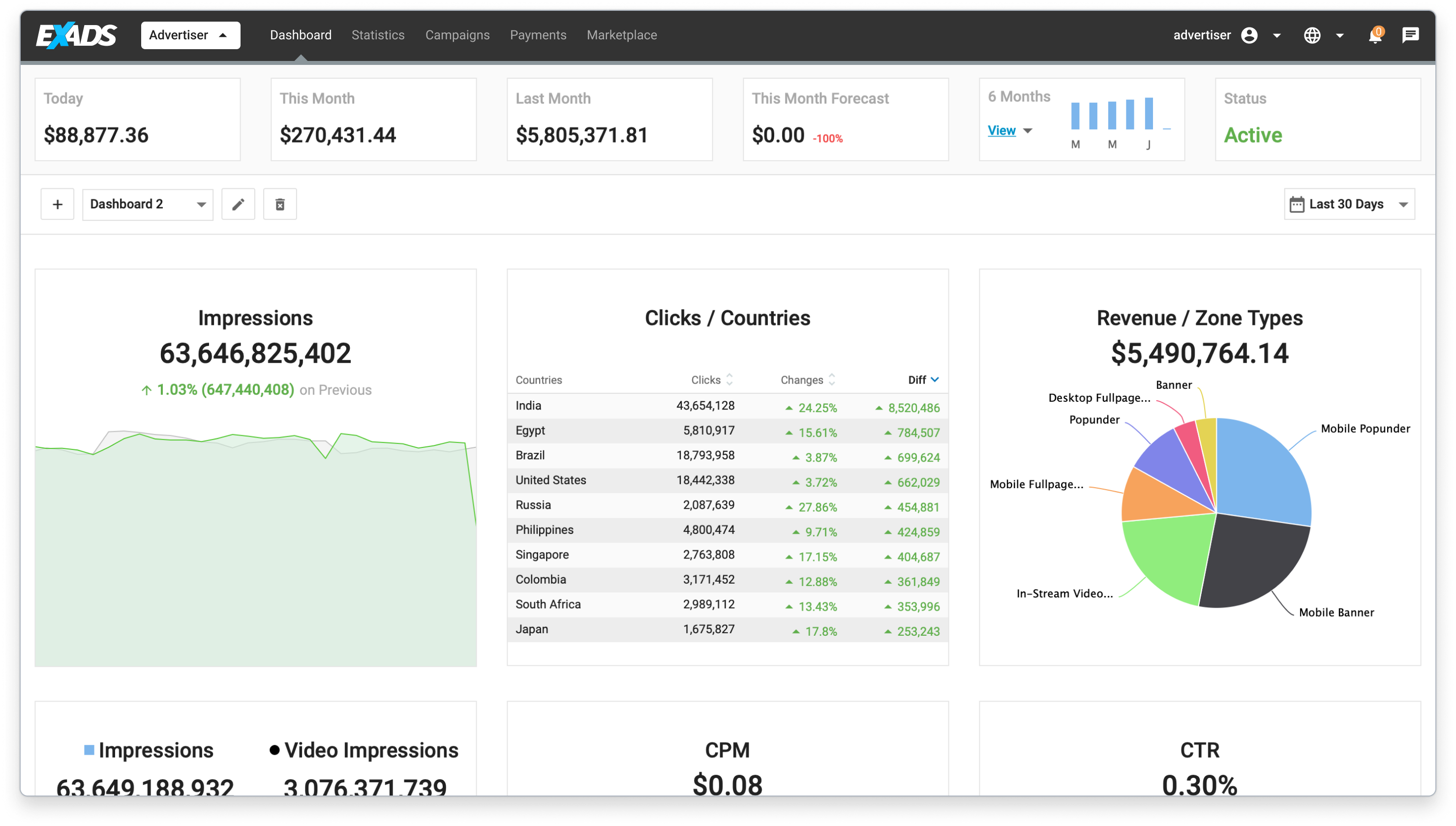 Effortlessly Boost Your Ad Performance with Automatic Optimizations
With our automatic optimizations, you can sit back and relax while our algorithms work hard to maximize your ad performance.
EXADS Bidder is an optimization feature that adjusts the advertiser's bid for ad zones based on the number of conversions received while blocking those that do not convert. Our Bidder case study is a great example of how this feature works. Users can also utilize rules to automatically block under-performing browsers, countries, devices, languages, mobile carriers, operating systems, sites, and zones based on the criteria set within the Bidding Algorithm. The algorithm allows for unlimited additional rules to further fine-tune the automation process.
In addition to optimizing bids, EXADS also offers tools to optimize Ad Variations and Landing Pages, allowing advertisers to choose from multiple traffic distribution algorithms. This ensures that the top-performing landing page or ad variation always receives the majority of traffic.
Flexible Pricing Models to Fit Your Advertising Needs
The pricing models available when using EXADS cater to the diverse needs of the ad serving industry. The available models cover the entire spectrum, including CPA, CPC, CPM, and in contrast to Admixer, also:
Dynamic CPA, which is used when attributing different values to different actions.

CPV (Cost per View), which means that the cost is triggered when ten seconds of the video ad are displayed to the site visitor at normal speed.

Smart CPM, which allows you to bid for impressions at the best price possible.
In addition to these, the latest addition to our range is the Smart Bid pricing model, based on machine learning. This new optimization feature helps Advertisers to automatically determine an optimal bid for their campaigns by analyzing campaign data.
Whether you are looking to optimize for conversions, clicks, views, or a combination of these, we have the right pricing model to meet your specific requirements. You can find out more about our pricing models and see EXADS' recommendations in our pricing documentation.
EXADS Responds to Your Needs and Delivers Solutions
When compared to other ad servers, EXADS stands out as the only ad server that incorporates all its premium features into its offering, from the start, and without additional costs. Also, we pride ourselves with some of the best Analytics tools in the market and very competitive targeting options.
We actively listen to our clients' feedback and incorporate it into our product roadmap to deliver the best possible ad serving solutions. Our goal is to make our clients' lives easier and increase their ROI within weeks of establishing an ad server solution with us.
If you are looking for a better alternative to AdMixer or another ad server, EXADS is the solution for you. Book a demo today and let us show you how we can build your ideal ad serving solution!