Table of Contents:
Opting for an ad server that aligns seamlessly with your business requirements demands careful consideration and evaluation. With the multitude of choices available, the task of identifying the ideal ad server becomes pivotal to meeting your distinct needs. This article delves into the importance of selecting a high-performing ad server and presents EXADS as the ultimate alternative to GoAdserver.
The Importance of Choosing a Performant Ad Server
Before diving into the advantages of EXADS over GoAdserver, let's first understand why selecting the right ad server is essential. An ad server acts as the backbone of your advertising business, facilitating the delivery, tracking, and optimization of your advertising activities across various channels and platforms.
A reliable ad server can significantly impact your advertising performance and this is why it is important to have some key capabilities:
Ability to customize the ad server as you require

Scalable technology that allows you to streamline your operations

Self-service technology

that helps you reduce costs and be efficient

Full visibility and transparency on how your advertising is performing

Easy integrations with 3rd party systems, demand and supply sources

Ability to protect your brand, audiences, and clients

A platform that allows you to manage all your clients and business from one interface

Support and guidance to effectively make use of all capabilities
Why EXADS is the Best GoAdserver Alternative
Extensive Ad Formats
While GoAdserver offers several ad formats, EXADS takes it to the next level by supporting DOOH (Digital Out of Home), Instant Message, Native exit, out-stream video, sticky banner, video banner, and video slider formats. This diverse range of ad formats enables advertisers to create engaging and interactive ad experiences, leading to better engagement and conversion rates.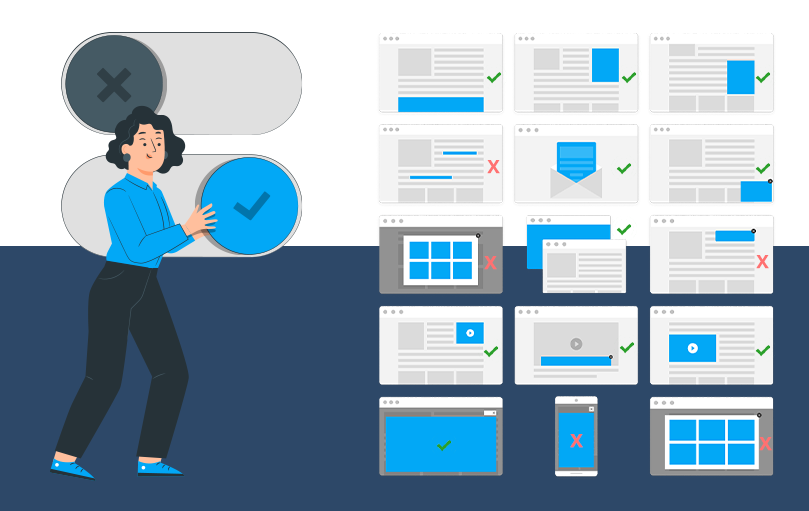 EXADS also offers two very competitive and performant tools: Responsive Display Ads (RDA) and Multi-Format Ads. Similar to Google Ads, with EXADS, RDAs are created automatically from an advertiser's uploaded assets - images and texts (title, description, and brand). Additionally, with EXADS businesses can access all the benefits of sponsored listings such as sponsored products, sponsored search, sponsored brands
Automatic Optimizations
EXADS goes beyond basic ad serving capabilities and offers automatic optimizations for landing pages and ad variations. The inclusion of the bidder and Smart Bid enables the platform to optimize bids and maximize ad performance, ultimately improving ROI and driving better campaign results.
Extensive Targeting Options
EXADS provides a more comprehensive array of targeting options than GoAdserver. Advertisers can take advantage of domain, mobile carrier, site, sub-IDs, contextual targeting, and behavioral retargeting options, allowing them to target specific audiences and segments with precision.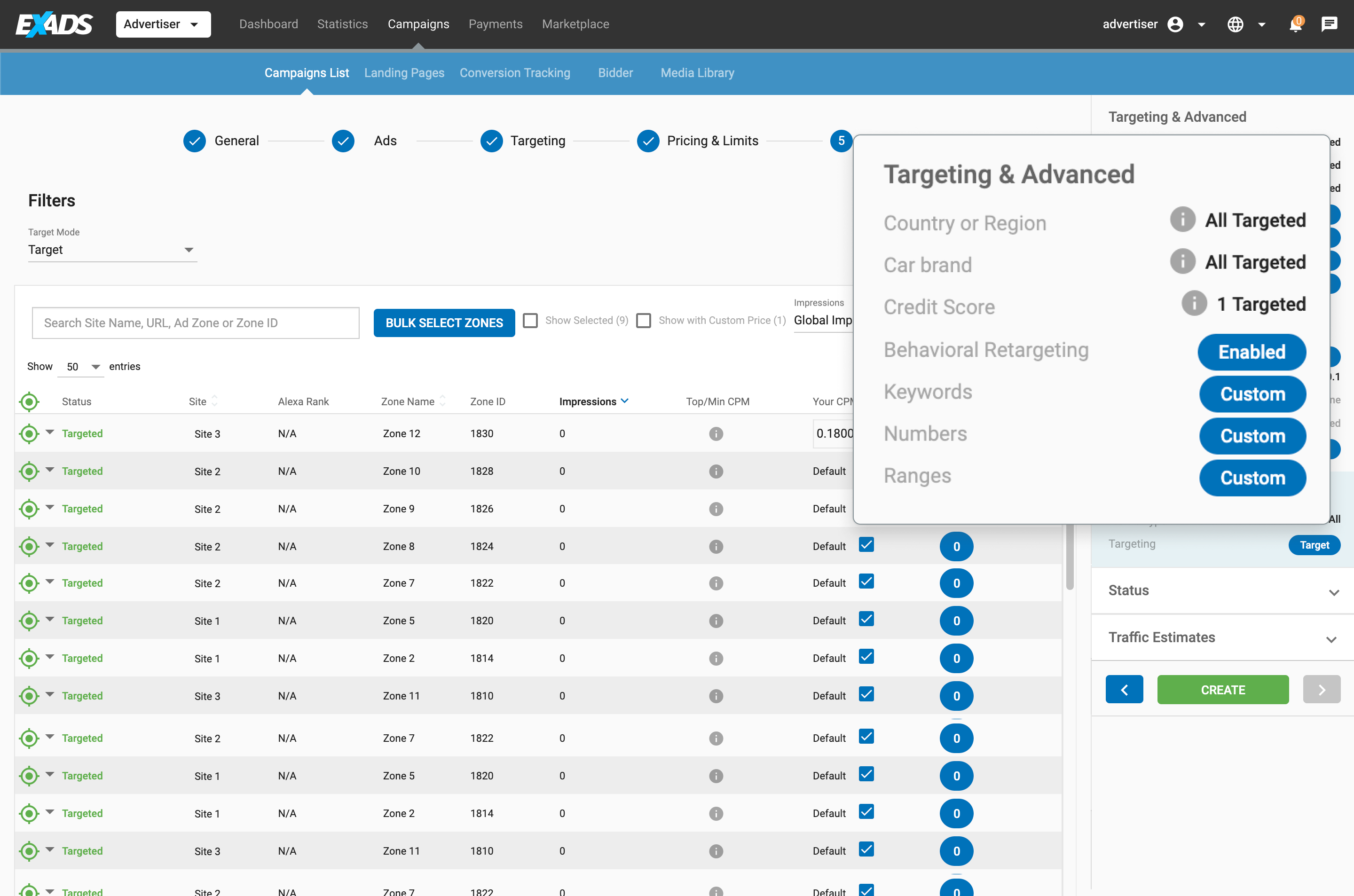 Furthermore, with EXADS, businesses can harness the full potential of their first-party data, fostering the creation of highly personalized and seamlessly integrated advertising experiences for their audiences. This feature helps to improve customer engagement and brand loyalty through tailored interactions that are devoid of disruptions. For advertisers, the ability to use first-party data for targeting yields substantial benefits that can significantly enhance campaign outcomes through precision, personalization, relevance, optimized ad spending, and reduced ad fatigue.
Analytics Superiority
When it comes to analytics, EXADS emerges as the clear winner. The platform offers customizable dashboards, custom reports, and intelligent data analysis with over 50 Metrics and 25 Dimensions and filters. These advanced analytics capabilities provide advertisers with deeper insights into their campaigns, enabling data-driven decision-making and improved campaign performance.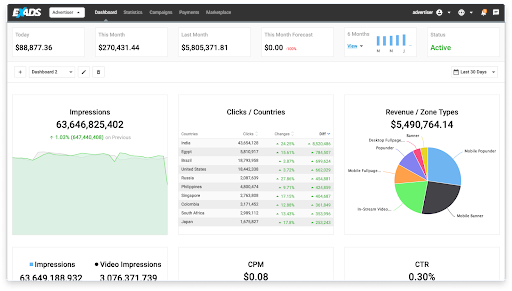 Access to APIs
As our clients come from various industries with very different requirements, we know that there can't be a "one size fits all" solution. Consequently, EXADS maintains an unwavering commitment to a "Developers First" ethos. This approach streamlines the process for clients to build their bespoke ad platforms leveraging our full range of APIs, which include Statistics API, Ad Placement API, Admin Panel API, and Automation API. This comprehensive suite provides the necessary toolkit to construct tailored solutions, further augmented by the dedicated expertise and support of the EXADS team.
Comprehensive Malvertising Protection
Malvertising poses a significant threat to advertisers, potentially damaging brand reputation and exposing users to harmful content. Unfortunately, GoAdserver lacks malvertising protection, leaving advertisers vulnerable to such risks. In contrast, EXADS boasts robust malvertising protection mechanisms, safeguarding your brand and users from malicious advertisements.
Advanced Documentation and Support
EXADS outshines GoAdserver in terms of documentation and support. EXADS is dedicated to ensuring clients can leverage the full potential of its capabilities to the maximum extent. This dedication is evident in the provision of 24/7 support and attentive care both pre- and post-launch, all without any added charges. A team of seasoned experts is on hand to address any inquiries that may arise. Moreover, EXADS maintains up-to-date general and advanced documentation that is readily available to all clients, underlining the commitment to providing comprehensive resources for optimal utilization.
Conclusion
Selecting the right ad server is an important investment for any business that wants to monetize its digital properties, as it can significantly impact its success. In this regard, EXADS shines as the best alternative to GoAdserver, providing a wide array of benefits that surpass its competitor. From robust malvertising protection to extensive ad formats, automatic optimizations, and unparalleled targeting options and analytics, EXADS empowers its clients to take full control of their digital advertising. So, if you're on the lookout for an ad server that truly delivers results, contact EXADS today and start your journey to exceptional advertising experiences.