Table of Contents:
According to Grand View Research, the global Ad Tech market size was valued at $886.19 billion in 2022
and is expected to expand at a compound annual growth rate (CAGR) of 13.7% from 2023 to 2030. But what is Ad Tech? If you are relatively new to this ever-growing industry or want to become a part of these winning numbers, you have come to the right place. Continue reading to gain valuable insights on the basics of Ad Tech, and learn useful information to make decisions that will help your advertising business.
What is Ad Tech?
Buying and selling online ads has become increasingly complex, and Ad Tech answers the need to streamline this process. The term "Ad Tech" is short for advertising technology, and it is the umbrella term for the software and tools used by agencies and brands to target, deliver, and measure their digital advertising campaigns.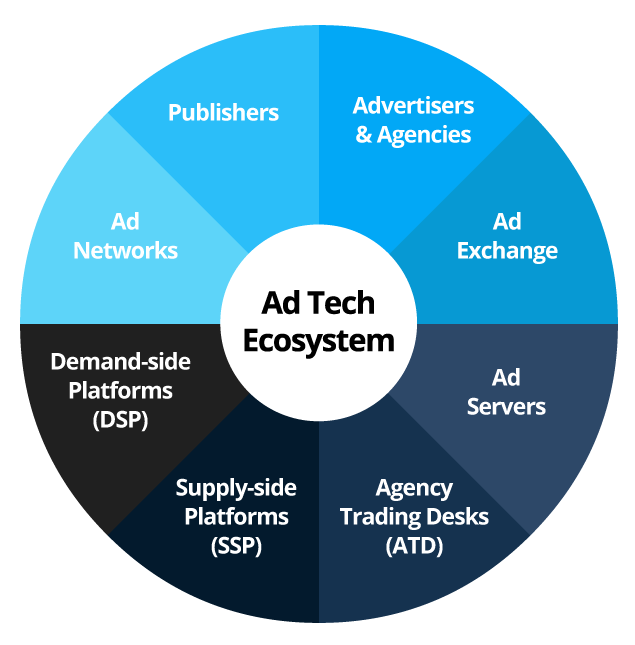 The Main 3 Benefits of Ad Tech
Best use of ad spend:

Ad Tech empowers Advertisers and agencies to effectively deliver tailored content to specific target audiences by leveraging first and third-party data. This ensures that advertisements effectively reach engaged individuals who are potentially interested in the product, service, or content being promoted. Adtech enables brands to maximize the value of their budgets, surpassing the limitations of traditional media buying and display approaches, which lack the same level of control over inventory and ad placement.

Operational efficiency of campaigns:

Ad Tech revolutionizes the planning and evaluation of advertising campaigns, enabling Advertisers and agencies to operate with enhanced efficiency and effectiveness. Ad Technology tools, including Ad Servers, offer a comprehensive overview of ad campaigns, granting access to valuable insights into ad placement and performance. This streamlined approach boosts productivity and saves time throughout the ad planning and purchasing phases.

Information throughout the marketing funnel:

Ad Tech revolutionizes advertising by enabling brands to convey their narratives through diverse and customized approaches, tailored to consumers' positions within the marketing funnel. These platforms empower brands with exclusive insights, allowing them to fine-tune their strategies for targeting audiences at various stages of the purchasing process. This includes effectively re-engaging with audiences who have demonstrated prior interest in their products or services with retargeting campaigns.
The two distinct parties involved in the process of buying and selling Ad inventory through Ad Tech platforms are the digital Publishers and online Advertisers. Advertisers fall into the demand side, and Publishers fall into the supply side. Let's take a look at how it works.
Demand and Supply: How does Ad Tech work for Publishers and Advertisers?
The main purpose of Ad Tech platforms is to act as a medium between Advertisers and Publishers, ensuring seamless media trading deals that are profitable for both parties, allowing Advertisers to maximize their return on investment (ROI), and Publishers to maximize their ad revenues:
Demand side - Advertiser Brands: Advertisers search for the most efficient strategy to reach their target audience at the best possible price. Typically, this is accomplished by implementing and continuously optimizing programmatic campaigns, through targeted ads and retargeting efforts aimed at potential clients. Ad Tech solutions play a crucial role in enabling Advertisers to develop a comprehensive marketing strategy that encompasses the entire customer journey using programmatic software that enables them to reach their audience with efficient targeting tools, measuring performance, testing, and optimizing to achieve impressive results.
Supply-side - Digital Publishers: Publishers strive to generate income from their digital assets by displaying advertisements on various ad placements on their website while optimizing metrics on user engagement and other relevant data. To accomplish these objectives, they must configure their inventory to meet the demands of the demand side. Ad Tech comes to the rescue, enabling Publishers to efficiently manage inventory monetization and monitor all essential assets in real-time, maximize revenues, and gather useful audience insights to optimize their business strategies, all in a single unified interface.
Now, let's look at a few Ad Tech tools and platforms:
Which Ad Tech platforms can Publishers and Advertisers use?
Ad Tech includes various tools and tech platforms, such as Demand Side Platforms (DSP), Supply Side Platforms (SSP), Ad Servers of different kinds, and Ad Networks. Let's take a look at each of these technologies:
Demand Side Platform (DSP): A DSP (Demand-Side Platform) is a technology platform that enables Advertisers to purchase and manage digital ad inventory from multiple ad exchanges and Publishers through a single interface. It allows advertisers to target specific audiences and optimize their ad campaigns in real-time, based on data and analytics. DSPs are commonly used in programmatic advertising, where ads are purchased and placed automatically through algorithms and bidding processes, instead of being negotiated and placed manually.

Supply Side Platform (SSP): A Supply Side Platform (SSP) is a programmatic advertising platform that allows Publishers and digital media owners to manage and automate the selling of their ad inventory. The SSP is an essential part of the Real-Time Bidding (RTB) process and it helps Publishers connect simultaneously to multiple ad exchanges, ad networks, and DSPs. Publishers are guaranteed the best returns by offering their ad inventory to a multitude of demand sources.
Ad Network Server: An ad network server is a technology platform that connects and matches the ad supply from publishers with the demand coming from advertisers. It is a sales intermediary between supply and demand allowing for easy traffic monetization and increased reach. Having robust ad technology means that businesses can focus on expanding their advertiser and publisher client base.
Affiliate Ad Platform: Affiliate Ad Platforms allow businesses to create and manage affiliate programs and integrate with other systems such as e-commerce platforms. Some of the features offered include the registration and management of affiliates, tracking, and reporting, The ideal Affiliate Ad Platform saves time and costs by automatizing processes and can be customized to specific verticals.
Publisher Ad Server: The Publisher Ad Server emerges as an ideal solution for digital property owners amidst the decline of third-party cookies and the desire for full control over their advertising operations. With prominent Publishers emphasizing direct deals, premium content providers forming alliances to enhance their offerings, and retail media networks showcasing their ad revenue capabilities, this is the moment for Publisher Ad Servers to thrive.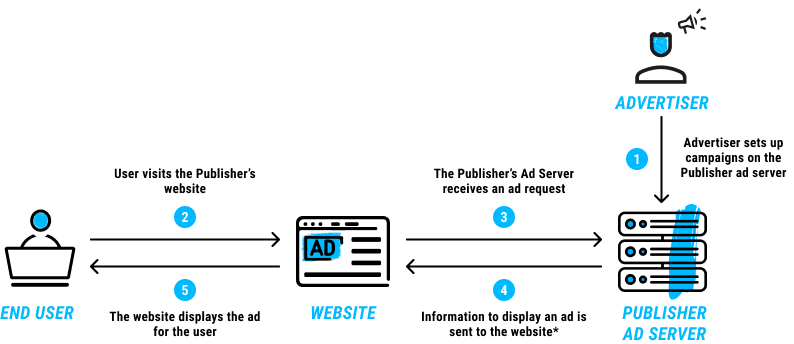 Email Ad Server: Great Email Ad Servers help Advertisers serve highly targeted and personalized ads to maximize email advertising revenues. They tend to work with all major email marketing platforms, can be set up quickly, and have an intuitive user interface.
Mobile & Apps Ad Server: Mobile Ad Servers are devoted to mobile advertising and give Advertisers access to a huge range of mobile ad formats to help them deliver highly targeted campaigns to popular app verticals such as Gaming, Social, Utility, and Entertainment.
Native Ad Server: Native Ad Servers enable the automation of native ad supply chain so that Advertisers can focus on your campaign's strategy, helping them achieve higher CTRs and higher revenues on all platforms including desktop, mobile, social, and apps.
Video Ad Server: The value of video ads continues to increase, creating new conversion opportunities to achieve high revenues. Video Ad Servers typically support VAST, VPAID, and VMAP and come with all the features that are needed to take full control of video campaigns.
Ad Serving with EXADS
EXADS' Ad Serving platform is a SaaS (Software as a Service) solution that is available to any company that requires an Ad Serving platform. It is also White Label, which means that you can brand the UI of the Ad Serving platform with your brand's logo and colors, as well as owning your unique domain for ad serving. Here are the main 5 benefits of using EXADS' Ad Serving platform:
Save money and time:

EXADS' Ad Server is highly attractive due to its cost-saving potential in the short, medium, and long term. Creating an Ad Server from scratch is both time and money-consuming, requiring a substantial budget, a competitive search for skilled developers, and significant time for development, testing, optimization, and bug fixing, leading to extended timelines. Using EXADS' Ad Server, your Publisher and Advertiser clients can start selling and buying ad space straight away.

Lots of features available to you and your clients:

From the get-go, both the Ad Serving business and their Publisher and Advertiser clients can access a range of

powerful features without any additional cost

. Some of these features are Ad Block Recovery, Advanced Targeting tools, Statistics, Payment Support, Malvertising Protection, Pricing Models, Programmatic and RTB Support, and Self-Service.

All these features are customizable:

EXADS's White Label Ad Server can not only be customized to Ad Serving businesses' needs but also enables them to offer their Publisher and Advertiser clients lots of customization options. For instance, maybe one of your clients only requires a specific ad format or targeting features - You can simply select the option that your client requires from a large range of targeting solutions and ad formats. Equally, these selected features can also be even further customized and tailored to fit their needs.

Technical and business support: The EXADS platform offers a dedicated tech and customer success team who can help you with any technical issues and give you tried and tested advice on how to maximize the potential of every feature the SaaS platform has. This makes a wealth of knowledge available to you to help you make the right decisions from both a technical and a business standpoint so that you can educate your clients on how to get the most from all the features your Ad Server has to offer, giving you the confidence to market your platform to your target audience.
Further customization with APIs:

You can customize even further by integrating an API. Your businesses can make full use of the power of an API that can be tailored to your needs. The API integration can be customized for all aspects of the Ad Serving process. For instance, the API can be customized to allow automation of certain aspects within your Admin Panel:
Advertiser clients can automate:

Campaigns/groups, variations, offers, ad formats

Targeting/blocking of targeting options, categories

Goals

Pull stats including Adblock user data

Daily budget, account funding, payment types

Landing page name, URL & traffic share algorithm

Publisher clients can automate:

Ad formats and ad zones

Sites, URL verifications

Block ad type & product categories

Pull all stats including Adblock user data

Bidding prices per ad format/GEO, pricing models

Payment types
Conclusion
With Ad Tech providers such as EXADS, it is now quick and easy to build your ad platform, customize it and brand it the way you need, for your business and your Publisher and Advertiser clients. This enables you to launch in a shorter amount of time and saves you money and resources, allowing you to focus on other pressing business needs. If you want more information about EXADS' Ad Serving services, get in touch with us now!