Table of contents
What is a Publisher ad server?
The Publisher ad server is the digital property owner's perfect solution for third party cookie deprecation and for taking complete control over their advertising business. When major publishers are increasingly focusing on direct deals, premium content providers are getting together to strengthen their offering, and retail media networks are showing their ad revenue capabilities, there has never been a better time for publisher ad servers.
To start with, we should clarify what we refer to as a Publisher in this context. A Publisher is a company that owns one or more digital properties with high traffic and therefore is a good candidate for generating advertising revenue. These companies can be from various industries, as we show further down in this article: media, retail, travel, streaming services, etc.
Publisher ad server definition
The Publisher ad server is a self-serve platform that allows its owner to create an enclosed ecosystem, over which they can have full control. Advertisers can create their own accounts on this platform, and access the publisher's inventory based on the criteria set by the latter.
This type ad serving platforms are sometimes referred to as "walled gardens" and in a previous blog post we looked at the biggest players in the field, like Facebook and Google and showed how the trend was continuing.
Examples of ad servers for publishers
Let's look at some examples from various industries like retail and media. These companies have opened the path for businesses in making the best use of the data and audiences they have.
Walmart
In retail, one of the major publishers who is using such an ad serving platform is Walmart: "By using our resources to create more meaningful connections between our customers & advertising partners, we're expanding & enriching our ecosystem for everyone's benefit." (Walmart)
The Walmart Ad Center is an easy to navigate self service platform, that offers opportunities to do Display Ads or Sponsored Search: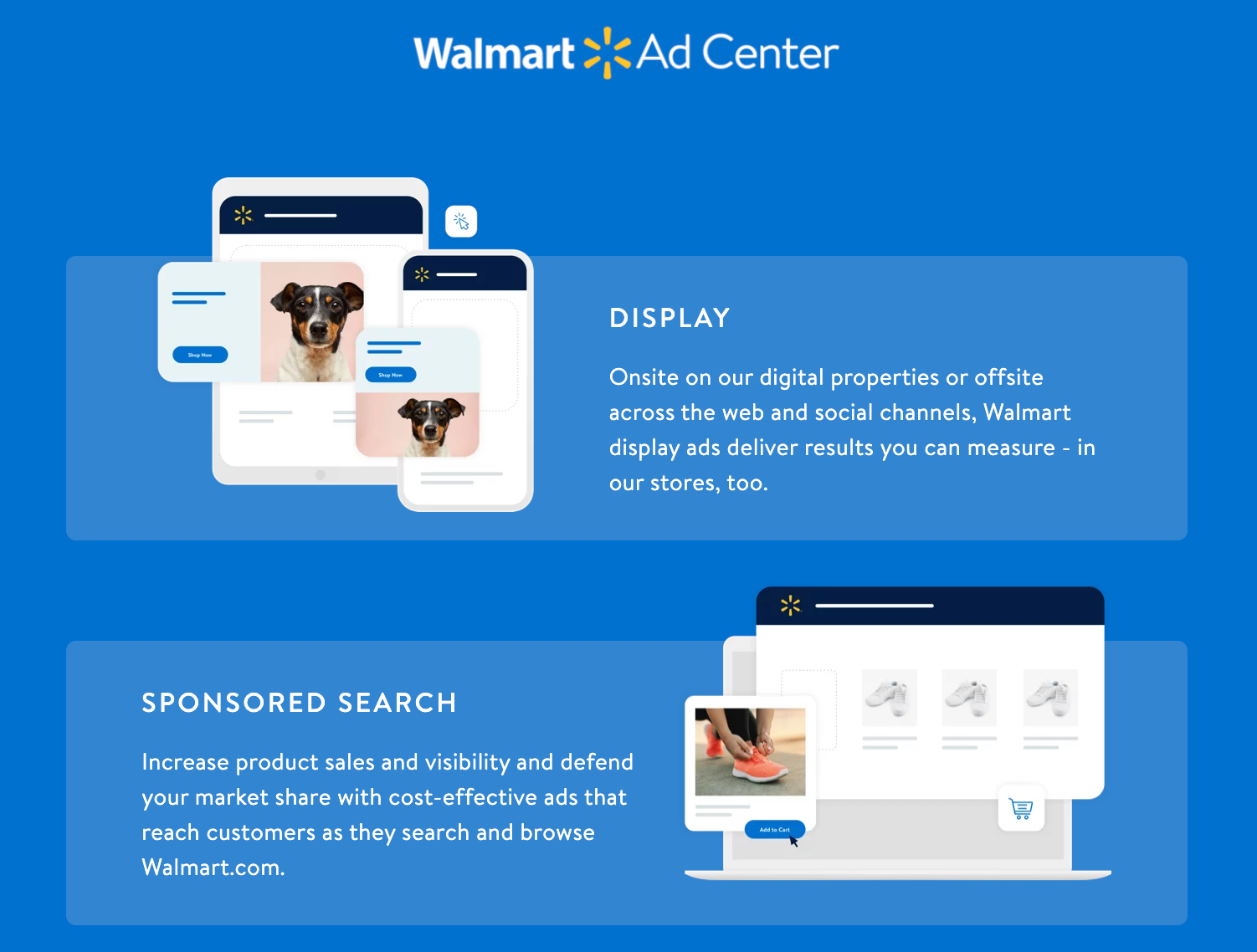 Amazon
Amazon Ads, is Amazon's own self-serve ad platform. It has been a household name for a long time now, and is almost on a par with advertising players such as Facebook and Google. Through its own ad server, Amazon generated 26 billion US dollars in 2021, 37.7 billion in 2022 and is expected to reach 85 billion in 2026 in revenue from advertising sales worldwide.
Amazon's share of digital advertising revenue worldwide from 2020 to 2026: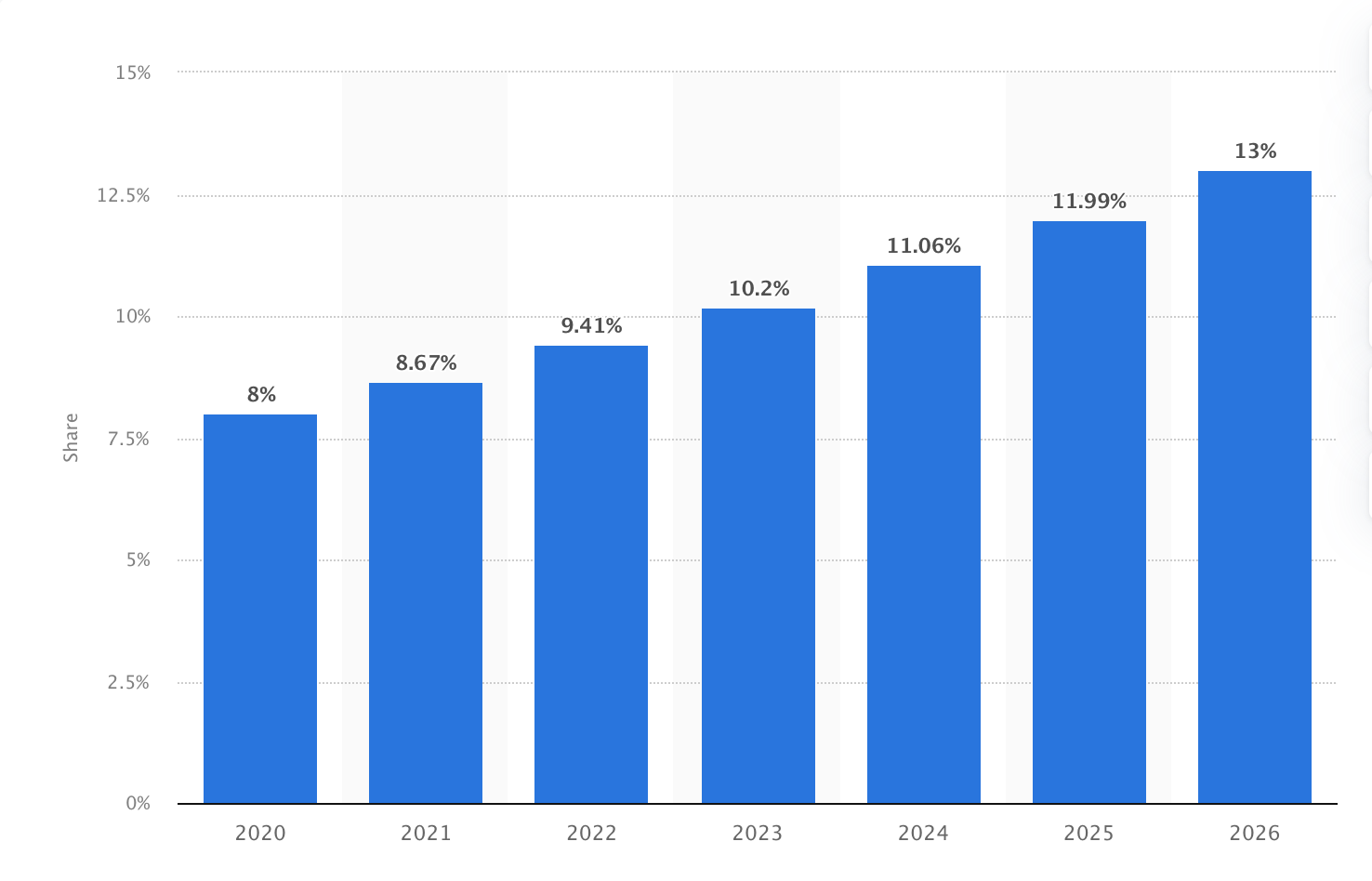 Source: Statista 2023.
Hulu and Netflix
In the media industry, big publishers such as Hulu, have launched their own ad manager, a self-service advertising platform for streaming TV. In this way, they gave access to small and local businesses to advertise potentially next to big brands, for a minimum budget of $500.

Netflix has also been at the top of all news sites since launching its ad supported model, through the use of a third party ad tech provider. The step was taken in order to mitigate the loss of subscribers and provide a new revenue stream for a company that holds an immense amount of data on its users. It has been reported that the company is charging $65 for each 1,000 users reached.
New York Times
For household names such as the New York Times, having their own advertising platform means that they can give access to businesses of all sizes to have their ads displayed on their digital properties, without compromising on quality. Offering bespoke formats for ad placements, the New York Times ensures a cohesive structure and user experience.
The list of examples could go on, and there are new players taking inspiration from these trail blazers. One of these newcomers is the American City Business Journals. The media company has spread its resources across 40 publications, so having their own self-serve advertising platform would free up those teams while maintaining their advertising revenues.
How a publisher ad server works
Traditionally, publishing companies would have sales teams who would be closing direct deals with advertisers. As this process was very manual, tedious, and very often overlooked the potential of small advertisers, they started to look at alternatives to automate the process. This is where the Publisher Ad Server came into play.
Publishers can build their own platform, or they can take a quicker and more efficient route, and use a third party hosted ad server, that is white-label, has self-serve capabilities and can be customized to their unique requirements.
The Publisher ad server acts like an interface between the publisher's properties and the advertiser. Access to the ad server can be made public, so that any business can create an account on the platform, or can be on an invite-only basis. The publisher is the one that defines the entry requirements for all advertisers.
After they set up their accounts, advertisers can create their campaigns, define their targeting and upload their creatives following the options made available to them by the publishers. Depending on the publisher, advertisers would have various other setup options like conversion tracking, bidding and auction options, automations, minimum budgets, etc.
Once all the steps required are completed, and the ads have been approved, the campaign goes live. The advertisers can monitor their progress and performance to optimize as they go along, with the help of real-time reporting.
Diagram of how a Publisher ad server works: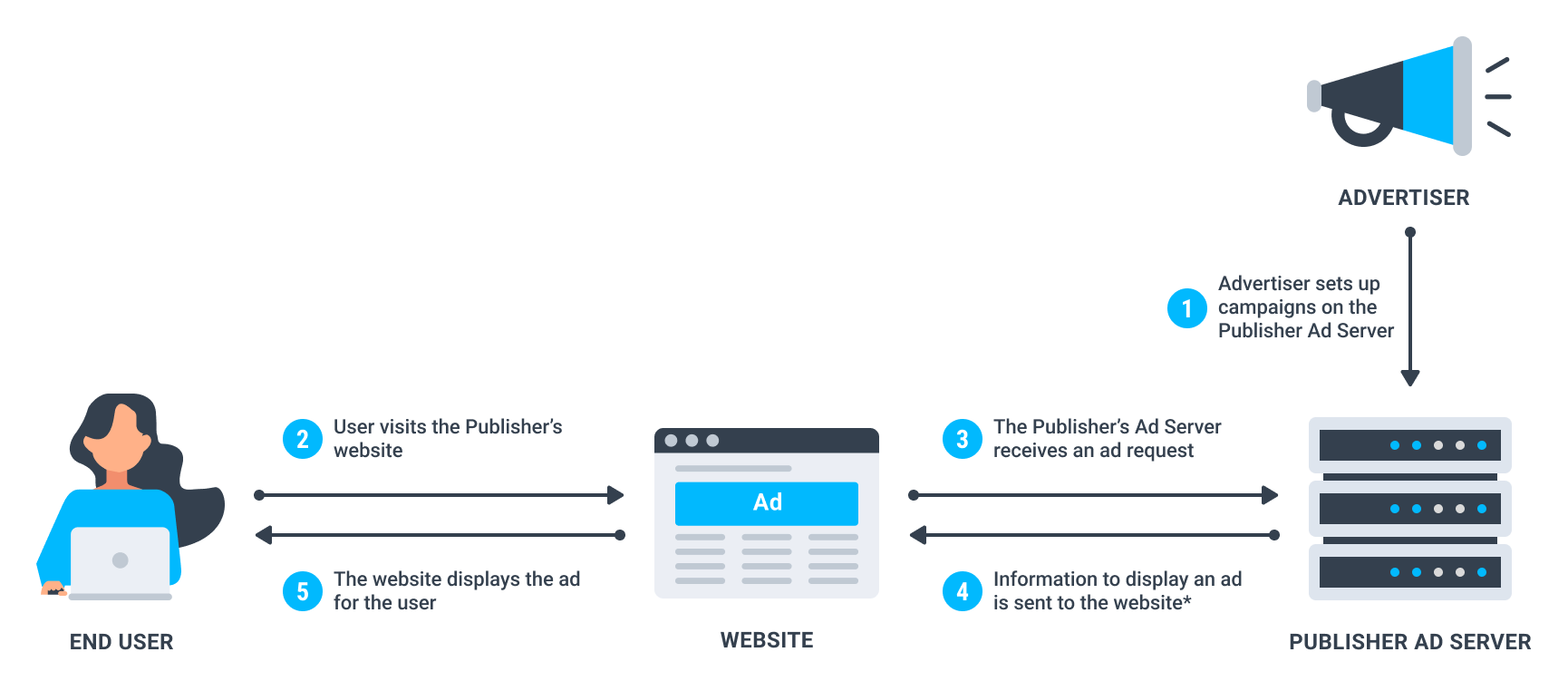 * Based on information passed through on the ad request and qualifying campaigns on the ad server side, information to display an ad is sent to the website.
Benefits of Publisher ad servers
Freeing resources:

Having a self-serve ad platform, means that entire teams of sales and media planning can be freed up to undertake other projects. Publishers might want for their teams to focus on big partnerships, rather than spending time on smaller and less profitable deals.

Customization:

These platforms are customized to match the branding and values of the publisher. Moreover, all the options available inside the platform are made to suit their requirements: campaign creation, targeting, ad formats, additional options available.

Use of First Party Data:

Publishers have a wealth of data about their audiences (provided consent was given for this to be utilized), which can be then imparted to all their advertisers to allow for accurate targeting and retargeting.

Complete control: This type of

self-serve platform, puts the digital property owner in full control of its advertising business. Everything that happens on the platform is monitored by the owner who has the power to change anything on the platform itself, set its rules and reject anything that goes against their business model.

Pricing authority:

The Publisher also has complete authority over the minimum budget that an advertiser must have in order to join their network, as well as the pricing for all their ad inventory. They can also decide on the type of pricing models that they offer and bidding options.

Brand protection:

Ultimately, it is the platform owner who can approve or reject an advertiser, or their ads. By having verification methods in place, the publisher's brand can protect itself from any unwanted malware, or fraud.

Brand coherence:

By having strict selection criteria in place for advertisers, their campaigns, creatives and a well defined targeting process, the publisher can ensure that their brand maintains its coherence and relevance in front of their audiences.

Autonomy:

Having your own independent platform where you can be in charge of revenues and what technology is used, means that you have the autonomy to make all decisions. You can follow trends or not, you can implement changes as you see fit. You have no big tech companies pressuring you.
Why choose a third party provider?
The answer is really simple. A third party ad tech provider like EXADS enables publishers to launch their ad server quickly, saving time and money. EXADS's white label ad server for publishers can be customized to mirror your requirements and your brand. As a hosted solution, EXADS will always ensure that your self-serve platform reflects the latest software updates to keep your business aligned with market forces and the business needs of your advertising clients. This will also save you time and resources in the future.
By choosing a third party ad server, you will not need to go through the process of building everything from scratch. You will not need to hire your own team of developers, and worry about the platform's maintenance. Your focus will be only on getting advertisers ready to join your advertising platform! EXADS provides the industry leading technology you need, so you can concentrate on biz dev, sales and revenue growth.
Of course, there are some essential factors that you need to consider before choosing the best publisher ad server for your advertising business. Below, we will look at how EXADS can offer you a comprehensive solution.
EXADS Publisher ad server
The flexibility of EXADS ad serving technology means that it is really easy to have your own Publisher Ad Server. Let's see some of the key features from an extensive list, that can make your ad platform stand out!
Self-service technology
Having a self-serve ad platform enables the owner of the platform, in this case the Publisher, to allow Advertisers to create accounts for themselves, set up campaigns, payments, etc., quickly and without help. This is also possible due to an intuitive user interface and exceptional UX design. Furthermore, advertisers are then able to monitor statistics in real-time from customizable dashboards in order to optimize campaigns and increase revenue opportunities.
Complete range of ad formats
You can choose the formats that best suit your digital properties from our vast range of ad formats, built to the IAB industry standards and fully compliant with Chrome and the Better Ads Coalition:
Native ads

which are less obtrusive and blend well with editorial content: native recommendation, native interstitial, native exit.

Banner ads such as display banner, sticky banner, large footer, video banners or responsive display ads (RDAs).
Video ad formats

that deliver compelling messages every time: outstream, in-stream, slider, in-video banners.

Interstitial ads

: fullpage desktop and mobile, and interstitial widget. For all these formats, there can be frequency capping.

Direct links

or sponsored links as they are also called are a flexible, premium format which can be presented in multiple ways by publishers based on how their users behave.

Instant messages

,

Popunders

and

Push notifications.

Additionally, Publishers can combine up to ten of their existing banner and native ad zones into a single zone with

Multi-Format ad zones.
Custom and advanced targeting
Custom targeting: Publishers are in a unique position as they know their audiences best and hold valuable first party data on them. Provided they have consent to use it, their first party data can be used for custom targeting.
With EXADS, you can add any custom targeting option you think is suitable for your Advertisers. For example, users can be targeted based on their interests, demographics, spending habits, or any other criteria. The custom options include:
A predefined list: this supports only a single level list.

Predefined range: a range of values that is predefined.

String:a sequence of characters.

Integers: a number that can be a zero, a positive natural number or a negative integer with a minus sign.

Range: a range of values.
Example of a predefined range: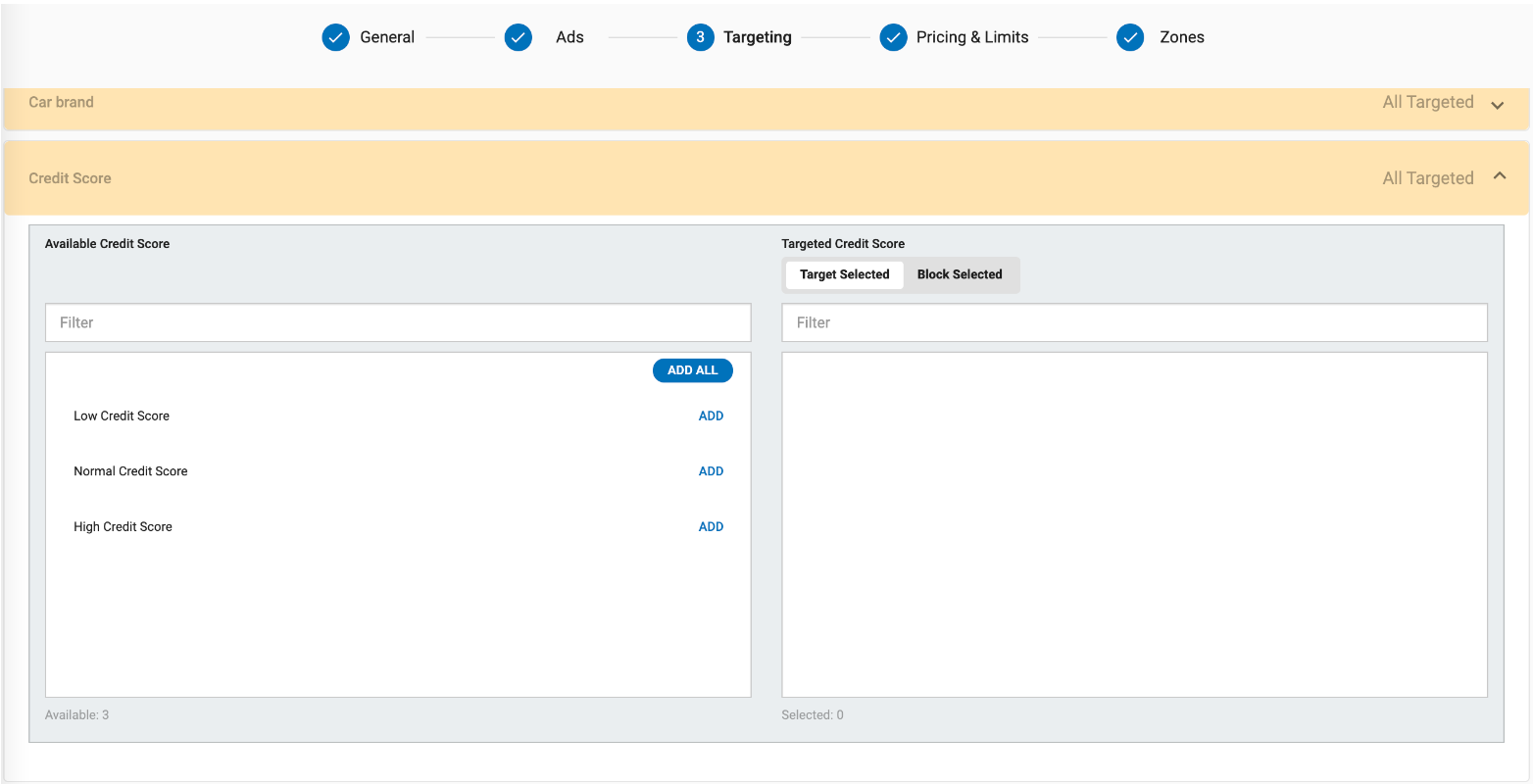 Additionally, Publishers can use EXADS advanced targeting options that help advertisers achieve a better message reception, better engagement, and higher conversion rates: Ad Zones, Browser, Contextual, Time Schedule, Device, Location/GEO, Keyword, Mobile Carrier, Operating System, Behavioral Retargeting and more.
Automated optimizations for your clients
Attracting advertisers might be easy when you have a captive audience, or a really strong following. However, Publishers should make their ad servers attractive to advertisers as best they can. One of the ways in which they can increase uptake is by offering advertisers automatic optimizations for their campaigns.
With EXADS, you can choose to let your advertisers avail of the Bidder feature, which intelligently adjusts the bid of the advertiser for ad zones according to how many conversions are received, and block those ad zones that don't convert. A major benefit of the Bidder is that the advertiser can add as many rules as you need to fine-tune the automation.
You can go further and provide your advertisers with automatic optimizations for their Ad Variations and Landing Pages. All that is required for this feature to start optimizing is the selection of traffic distribution algorithms from a list of options. This feature is beneficial for both advertisers and you as publisher as it will then ensure that the best performing Landing Page or ad variation will always receive the most traffic. This results in a better experience for your audience and a better outcome for your advertisers.
Powerful analytics
Monitoring the performance of advertising campaigns is crucial not only for the platform owner but also for the advertisers who are looking for a return from their investment. As a Publisher you need to know which campaigns perform well and what it is that your audience likes best.
With EXADS' powerful statistics you can easily access all the information you need, and allow your advertisers access to the same:
Analyze statistics for over 25 dimensions, more than 50 metrics and over 25 filters

Customizable dashboards allow you to create up to 50 dashboards where you can organize your data as you require. You can move widgets, change their size and have them display the information you need most.

Saved filter sets allow you to access reports based on filter sets that you have previously saved. This means that you don't need to recreate the same report each time you need it.
Full protection and online brand safety
To ensure that your brand and audiences are protected from malvertising or bad practices, EXADS, through its exclusive integration with AdSecure, offers a better way to manage the security and the safety of the ads that are served on your properties.
AdSecure's 360 degree monitoring and protection helps you automate the ad verification process before the ad campaigns go live and while they are running.
AdSecure detects over 40 violations including:
User Security Violations such as Adware, Browser Locker, Drive-by Crypto Mining, Malware, Scareware, Ransomware, etc

User Experience Violations including Auto-downloads, Back Button Hijack, Landing Page Error, Device Permission Requests, etc

User Advisory Violations including Heavy Ad, Suspicious TLD, Unsafe Content, IAB Standards, etc.
Super fast delivery of ads
Serving ads should not compromise a website's performance or the end user experience. At EXADS we use Web Caching to reduce latency, avoid network congestion and make the web content instantly available.
With this in mind, EXADS applies the following for all the snippets we serve:
Minification

: allows us to send the same amount of functionality but using less network bandwidth.

Intermediary Caches

: a CDN Proxy cache with 99.7% availability distributed across the globe, is used. This enables the intermediary to fetch the resource almost immediately.

Asynchronous scripts

: allow parallel download while the browser is parsing the page, to be executed as soon as it is available.

3h max-age

: our regularly maintained snippets offer different features without publishers having to update them. New changes from our ad server can almost immediately be seen.

ETag validator

: acts as a fingerprint of the content, preventing unnecessary network bandwidth.
Comprehensive range of payment options
EXADS has partnered with secure and reliable payment providers and offer a vast choice when it comes to the available payment options. Advertisers can recharge their accounts through card payments, Wire Transfers or even cryptocurrency transactions.
Through its partnerships, EXADS allows Advertisers to make manual recharges or auto recharges as well as the option to save the card details.
With a well-designed and maintained invoicing system supporting different transaction types, EXADS helps users such Ad Server Administrators, Financial Accountants and Advertisers to monitor each transaction made. It also facilitates many types of financial artifacts such as Proformas, Invoices, Balance Adjustments, Chargebacks, Credit Notes, and Refunds.
Conclusion
There is no doubt that Publisher Ad Servers are on the rise, with more companies who own digital properties starting to see their potential. EXADS' white-label ad serving technology can provide publishers with a performant self-serve platform that they can start using in weeks. Contact us now to see how we can build and customize your Publisher Ad Server, today!