The term "walled garden" is becoming increasingly popular in advertising, but what does it refer to? As the words suggest, a walled garden in ad tech is a closed platform, or ecosystem, in which the technology provider has total control over the content shown and its applications. The owner of the walled garden will also determine the functionalities available to advertisers to create and manage their campaigns targeting the audiences available within the walled garden.
The walled gardens of tech companies
The walled garden strategy has been used by some of the biggest companies. The best known ones are Google and Facebook but Amazon is also catching up.
The Triopoly as it is called, amassed 64.0% of all US digital ad spending in 2021, and the trends revealed by eMarketer show that this is going to continue into 2023: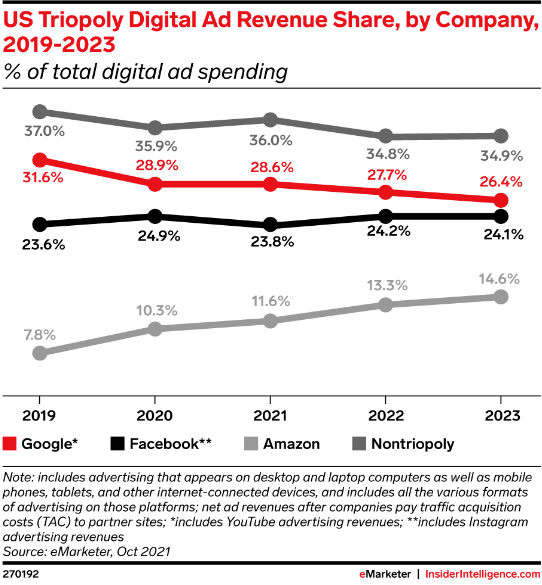 Google and Facebook are no doubt the biggest closed platforms or walled gardens in digital advertising. This was possible due to the staggering numbers of daily users that they have and the huge amount of user data they hold.
The latest reports (May 2022) show that Facebook has 2.936 billion monthly active users and about 37% of all people on Earth use the social media platform.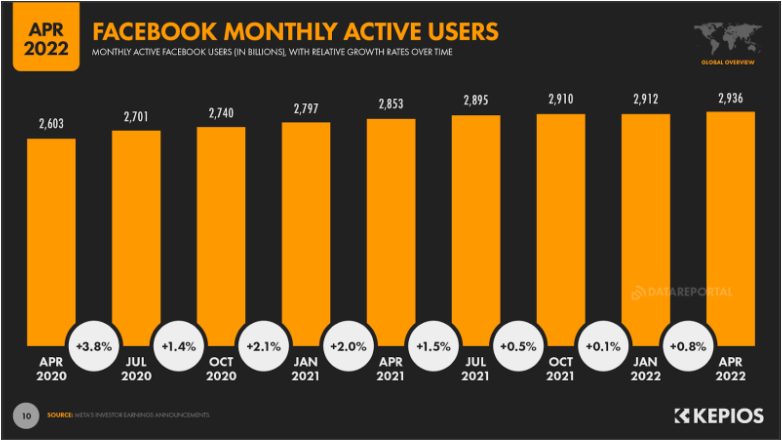 As for Google, 2022 figures show that there are 8.5 billion daily searches done on its search engine, giving Google a market share of 86.19%. This is just scratching the surface.
Out of the three platforms, Amazon currently has the highest ascending trend with a growth of 18% in the second quarter of 2022. What makes Amazon's walled garden special? It is the added advantage of having purchase intent data from its users, which makes it more likely for advertisers to see a better return on their investments.
These giants are not the only ones making full use of their first party data which became a heated subject since Google's third party cookie deprecation announcement. Businesses from the retail industry have joined ranks, creating what is now known as "the retail walled garden category". From Walmart to AutoZone, Amazon has inspired all of them.
The walled gardens of the publishing industry
Restricted by the rules and lack of transparency of the giant walled gardens, publishers looked at the wealth of first party data they had and that they could continue to accumulate, and started to build their own independent walled gardens.
In the publishing industry, the walled garden was first adopted by publishers who constantly delivered top content that attracted audiences time and time again. These publishers implemented a subscription based model to give users access to this content.
Giants like The New York Times or Business Insider have the resources and the numbers needed to deploy a walled garden strategy. With over 10 million subscribers reached at the beginning of 2022, The New York Times' advertising division is in a premium position to provide advertisers great reach and audience segmentation.
Benefits of Walled Gardens
Customization. Creating your own walled garden means that you are creating a closed and customized platform that is made to fit your requirements. You define the rules: what advertisers you accept, what adverts are shown, how they are shown, how the targeting is done.
Revenue control. Your business defines the pricing strategies for the advertising you are allowing within your walled garden. This means that you have better control over your advertising revenue and can adjust it very quickly whenever required.
Future-proofing for cookieless. Your first party data will soon be an invaluable asset, so why not start using it now? You will be delivering ads to users who have already given their consent, resulting in better returns from ads and a great targeting for your advertisers.
Future-proofing from big-data giants. Having your own platform and using your first party data makes your business less susceptible to the changes decisions made by big data companies. This means that your business will not suffer major implications.
Cross-device targeting. Walled gardens have the benefit of recognising the same user independently of the device they are using. This is due to them being built on the basis of logged-in users.
Protecting your brand. A walled garden gives you the benefit of selecting your advertisers and establishing a direct relationship with them. This means that you can deliver ads from brands that adhere to the same values as your own brand, and thus offering your users a non disruptive experience.
Avoid ad-blockers. Ad-blocking is slowly becoming widely used, with reports suggesting that publishers are losing between 15% and 20% of their revenue to their usage. Walled gardens can help your business open to this traffic and monetise it.
How can you build a walled garden for your business?
There is no doubt that there are many benefits to having your own walled garden. However, they are said to be an enormous task to undertake due to the investment and resources required when building them from scratch. This is not the case when using a company like EXADS.
With EXADS APIs, we can help you build your fully customized solution in weeks without the expenses of hiring your own staff. Even better, EXADS is a scalable solution, so your walled garden can adapt and grow with you! For example with EXADS you can build your own walled garden and then add supply or demand programmatically from other ad networks and providers as you see fit.
You define the rules and we will deliver the platform that meets all your requirements. Contact us today and let's start planning!