Table of contents:
Introduction
When it comes to incorporating videos into your website, choosing the right video player is crucial. With numerous options available, conducting a thorough video player comparison is essential. In this article, we will delve into the strengths and benefits of Fluid Player, Video.JS, and JW Player to help you make an informed decision. Discover the key features and advantages of each player, and find out why Fluid Player stands out in this comprehensive video player comparison.
Fluid Player: The Power of Simplicity
Fluid Player stands out among its peers for its seamless integration, user-friendly interface, and versatility. As an open-source player, it boasts a lightweight design, making it ideal for websites that prioritize speed and performance. The simplicity of Fluid Player ensures that even non-technical users can easily implement and customize it according to their preferences.
Video.JS: Feature-Rich but Complex
Video.JS is a popular HTML video player known for its extensive range of features. However, with great power comes great complexity. While advanced users may appreciate the plethora of customization options and plugins offered by Video.JS, it can be overwhelming for beginners. Furthermore, its learning curve and technical requirements might hinder the seamless integration and quick deployment of the player.
JW Player: Proprietary Software with a Price
JW Player has long been a staple in the video player market. As a proprietary software, it offers a robust set of features, including support for various video formats and high-quality playback. However, these advantages come at a cost. JW Player operates on a subscription-based model, making it less accessible for those with budget constraints or small-scale projects.
Video Player Comparison Table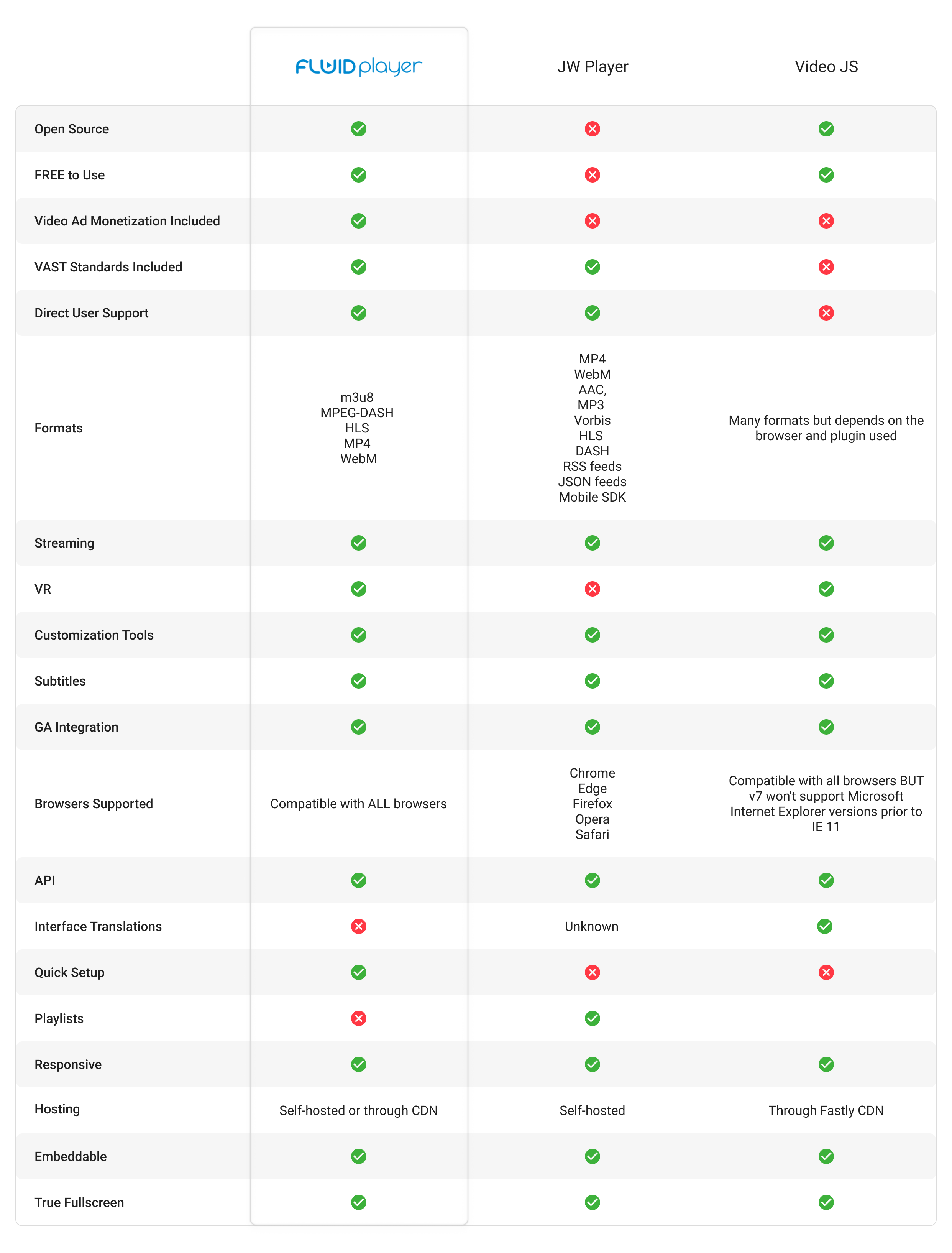 Fluid Player vs JW Player
When comparing the two players, the first thing to note is that Fluid Player is free and open source, while JW Player offers both free and paid subscription plans.
Fluid Player
Lightweight HTML5 player that is completely free to use and open source on GitHub.

Fully customizable to fit the look and branding of your site.

Offers keyboard shortcuts and configurable skip ad and CTA buttons.

Supports ad monetization with integration options for any ad network, ad exchange, or video ad server.

Fully compatible with VAST and VPAID standards for video advertising.

Supports all browsers, including popular ones in T3 countries like Puffin and Silk Browser.

Enables subtitles in WebVTT format, which is widely supported by online video hosting services and media players.

Supports VR feature for immersive ad experiences.

Easy integration with Google Analytics for tracking engagement, impressions, views, etc.
JW Player
Proprietary Software video player with different subscription plans, including a free trial.

Supports popular video formats and delivers high-quality video with minimal buffering.

Offers custom HTML/CSS skins and custom JavaScript for appearance and user experience control.

Supports integration with popular ad platforms like Google IMA and various ad networks.

Compatible with Chrome, Edge, Firefox, Opera, and Safari browsers.

Provides an analytics section in the dashboard for monitoring content performance and customizable reports.
Fluid Player can be a suitable alternative to JW Player, especially for publishers who prioritize customization, ad flexibility, and cost-effectiveness. While Fluid Player is a free video player, JW Player offers additional features tailored for businesses in their paid plans.
Fluid Player vs Video JS
Both are free HTML video players that offer different features and customization options.
Fluid Player
Easy to integrate and is maintained by developers.

Includes out-of-the-box video monetization tools.

Supports multiple players per page and offers customizable keyboard shortcuts.

Formats supported include m3u8, MPEG-DASH, HLS, MP4, and WebM

Also supports VR : MP4 VR, WebMVR, etc.

Supports VAST and VPAID standards for video ad serving.

Comes with multiple VAST tags (pre-roll, mid-roll, post-roll), Linear (video) ads, Non linear VAST tags (banner images: gif/jpg/png), VAST Wrappers, VPAID Ads (Linear, Nonlinear, switch over from Nonlinear to Linear)
Video JS
Maintained by a community of developers and offers flexibility.

Supports HTML5 video, modern streaming formats, YouTube, and Vimeo.

Offers a wide range of styling choices and can be translated into multiple languages.

Provides over 100 plugins for additional functionalities.

Supports VAST and VPAID standards for video ad monetization.
When comparing the two, Fluid Player is a good alternative to Video JS if you're looking for a player that is easy to set up. It has built-in video monetization features and supports VAST and VPAID standards. Fluid Player also provides 24/7 client care for assistance.
On the other hand, Video JS offers a more extensive set of features and customization options due to its large community of developers. However, it requires more time and effort to set up and manage compared to Fluid Player.
Why use Fluid Player?
Extensive Format Support:
Fluid Player's Compatibility Reigns Supreme
Fluid Player excels in format support, ensuring seamless playback across various devices and browsers. Whether it's Chrome, Safari, or even browsers specific to certain regions, Fluid Player has got you covered. This broad compatibility opens up opportunities to reach a wider audience and ensures a consistent video experience for your viewers.
Ad Monetization Made Easy:
Fluid Player's Revenue Potential
Monetizing your videos is a top priority for many content creators. Fluid Player understands this need and provides robust ad monetization features. With support for pre, mid, and post-roll in-stream video ads, custom HTML banners, and VAST nonlinear banners, Fluid Player empowers publishers to generate revenue from their video content without compromising the user experience.
Customizability and Control:
Fluid Player's Winning Edge
Fluid Player's open-source nature grants publishers unprecedented control over the player's appearance and functionality. Whether it's seamlessly integrating subtitles, experimenting with VR ads, or leveraging Google Analytics for comprehensive insights, Fluid Player enables you to tailor the video player to your specific needs. The flexibility offered by Fluid Player ensures that your video content aligns perfectly with your branding.
Conclusion
When it comes to selecting an HTML video player, the choice ultimately comes down to your unique requirements. While Video.JS and JW Player have their strengths, Fluid Player emerges as the clear winner. Its open-source nature, extensive format support, ease of use, and robust ad monetization features make it a top choice for publishers seeking a reliable and customizable video player. Contact us today to find out more and unlock a world of possibilities for your website's video content!