When Google announced in 2020 that it would eliminate the use of third-party cookies from Chrome by 2022, advertisers were left to wonder how they would be able to manage this. With Chrome having a 64.5% market share globally (data up to March 2022), the stakes involved in such a move are very high.
Fast-forward to January 2022, Google announced that their plan is pushed to 2023 and brought a new proposal to the table, Topics API. Their initial proposal, Federated Learning of Cohorts (FLoC), collapsed under the scrutiny of GDPR, industry peers and advertisers.
Why was FLoC a flop?
FLoC would have seen users grouped into cohorts, based on their browsing patterns. The cohorts would have been large enough to give users a semi-anonymous status in front of the advertisers targeting them. As these cohorts were automatically assigned, there were questions regarding the efficiency of the targeting available for advertisers.
From a GDPR point of view, the system was also based on an opt-out model, which is completely against one of the main data protection regulations, that consent always requires an opt-in.
Introducing Topics API
The new proposal from Google is Topics API, about which some argue that it is not a much better idea either. Topics API is a new Privacy Sandbox that will facilitate the serving of interest-based advertising to users. It will help protect the users' privacy while allowing advertisers to target their audiences. Topics API runs in the browser and does not involve any external servers or Google servers.
The API would group the websites visited by Chrome users into Topics such as Sports, Travel, etc. Each week, the browser will identify the top 5 Topics based on the user's browsing history and these topics are kept for three weeks.
When a user visits a participating site, the browser will then share with the site and its advertisers the top 3 Topics for the user from the last three weeks. Advertisers can thus tailor their ads to the user's preferences. Google is explaining the process using the framework below:

Image: Google Chrome Developers
Currently Google has come up with almost 350 Topics but the final list could be anywhere from a few hundred to a few thousands. The list of current Topics can be found on GitHub. This list will also exclude potentially sensitive categories such as sexual orientation, gender or ethnicity.
To start with, the list will be curated by Chrome but the goal is to have a trusted ecosystem of contributors which will maintain and update this list.
Issues could arise as the Topics are assigned to websites on the basis of their hostnames without delving into their content or full URLs. This could have enabled the serving of more relevant ads; nevertheless it might reduce privacy.
On the user side, Google will allow them to see which Topics they have been associated with, remove the ones they do not want or disable the Topics feature entirely but they will not be able to add their own Topics.
Google promises users that Topics will be easy to view and manage. The illustration below shows the difference between third-party cookies and Topics: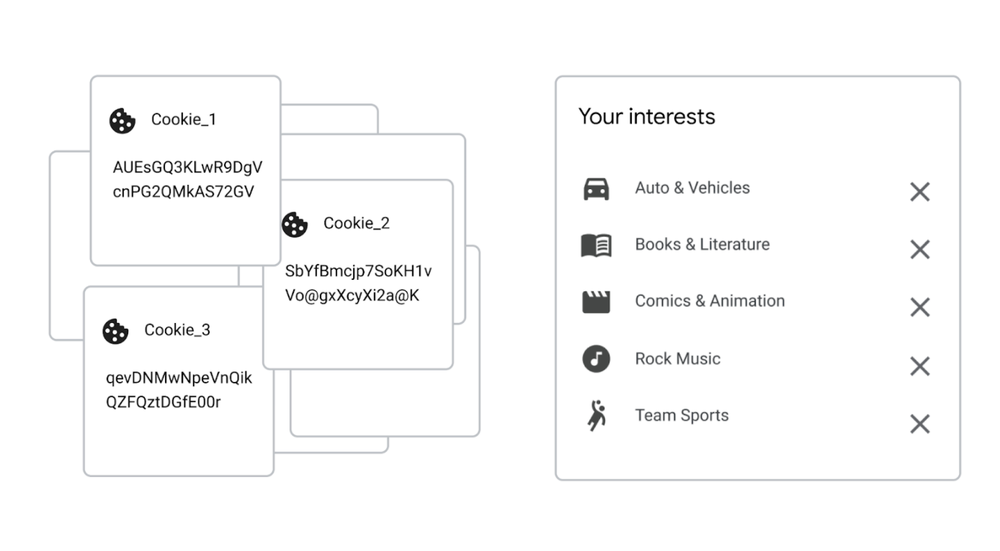 Image: Google
The right solution?
Given the recent surfaced information about Google's US lawsuit alleging that the tech giant has been misleading publishers leaving them out of pocket and the length of time that it is taking Google to come up with a viable solution, publishers and advertisers are again left to question the future of digital advertising.
Can publishers and advertisers rely on the relevancy of the topics provided by Google? It remains unclear how granular these topics will be, or if they will allow geographic targeting. Will other browsers like Safari, which has almost 20% of the global market share, take on the Topics API? Should publishers be looking more at their first-party data?
Industry opinions on Topics API are split. Some argue that the new system is the same thing as FLoC but in a different package, while others are confident that it is a step in the right direction.
As Chrome developers are testing the new system and adjustments are still being made, it remains to be seen what the final Topics API will look like and what its implementation timeline will be.