Table of contents:
Retail Media
Retail media is a type of digital advertising that allows the promotion of products and services on the digital properties of retailers and e-commerce businesses. Usually, these include retail and e-commerce websites and apps, and marketplaces.
This is where the retail media platforms come in. This technology allows ads and sponsored listings to be placed near the point of purchase and displayed to consumers with a shopping mindset. This increases the likelihood of conversion and purchase.
Retail media is emerging as a dominant force in digital advertising. According to insights from Insider Intelligence| eMarketer, this trend is poised to accelerate even further. Their research predicts that by 2024, a significant portion—more than $1 of every $6—of the digital advertising expenditure in the United States, at 17.8%, will be channeled into retail media. This projection underscores the increasing influence of online marketplaces and e-commerce platforms as potent advertising channels, leveraging their vast customer bases and targeting capabilities. The forecast for 2025 is even more striking: advertisers are projected to invest more in retail media than in traditional linear TV advertising.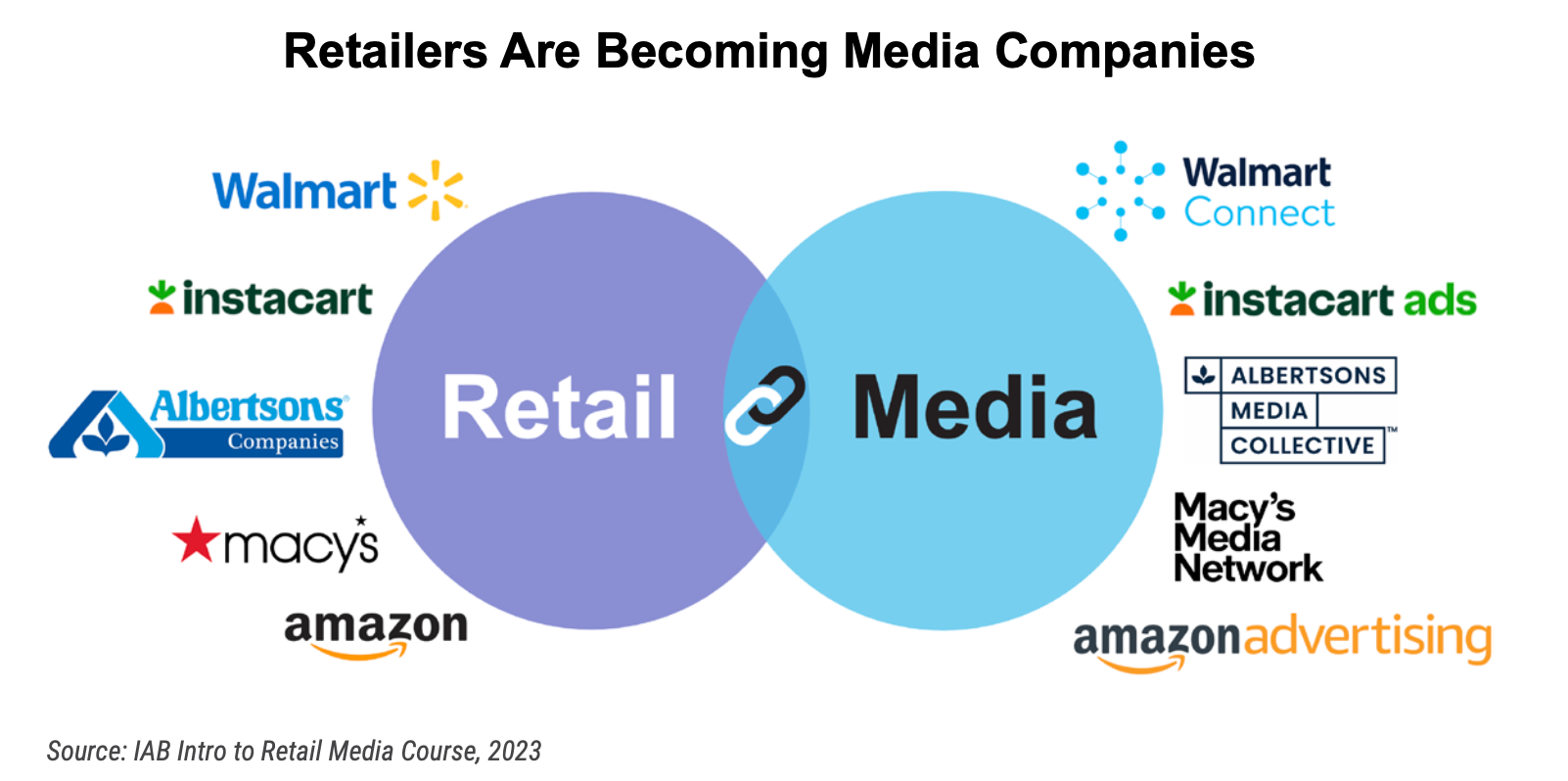 Retail Media Platforms and Retail Media Networks explained
Although the terms are often interchangeably used, the Retail Media Platform is the ad tech solution that allows retailers and marketplaces to launch their own Retail Media Networks and enables advertisers to purchase ad inventory on the retailers' websites and apps.
The ad tech solution employed is the foundation for the capabilities that are available to retailers to manage their entire advertising business. This encompasses capabilities such as ad serving, self-serving, inventory management, campaign management, statistics and reporting, targeting, third-party integrations, user management, billing systems, etc.
General or Niche Retail Media Platforms
Businesses that are already benefiting from the rise of retail media include general retail giants such as Tesco, Amazon, Target, and Walmart, or marketplaces such as eBay that have a vast range of supplies and consumers. All of them have turned their e-commerce websites into media properties that function like "walled gardens".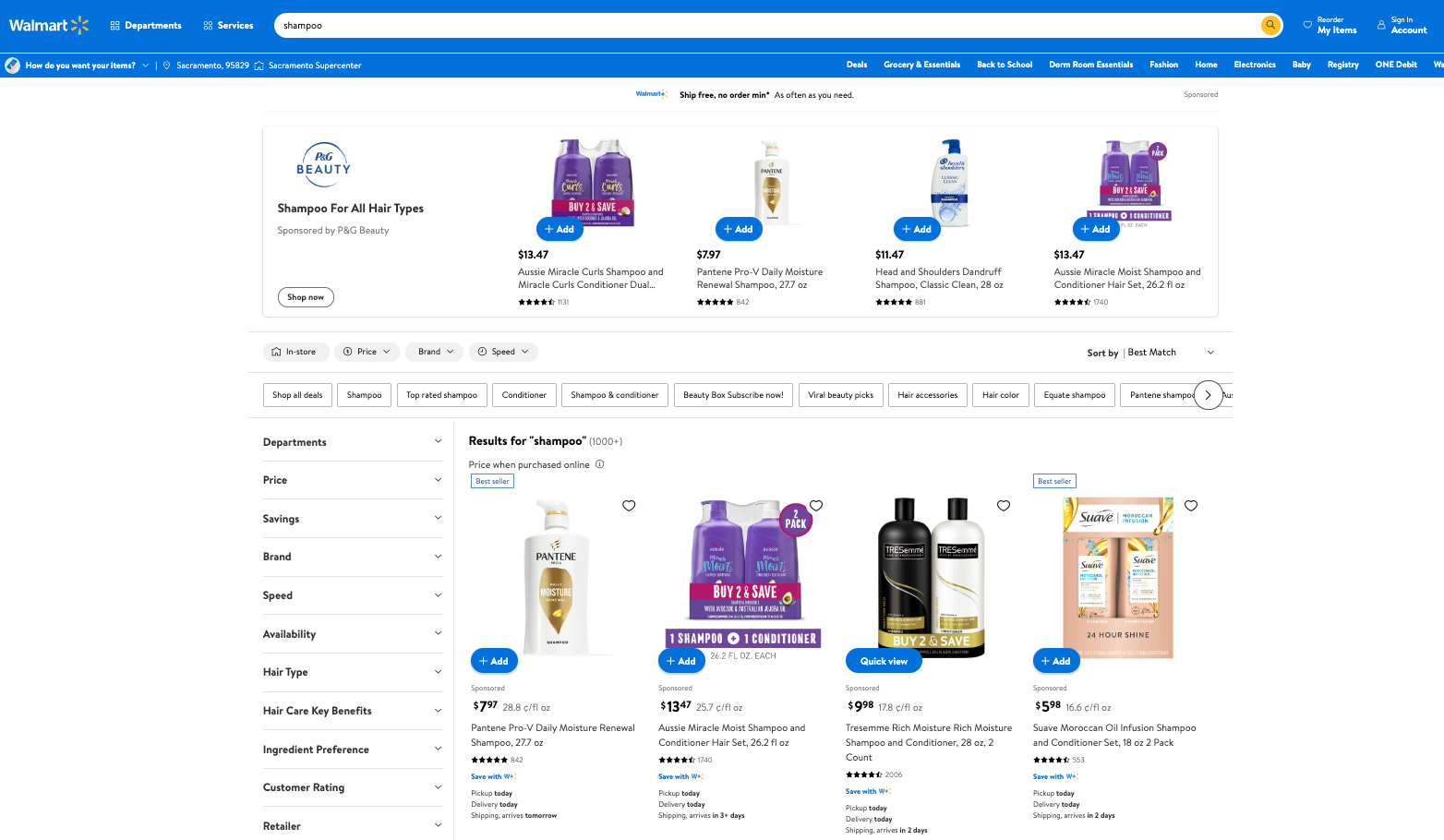 Source Walmart.com
In addition to the general retail media platforms, there are also specialized platforms that cater to niche audiences, capitalizing on the unique interests and preferences of particular consumer segments. Notable examples include platforms like Wayfair, which focuses on furniture and homeware, Zalando, which specializes in apparel and accessories, and Booking.com (example below), which caters to the travel industry. By aligning with platforms that closely align with consumers' interests, brands can create more personalized and relevant advertisements that resonate deeply with the audience.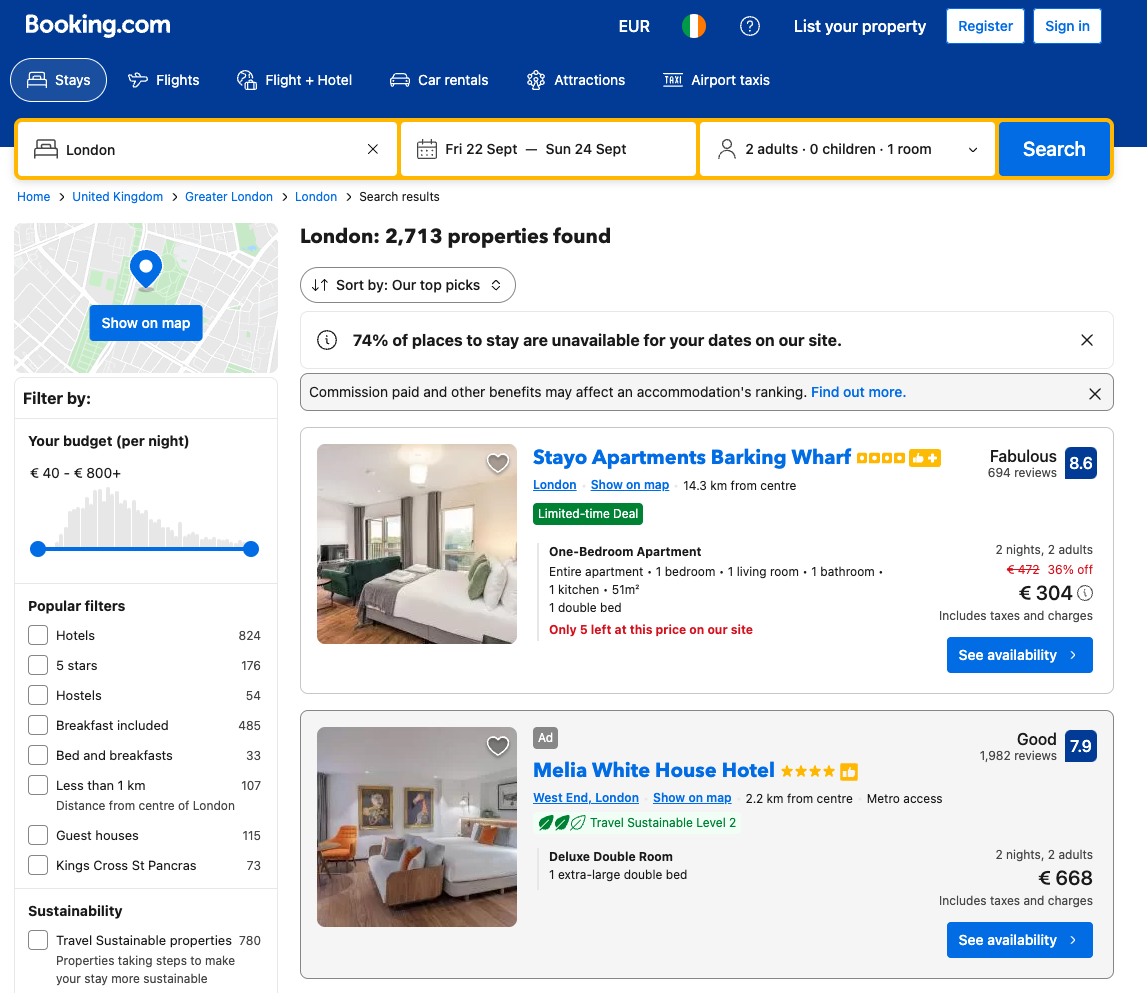 Source: Booking.com
Connected Retail Media Platforms
Some ad tech providers saw another opportunity in retail media and launched their own Connected Retail Media Platforms, which refer to integrated advertising solutions that connect with various retail companies. These platforms can integrate with multiple retail media providers, enabling advertisers to manage campaigns through a single account.
This integration allows advertisers to tap into the diverse audiences and engagement opportunities offered by different retail partners without the need for separate setups or accounts. This convenience and centralized control foster scalability, making it easier for brands to navigate the complex landscape of retail media while maximizing their visibility and effectiveness. Such companies are The Trade Desk, Criteo, and CitrusAd.
Benefits of Retail Media
Benefits for Retailers
The main benefit of Retail Media for retailers is that it provides a new revenue stream. When looking at the profit margin that retailers achieve just from e-commerce, this is generally placed around 10-20%. However, according to Boston Consulting Group
by monetizing their data and digital properties, retailers can achieve enormous profit margins estimated between 70% and 90%.
Retail Profit Margins

Source: bcg.com
As the deprecation of third-party cookies approaches, retail media presents a compelling alternative for audience targeting. Retail media platforms enable retailers to monetize the first-party data they already have and provide personalized advertising to their customers.
Retail media empowers retailers to maximize their advertising revenue by leveraging new types of ad inventory and formats, like sponsored listings. These seamlessly integrated advertisements blend seamlessly with websites or applications, enriching the overall shopping experience for consumers.
Owning a retail media platform offers a significant advantage to retailers as it enables them to sell their advertising inventory directly to brands. This control over the sale of ad space empowers retailers to strategically manage which brands can access their inventory and the associated data.
Going even further, retailers have full control to ensure that they maintain a positive shopper experience with the ads displayed to their customers. By overseeing the types of ads that appear on their platform, retailers can ensure that the content remains relevant, non-intrusive, and aligned with the preferences of their audiences. This control fosters a harmonious shopping environment where ads contribute positively to the overall user experience, increasing the likelihood of engagement and conversion while upholding the retailer's brand integrity.
Benefits for Brands
The primary advantage that Retail Media provides to brands is the chance to position their products and services in prime digital shelf space, directly in front of browsing consumers who are actively seeking to make purchases. It allows brands to differentiate themselves from their competitors and showcase ads to a target audience highly inclined toward their offerings.
Retail Media platforms provide a variety of ad formats and ad placements that combined with their proximity to the point of sale and an enhanced advertising experience for the end user, lead to high conversion rates and increased revenues.
The types of onsite inventory include sponsored listings, sponsored search and sponsored brands, display ads, video ads, shoppable live streaming, landing pages, and email ads.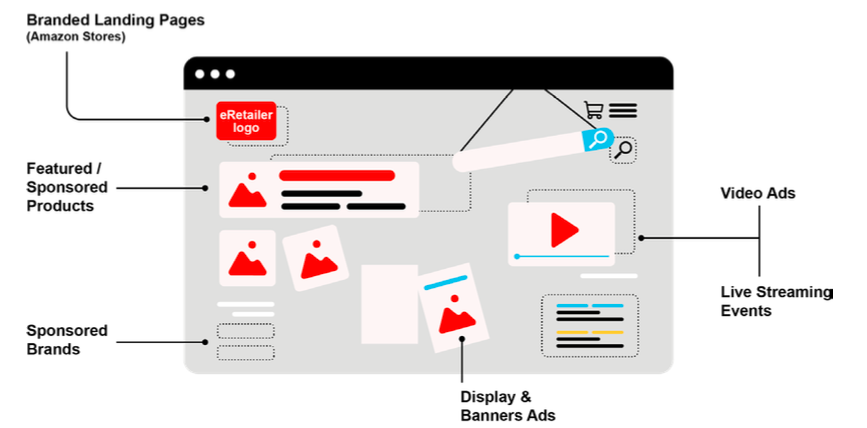 Source: shalion.com
Another benefit that retail media platforms offer to brands is the opportunity to target consumers using the retailer's first-party customer data. With their access to loyalty data, logged-in users, app-based traffic, and retail footprint, retailers have a wealth of data gathered directly from their customers, such as their preferences, behaviors, and purchase history. This approach is particularly beneficial in the current climate, where there is a focus on privacy and cookie policies.
Retail media platforms offer brands secure and brand-friendly settings to conduct their campaigns. This means that brands can confidently display their ads in spaces that are devoid of harmful or inappropriate content, maintaining the integrity of their image and messaging. In contrast to the risks associated with programmatic advertising on open platforms, retail media platforms provide a controlled and curated space where brands can engage with their audience without fear of association with undesirable or controversial content.
Benefits for Consumers
The ultimate benefit of retail media for consumers lies in its ability to offer personalized ads that resonate deeply with their preferences and interests. When consumer behaviors have shifted dramatically, there's a growing expectation for ads that go beyond interruption and instead enhance the shopping journey. This transformation in consumer mindset has created a desire for genuinely helpful ads, offering relevant product recommendations and solutions that align seamlessly with their needs.
Consumers now anticipate that companies will comprehend their desires and expectations, driving them to seek out brands that can provide a personalized touch. Retail media, with its ability to harness first-party data and insights, stands at the forefront of fulfilling this consumer demand. The ability to present advertisements that cater to individual preferences creates a stronger connection between consumers and brands, fostering loyalty and driving conversion rates. As consumer expectations continue to evolve, retail media will play a pivotal role in delivering the tailored and valuable advertising experiences that modern shoppers seek in their interactions with businesses.
Launching a retail media platform for your e-commerce business
The evolution from e-commerce websites to media properties entails the adoption of a new business model for retailers, therefore it can be a tricky process. Retailers can opt to build their own retail media platform or they can employ the services of an ad tech provider that offers a ready-made solution, such as EXADS.
Building a retail media platform is a long-term project, that involves a careful understanding of new concepts and technologies, budget requirements, and resource allocation. It is a massive development effort, that must take into consideration flexibility, scalability, new operational processes, and new billing structures to name just a few aspects.

Working with an ad tech partner who can deliver a white-label ready-made retail media platform solution that can be customized to address several particularities of a retailer's business, means a shorter time to launch. Another advantage of working with an ad tech company is that while the technology side is being taken care of, the retailer can focus on its operational transformation, and on getting advertisers onboard.
With EXADS' Retail Media Platform, retailers get the best start in their journey of monetizing first-party data. In a matter of weeks, they can have their own branded platform where they can manage their inventory and advertisers and where they can have full control over the advertising experience they provide to their customers. From self-service technology which enables a streamlined and fluid sales operation, access to ad inventory which includes sponsored listings, display, video, and email ad formats, to real-time performance monitoring, EXADS provides a complete solution.
Conclusion
The ability of Retail Media Platforms to provide personalized experiences and targeted advertisements that resonate with modern consumers' expectations positions them as the driving force of growth in the years ahead. As retailers seek to capitalize on this trend and harness the potential of retail media, partnering with a trusted solution provider becomes paramount. EXADS offers a robust and reliable solution for those retailers who want to embark on this transformative journey. Leveraging their expertise and technology, EXADS empowers retailers to launch their own platforms, tap into the power of first-party data, and craft advertising experiences that elevate brand engagement and customer loyalty. Don't miss out on the future of advertising – contact EXADS today and take the first step towards redefining your presence in the retail media landscape.