EXADS has become the leading white label ad platform of choice for many advertising professionals. This is all down to a cross functional team of product, marketing, engineering, design and quality professionals who work to continuously deliver on a roadmap of awesome product features each and every day. Let's jump in to discover the frameworks and processes in place to make the continuous delivery of our product roadmap possible.

Agile Frameworks
An Agile framework is a specific approach to planning, managing, and executing work. Agile frameworks typically fall into two categories:
Frameworks designed for teams.

Frameworks designed to help organizations practice Agile at scale, across many teams.
There are many frameworks to choose from. The most popular being Kanban, Scrum and then variations on those such as Flow, Scaled Agile Framework (SAFe) and Large Scale Scrum (LeSS). Developing and managing a backlog is a key element of many Agile Frameworks. Kanban boards are often used to support this practice. There is no single "best" Agile framework. The best approach for your team or organization will depend on a variety of factors, including your industry, Agile maturity, the number of Agile teams, and goals for Agile within your organization. At EXADS we have a mantra "Don't work for the process. Make the process work for you." As such we have picked and borrowed inspiration from a number of organizations and frameworks when it comes to getting our features delivered.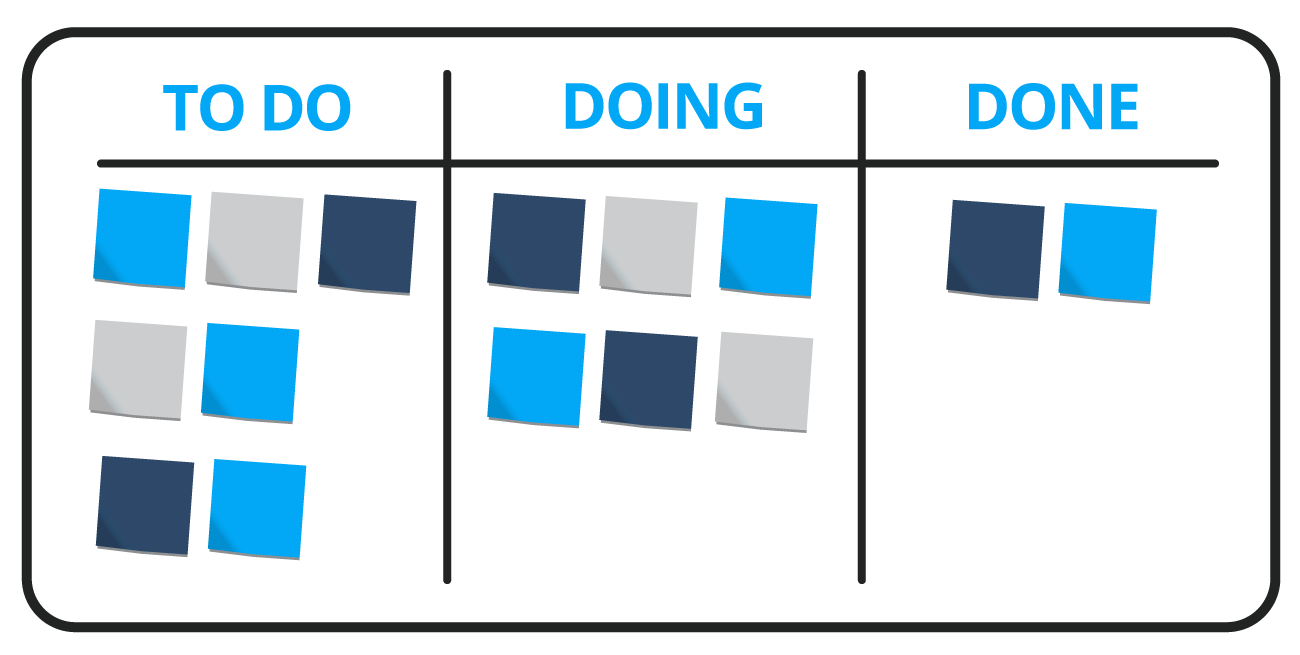 Team Structure and Agile Squads
The Spotify model is well documented and widely publicized as the way to go when it comes to approaching Agile frameworks at scale. At EXADS we've taken inspiration from this to arrange our Agile squads in a similar way. Each squad consists of a Product Manager, User Experience Designer and then a number of Developers (Back End and Front End) and Quality Assurance Engineers.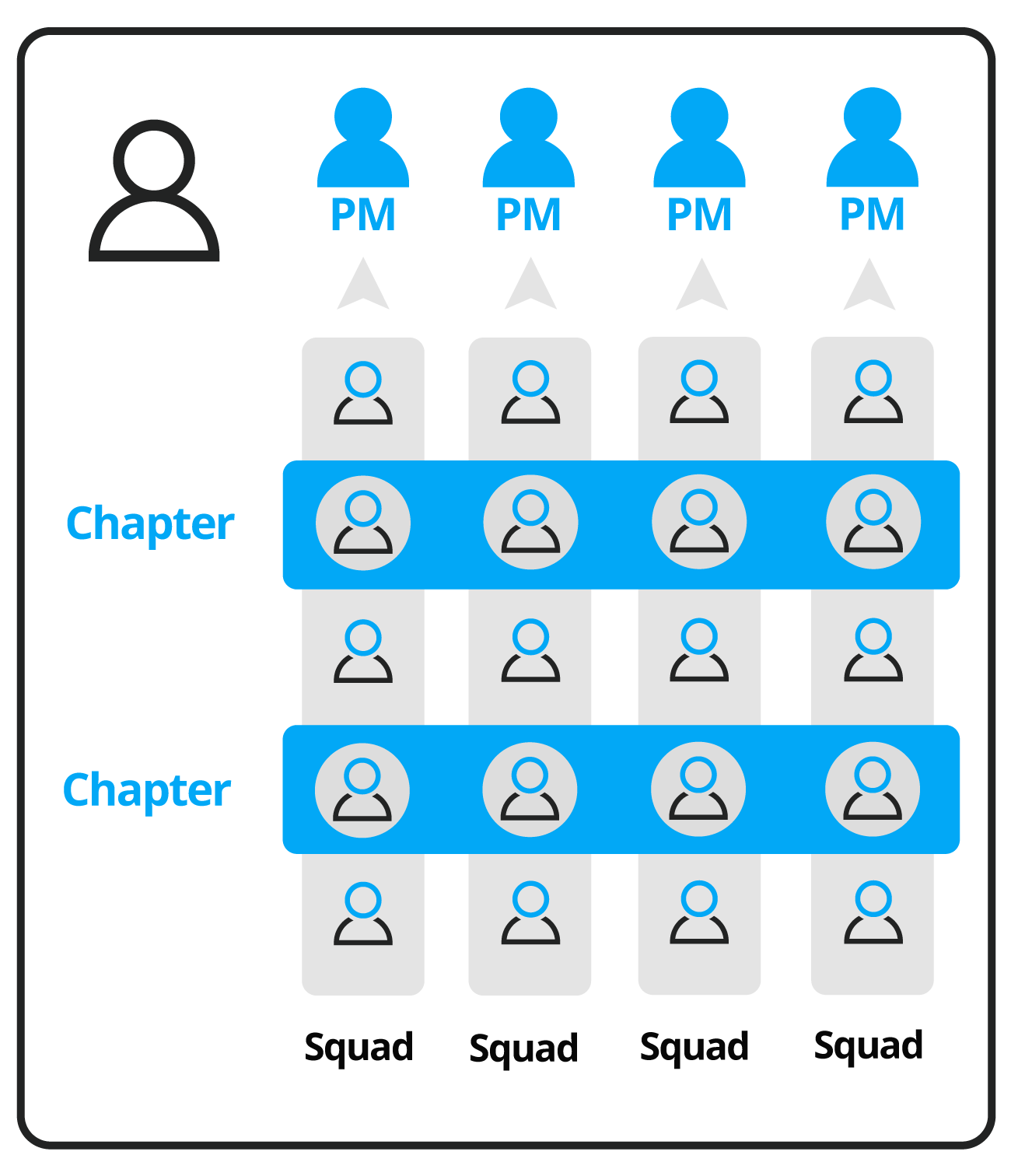 Each of the aforementioned skill sets in each squad then also come together as a team, or what Spotify terms a "chapter", to unite and form solutions and improvements at a chapter level around commonly encountered challenges that arise across each of the squads. For example the Back End Chapter will meet on a regular basis to discuss ongoing architecture improvements needed for the platform and how these are being solved for at a squad level currently. In addition they review the roadmap and keep abreast of priorities at a global level across the whole organization and anticipate roadblocks. This way the chapter can guarantee the overall architectural vision is shared across all the different squads and that everyone adheres to what is best for the product architecture, thus keeping the code base consistent and up to standard.
The squads themselves often work using a Kanban board to ensure key work items move through from ideation to release in production. At a basic level, each squad is expected to perform each of the following ceremonies on a regular basis and to ensure work flows efficiently:
Standups

: Occur daily to discuss work performed yesterday, plan for today and to address any blockers.

Estimation

: Regular session to put rough estimations on upcoming work from the Product Roadmap and to understand costs of proceeding with development of a feature.

Planning

: Occurs at least every 2 weeks or as needed, depending on priority and urgency of new work coming into the roadmap. Can also be broken out into separate planning groups (Tech, QA, Product, Design Reviews etc.) depending on the skill sets required to get planning completed. Essentially the purpose here is to plan features for upcoming releases.

Bug backlog prioritization

: Sometimes combined with the above planning session to firstly address any blocker and critical bugs that have arisen as a matter of urgency and secondly to ensure the squad is solving for any bugs logged to date.

Retrospectives

: These happen upon the delivery of major product features and/or on a regular basis such as monthly.

Essentially, retrospectives allow the squad to look back on work completed, assess what went well, what didn't go well and what can be improved on going forward.

Demos

: Occur as needed and particularly for larger features. Involve the whole squad and other key stakeholders across EXADS and our clients.
Reporting
Given our squads apply a Kanban framework to getting their roadmap of priorities delivered, we use a combination of a number of reporting tools to analyze the flow efficiency and cycle time of tickets as they move through the process. At EXADS we use Atlassian's Jira as our ticketing system and have adjusted it to suit our framework. As such we can determine how long each ticket spends in each status along the workflow, address any blockages or statuses that are consuming time for a squad and enhance our predictability of delivery for future tickets that come through the same process flow. Such statistics are also often used in Squad Planning and Retrospectives as a tool to review overall squad efficiency in the delivery of a ticket or group of tickets.
System Leads
As the organization grows it's unavoidable for certain squads to become well versed and subject matter experts in certain types of features. For example Squad A may have recently dealt with a particularly complex feature related to programmatic RTB supply or demand integrations. As such, tickets and priorities from the roadmap related to such a broad feature, will often naturally gravitate towards that squad and in some cases towards a particular subject matter expert within that squad. This can often lead to bottlenecks in delivery. To alleviate this, we have introduced the concept of System Leads across the organization as a whole. These System Leads are the subject matter experts of the system they own. The System Lead is not the one always implementing required changes, but is the go-to person for advice and guidance needed by other squads when working on a system. Although this can sometimes take valuable time away for that person from their existing squad, in the long run it allows for the spread of knowledge across other squads and hence alleviating bottlenecks for the future.
Product Prioritization and Quarterly Roadmap
Anyone across the EXADS organization and across all of our clients can submit a request for a product feature improvement. Once the strategic value of this improvement is weighed up, it is prioritized against all existing work planned and in progress and then allocated for work to begin accordingly. In addition we also plan out objectives and goals for the company on a quarterly basis. A theme or mission is selected for the company to strive towards and the key goals and objectives to achieve this mission are laid out for the quarter. Product features that are aligned to these goals and objectives are assessed in terms of their value and prioritized from there. Each squad is assigned features from this list as a set of commitments for the quarter with the purpose of delivering these within the quarter. Once agreed, the Product Roadmap of quarterly commitments is then posted on the EXADS blog and shared with all EXADS clients.
Documentation and Product Marketing
Once a feature is released into production by a squad, all documentation updates related to that feature are also released to our Documentation. Clients are then informed via email as to the release of the feature. In most cases the feature will already have been demonstrated to them via video conference or webinar in the days and weeks leading up to the release. In addition and for key features across our platform, there is a suite of video tutorials available to our clients on the EXADS YouTube channel. Then as clients get to use this new feature on a regular basis, our team is constantly monitoring usage and receiving feedback as to further improvements and the cycle begins again.