In the search to find an ad platform that is cost efficient and performant, many businesses look for free ad serving solutions like Revive Ad Server. Although it comes with some real benefits, this open source ad server has a number of limitations, which we'll be looking at in this article while also highlighting the functionalities and features that make EXADS the perfect alternative to Revive Ad Server.
EXADS has the AdTech knowledge and flexibility to provide you with the ad server that will make a real difference to your resource allocation and most importantly to your revenues.
EXADS Customizable Ad Platforms
Both EXADS and Revive have different solutions for advertisers, publishers and ad networks. A key differentiator between the two is the fact that EXADS offers white-label solutions that can be customized to the requirements of each business to help them reach their advertising goals, regardless of their size. Our expert teams can build powerful ad platforms that include powerful capabilities and support so you don't have to worry about updates or any other infrastructure aspects.
For the past ten years, we have developed one of the best technologies in the industry for both direct and programmatic advertising. From a fully-fledged ad network infrastructure, to Publisher ad servers, native, video, mobile or email ad servers, with EXADS you have access to all the tools of ad serving, cross-channel and cross-device.
The programmatic RTB integrations on offer, for both Publishers and Advertisers give you the means to diversify, grow and increase revenues.
EXADS Demand-Side Platforms (DSPs) give you the ability to easily create and manage your RTB campaigns by integrating with all the supply sources you want. Keep all your creatives in your media library, and use them whenever you need to. You can also access automatic optimizations that allow you to serve images and videos of the best quality and even better, keep serving the ads that provide the best results. EXADS DSP is an all-in-one super platform that gives you full control of your advertising from one interface.
For Publishers, EXADS has the perfect programmatic solution: a white-label self-service Supply Side Platform through which they can sell their inventory directly to ad networks, exchanges and DSPs. Our Supply-Side Platform can be tailored to meet your business requirements and within weeks you can start taking part in programmatic RTB auctions or header bidding.
Moreover, as businesses operate via different models which may not necessarily fit with the existing solutions, we offer ad server APIs. Our "Developers First" approach, means that you can build your own ad server, based on our core modules like Statistics API, Ad Placement API, Automation API and Admin Panel API.
Key features included
Revive ad server enables its users to serve ads, define delivery rules, manage campaigns and track their performance. However, to avail of a competitive solution, users require third party integrations and modules which not only can prove costly, but also require time and technical know-how to implement.
In turn, ad servers like EXADS empower users with features and functionalities that come as part of the whole package. Any feature updates or additions are automatically added and accompanied by announcements detailing their benefits and clear instructions of how they can be utilized. This process means that EXADS clients, regardless of their technical expertise, are equipped with everything they need to deploy these new functionalities immediately after launch.
Our aim is to ensure that our clients will have at their disposal all the tools they require to be competitive and see a high return on their advertising. Below, we detail some of the key features offered by EXADS.
Huge range of ad formats and related features
To fully benefit from the rewards of digital advertising you need to use the ad format that is most effective for your campaign and goals. Having access to a range of ad formats is vital in digital advertising as you should test, explore and employ a variety of formats before having your campaigns perfectly optimized.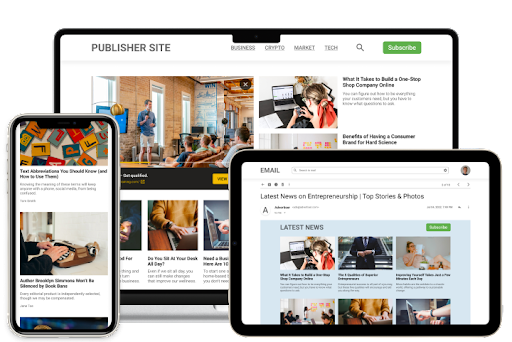 Although with Revive ad server you can install plugins for each format, with EXADS you can access a huge range of ad formats, from the get-go, without additional costs. All of them are optimized for desktop, mobile and tablet, built to the IAB industry standards and fully compliant with Chrome and the Better Ads Coalition. Clients can choose from varied banner types, interstitial, native and video ad formats to popunders, push notifications, email clicks, direct links and much more.
Precision targeting
Having the ability to target with precision means that you are delivering a good user experience and your audience is more likely to click on your ads. With Revive ad server, users are required to find, pay and install each targeting plugin. Therefore, by the time you get to have a comprehensive list of targeting options, you would have spent a considerable amount of resources and time.
At EXADS we provide unrivaled targeting options that help you achieve a better message reception, better engagement, and higher conversion rates. Our platforms enable you to narrow your targeting by domain, IP Ranges, Site or Keyword. Moreover, with our ad server you can use custom and contextual targeting. All of the options available are detailed in our documentation.
Extensive reporting capabilities
Having reliable and in-depth reporting tools to monitor your digital advertising performance is an essential part of any ad server offering. To achieve the level of detail required in the online space with Revive, one must again add costly plugins. This is another reason why EXADS makes such a great alternative to Revive ad server.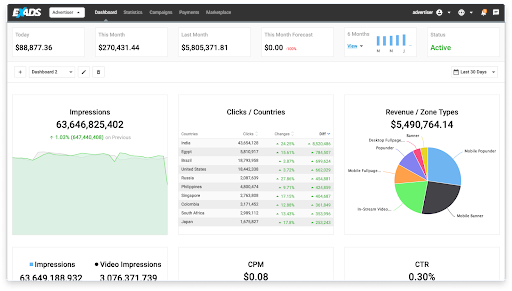 With EXADS you can compile reports and analyze data based on over 25 dimensions, 50+ metrics and 25+ filters. Our statistics features allow you to include all the filters you need in granular reports and then save your filter sets to better monitor the progress and the effects of your optimizations. Furthermore, EXADS enables you to create up to 50 customized dashboards to see the KPIs you need straight away.
You are in full control and have total visibility of everything that is happening on your ad platform.
As well as having extensive analytics and statistics capabilities, EXADS also supports third party integrations which are often required by large clients.
Automatic optimizations
At EXADS, we build ad platforms that help our clients be competitive and maximize their revenues. As digital advertising is one of the most dynamic spaces which requires a lot of time and effort, we want to help our clients further. This is why we have a range of automatic optimizations that save time and money and that are available to all clients.
For example, the Bidder is an optimization tool that intelligently adjusts the bid of the advertiser for ad zones according to how many conversions are received, and blocks those ad zones that don't convert.
The ability to use blocking rules, means that advertisers can block under-performing browsers, countries, devices, languages, mobile carriers, operating systems, sites, and zones. The number of extra rules is unlimited, so you can keep adding more rules to the algorithm to further fine-tune the automation.
Other automatic optimizations available include Ad Variations and Landing Pages. These features ensure that the best performing Landing Page or ad variation will receive the most traffic.
Varied Pricing Models
Your digital advertising ROI is directly impacted by the pricing models you are using for your campaigns. Your campaign goals should guide you in choosing the most appropriate pricing model. This is why it is important to be given a choice and this is why EXADS offers a variety of options for our clients: CPA, Dynamic CPA, CPC, CPV, CPM, Smart CPM and our latest addition, Smart Bid.
Smart Bid: automatically determines the optimal bid for campaigns based on the likelihood of a user to convert.

CPA (Cost per Action), which allows advertisers to pay only when a user performs a specified action.

Dynamic CPA, which is used when attributing different values to different actions.

CPV (Cost per View), which means that the cost is triggered when ten seconds of the video ad are displayed to the site visitor at normal speed.

CPC (Cost per Click), when you pay each time a user clicks on your ad.
You can find out more about our pricing models and see EXADS' recommendations in our pricing documentation.
Try an all-in-one super platform built by EXADS
On top of the features described above, one of the major downfalls of an Open Source ad server like Revive is that it requires technical expertise and experience to install and update the software. Unlike EXADS, when using Revive you will need to look for updates and implement them. If you don't have enough technical expertise, then you will need additional help that again comes at an additional cost. Therefore, although you can download Revive for Free, building a powerful solution and maintaining it might actually cost you more in the long-run.
Ad servers such as EXADS provide an extensive list of self-service ad serving solutions that can be customized to meet all your business requirements. Moreover, if you are looking for a bespoke feature, we can develop it for you.
Book a demo with EXADS today and let us show you how a powerful ad serving platform can transform your digital advertising business! Let's start building your ideal ad serving solution!