Table of Contents
In our continuous efforts to diversify the payment options available to EXADS' clients, we are delighted to announce our new integration with XBO, a leading crypto payments solution provider.
This integration means that Advertisers can have access to XBO Crypto payments and that Publishers can avail of the XBO Crypto automatic payouts.
XBO Crypto Payments for Advertisers
What can this new feature do for Advertisers?
The XBO crypto payment option enables advertisers to add funds to their account using crypto, diversifying the existing list of available crypto providers, which up to now included only Circle and Nuvei. The main benefit of this new integration is that unlike Circle, which supports only USDC, XBO supports numerous cryptocurrencies, and that unlike Nuvei which has some country restrictions, XBO currently has no country restrictions.
Using XBO Crypto as an Advertiser
The first step is for the platform Administrator to enable XBO by reaching out to their EXADS representative. Once enabled, the XBO crypto payment button will be available to the platform's advertisers. For an advertiser to add funds to an account using XBO crypto payment, the advertiser needs to have a crypto wallet that operates with XBO's cryptocurrencies. Advertisers simply need to go through the normal payment workflow and select the 'Crypto Payment' button option.
XBO Crypto automatic payouts for Publishers
What can this new feature do for Publishers?
XBO crypto payment is a new payout method that enables publishers to receive automatic payouts using crypto. Unlike the integrations available up to now, XBO supports numerous cryptocurrencies and currently has no country restrictions.
Using XBO Crypto as a Publisher
If the platform's Administrator has reached out to their EXADS representative and enabled XBO, then all the Publisher needs to do is enable XBO for their own account. To do this, the Publisher needs to go to the Payment settings tab of their account and select 'Cryptocurrency (XBO) from the 'Payment Type' dropdown menu, then they need to select the cryptocurrency they want to get paid in, their preferred cryptocurrency network, their minimum payout, their preferred payment frequency and input their wallet address.
Note - XBO for publishers is currently limited, if you want this enabled on your platform reach out to your EXADS representative.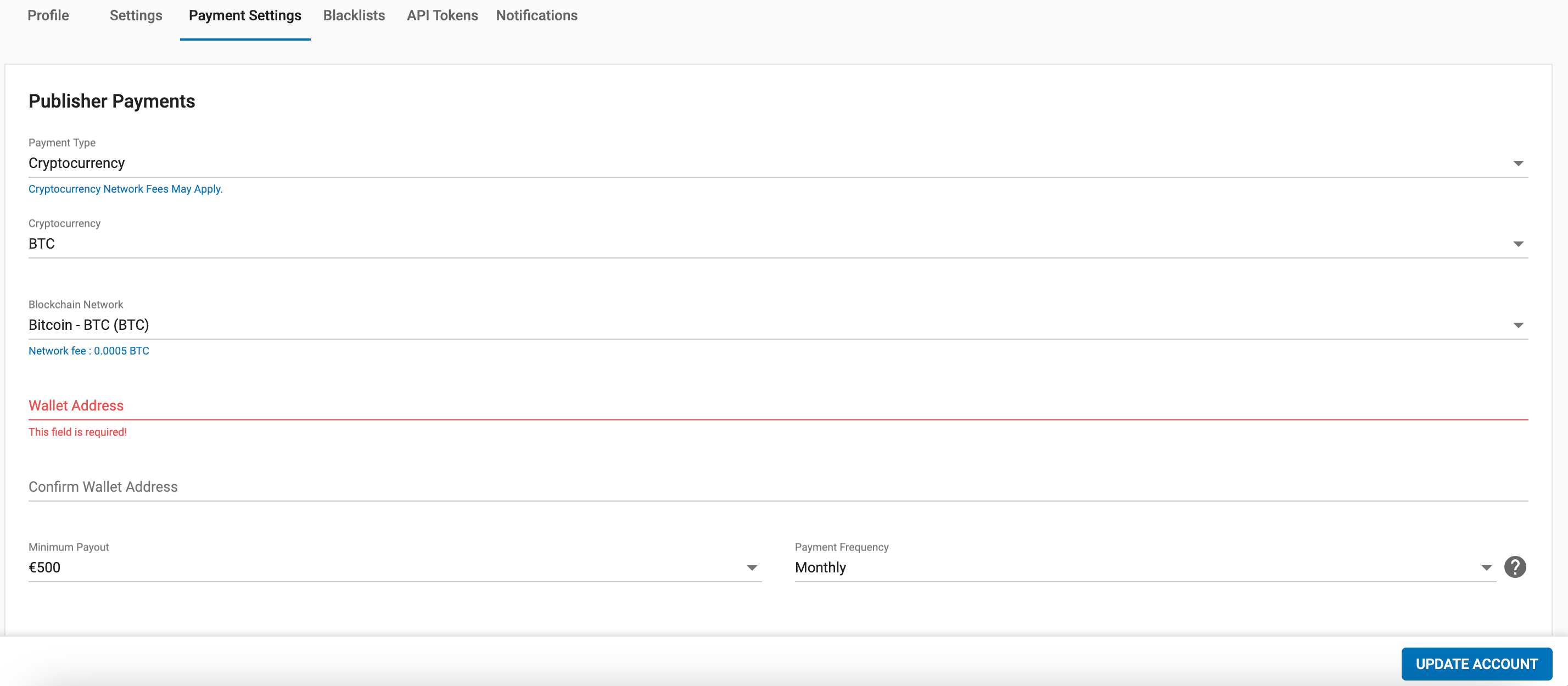 List of supported Cryptocurrencies
As previously mentioned, with XBO the choice of cryptocurrency is really wide as it supports the following coins: ADA, AVAX, BTC, BNB, CHZ, DOGE, DOT, EOS, ETH, LINK, MATIC, NEAR, SHIB, SOL, TRX, UNI, USDT, USDC, XMR, XRP, ZIL, ZRX. Moreover, XBO offers a seamless and efficient payment experience and currently has no country restrictions, which means that it can be accessed by users across the globe.