Table of contents:
We are super excited to join the world's top affiliate and ecommerce marketers and entrepreneurs in one of the most anticipated events of the year, in Barcelona, on the 12th and 13th of July! Our Product Director, Barry O'Sullivan and our CTO, Tiago Oliveira, will be at Affiliate World
to meet with companies that are interested in finding cutting-edge ad serving technology.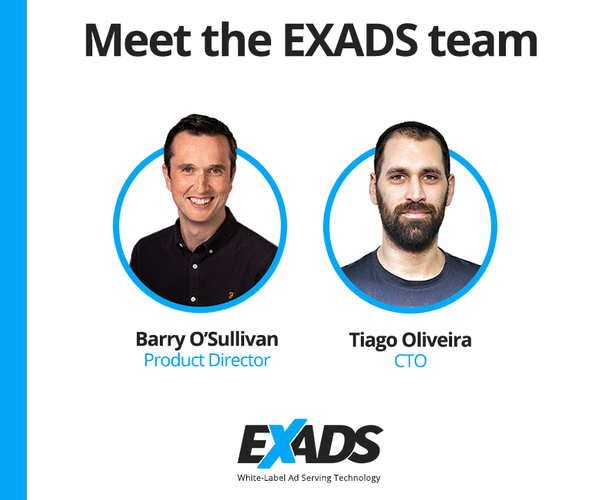 Why talk to our team?
EXADS's ad tech can be customized to suit any vertical, so whether your business is in the Dating, E-commerce, FinTech, Gaming or another industry, we can find a solution that fits your requirements.
Book a meeting
with our experts and start your journey with EXADS! Find out more about our products:
Publisher Ad Server
Look no further! EXADS self-serve and customizable ad server has all the features and functionalities you need: ability to use first-party data to segment and target your audience, ad formats like sponsored listings, native, video, email, display ads and more. Protect your brand and audiences with performant tools.
Your own DSP
With EXADS' technology, you get a DSP that allows you to easily integrate with multiple SSPs and ad exchanges and is the ultimate platform to gain access to a worldwide audience. Avail of all the powerful features you need, from the start: advanced targeting, automatic optimizations, in-depth analytics and much more.
Your own SSP
Manage your inventory across multiple sites and maximize your returns when selling to advertisers from one single platform. Our SSP is the white label programmatic ad solution that can be fully tailored to meet all your ad needs.
Ad Network Server
Discover our full white-label experience! Our ad network server takes care of your ad supply chain so that you can focus on expanding your business. Monitor the performance of your business and get actionable insights with real-time reporting for over 50 metrics, 25+ filters and dimensions.
Ad Server APIs
EXADS Ad Server APIs are the ultimate scalable solution for ad networks and agencies, big brands or SEM companies. Our flexible approach will help you build your perfect ad server, save time and money. Built with developers in mind, EXADS APIs include: Statistics, Ad Placement, Automation and admin Panel APIs.
Affiliate Ad Platform
The powerful Affiliate Software Solution you need, is here! Save time and costs with EXADS' white-label solution that can be customized for your vertical. You will have full control and visibility with performant statistics and tracking. Integrate easily with your preferred partners with an affiliate platform from EXADS!
Email Ad Server
Take your email campaigns to the next level with an email ad server from EXADS! Serve highly targeted and personalized ads to maximize your email advertising revenues. Our ad server works with all major email marketing platforms, can be set up quickly and has an intuitive user interface.
Mobile Apps Ad Server
EXADS offers a bespoke ad server dedicated to mobile advertising. Access a huge range of mobile ad formats with our powerful mobile ad server and deliver highly targeted campaigns to popular app verticals such as Gaming, Social, Utility and Entertainment.
Native Ad Server
Use the EXADS Native Ad Server to automate your native ad supply chain so that you can focus on your campaign's strategy. Achieve higher CTRs and higher revenues on all platforms including desktop, mobile, social and apps.
Video Ad Server
Avail of the best tools to take your video advertising to the top! The value of video ads continues to increase, creating new conversion opportunities to achieve high revenues. The EXADS Video Ad Server supports VAST, VPAID, VMAP and comes with all the features you need to take full control of your video campaigns.
Book a meeting!
Let's talk about how you can get a customized Ad Server that mirrors your branding and suits your vertical, at Affiliate World, Barcelona! Book a meeting with us
!