Table of contents
With ad tech providers such as EXADS, it is now easy to build your own ad platform, customize it and brand it the way you want. This gives you the advantage of a shorter time to launch, saves you money and resources and allows you to focus on acquiring your clients: advertisers, publishers or both, depending on your business model. But what happens next? This is where the importance of customer support kicks in. Same as in any other business, excellent customer support is a must for digital advertising platforms. Using the right tools can be a game changer in terms of advertiser and publisher retention. Take for example, the latest EXADS integration, with tawk.to, a messaging and customer management software makes it easy to monitor and chat with customers in real time.
Why is Customer Support important, in stats
Research from Zendesk
shows that:
64% of business leaders say that customer service has a positive impact on their company's growth

60% say it improves customer retention
A report from Salesforce
that included 3,600 business buyers surveyed worldwide revealed the following stats:
78% said that they would forgive a company for its mistake after receiving excellent service

84% of business buyers expect to interact with someone immediately when they contact a company
With customer support being an integral part of the customer experience (CX) Qualtrics XM Institute
found that:
94% of consumers who give a company a "very good" CX rating are likely to recommend the company

only 13% of those who gave a company a "very poor" CX rating say the same
Additionally, Invesp
compiled an infographic that shows that:
73% of customers find live chat to be the most satisfying way of communicating with a business

79% prefer live chat as they get their questions answered immediately

51% prefer live chat because it lets them multi-task

46% consider live chat to be the most efficient communication method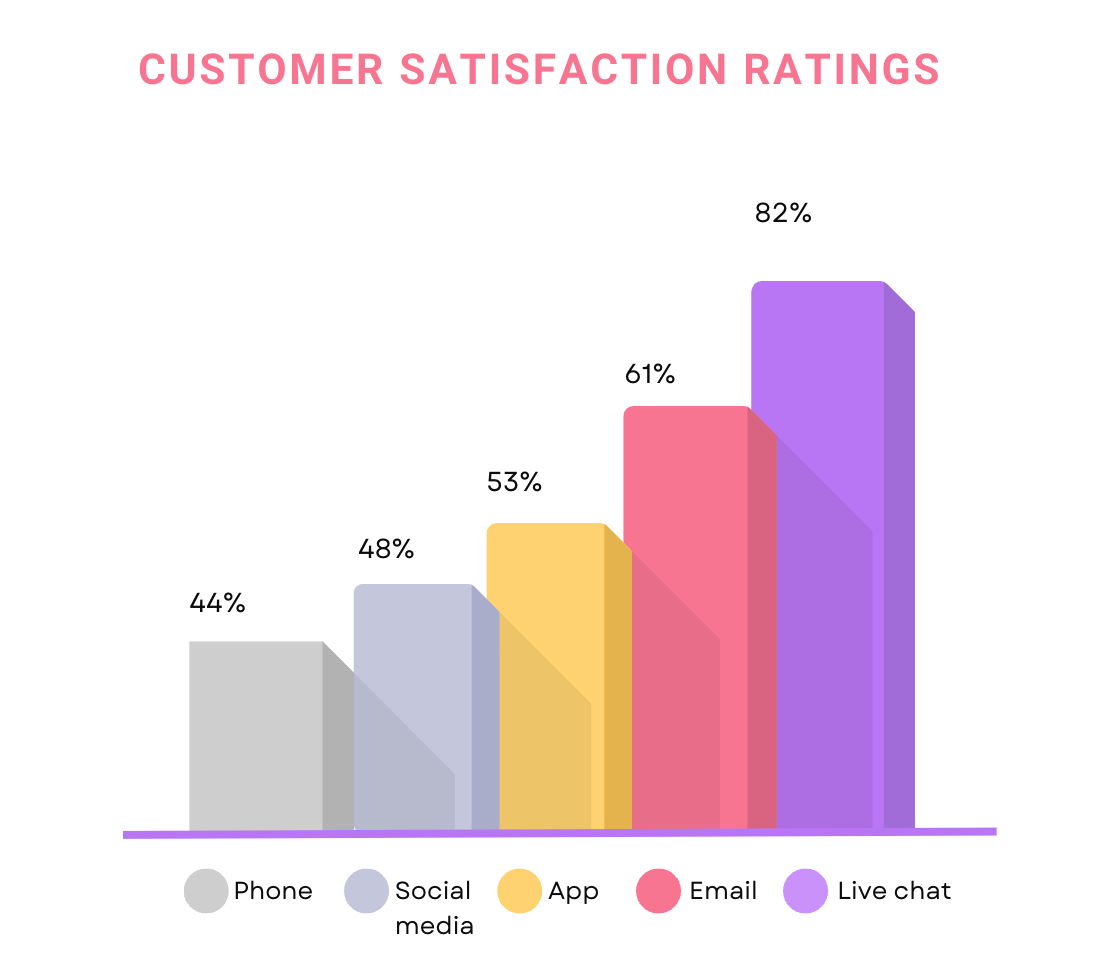 Source: Superoffice
Common queries solved via live chat by an ad network
Let's take the example of an ad network that is self-service, so advertisers and publishers can create accounts with minimal human interaction. Live chat can provide a means of direct communication that can iron out any queries that the user might have once they log in and start using the ad platform.
Common queries that can easily be solved via live chat include: queries regarding alerts or notifications that advertisers and publishers might have questions about, payment queries, account status, campaign reviews, website reviews. Live chat can also help Customer Support teams advise platform users regarding new features, when to use them and how to use them. This will ensure a smooth adoption of new functionalities.
Data reported by an ad network, client of EXADS, shows the most common queries that make up for over 50% of the total queries solved via Live Chat, over one year (June 2022 - May 2023):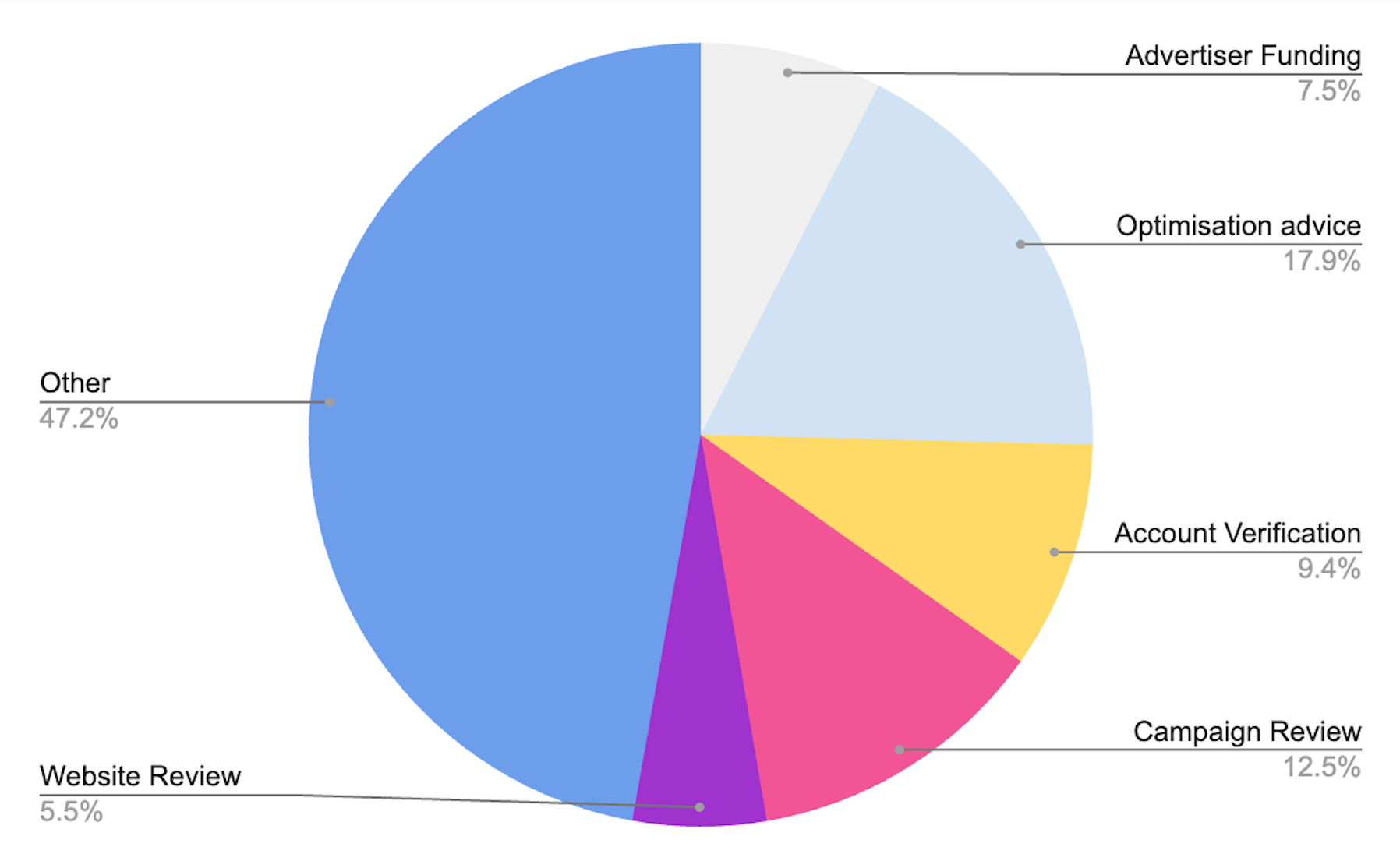 Why use the tawk.to integration?
At EXADS, our commitment to excellent customer support is paramount. We understand the significance of equipping our clients with the appropriate tools to deliver a high-standard service to their own customers. That's precisely why we have chosen to offer an integration with tawk.to.
Tawk.to is a live chat application that has become the most widely used in the world. Even better, it is a free tool! It has captured over 20% of the market and is the fastest growing company in its space. Tawk.to allows businesses to engage with their customers through live chat widgets on their websites. With over 1.7 billion people interacting with a tawk.to widget each month, the platform has a massive user base. Same as EXADS, the company prioritizes understanding and serving its customers.
One of the key offerings of tawk.to is its 24/7-365 live support, ensuring that businesses can always reach out for assistance. The company also provides a feature-packed product available in 27 different languages, catering to billions of consumers worldwide.
There are two paid add-ons:
For a monthly fee, businesses can remove the "Powered by tawk.to" branding from their chat widgets.

For an hourly fee, businesses can hire a chat agent service where professionally trained agents answer chats on their behalf. This service caters to businesses that don't have the resources or time to handle chats themselves.
With the tawk.to integration, you can offer excellent customer experiences to your advertisers and publishers. It gives you the ability to help them exactly when they need to be helped, which can be crucial in ensuring that they use your platform correctly and they apply the right settings for their campaigns or ad zones.
So what can you improve with tawk.to?
A live chat tool will help you increase customer satisfaction, loyalty and ultimately will boost your advertiser and publisher retention. Below, we look at some of the KPIs that tawk.to can help with:
First chat response time: This metric measures the average time it takes for an agent to respond to a customer's chat message. Quick response times build trust and confidence.

Missed chats: Tracking missed chat requests is crucial as it represents lost opportunities for conversation or conversion.

User satisfaction: Measures the overall performance in terms of user experience and helps identify areas for improvement.

Ticket resolution time: Tracking the time it takes to resolve customer issues through help-desk tickets.

Ticket first response time: Streamline the response process to answer quickly to customer inquiries received through tickets.
How does the tawk.to integration work?
Once EXADS has built and customized your ad serving platform the way you want it, you can request the integration with tawk.to. After our developers enable the integration on your platform, all your advertisers and publishers will have access to the live chat tool through an icon that will be displayed on your platform.
The default icon is a blue speech bubble in the left bottom corner, however, the color, size and position of the icon on the page can be customized to match your branding requirements.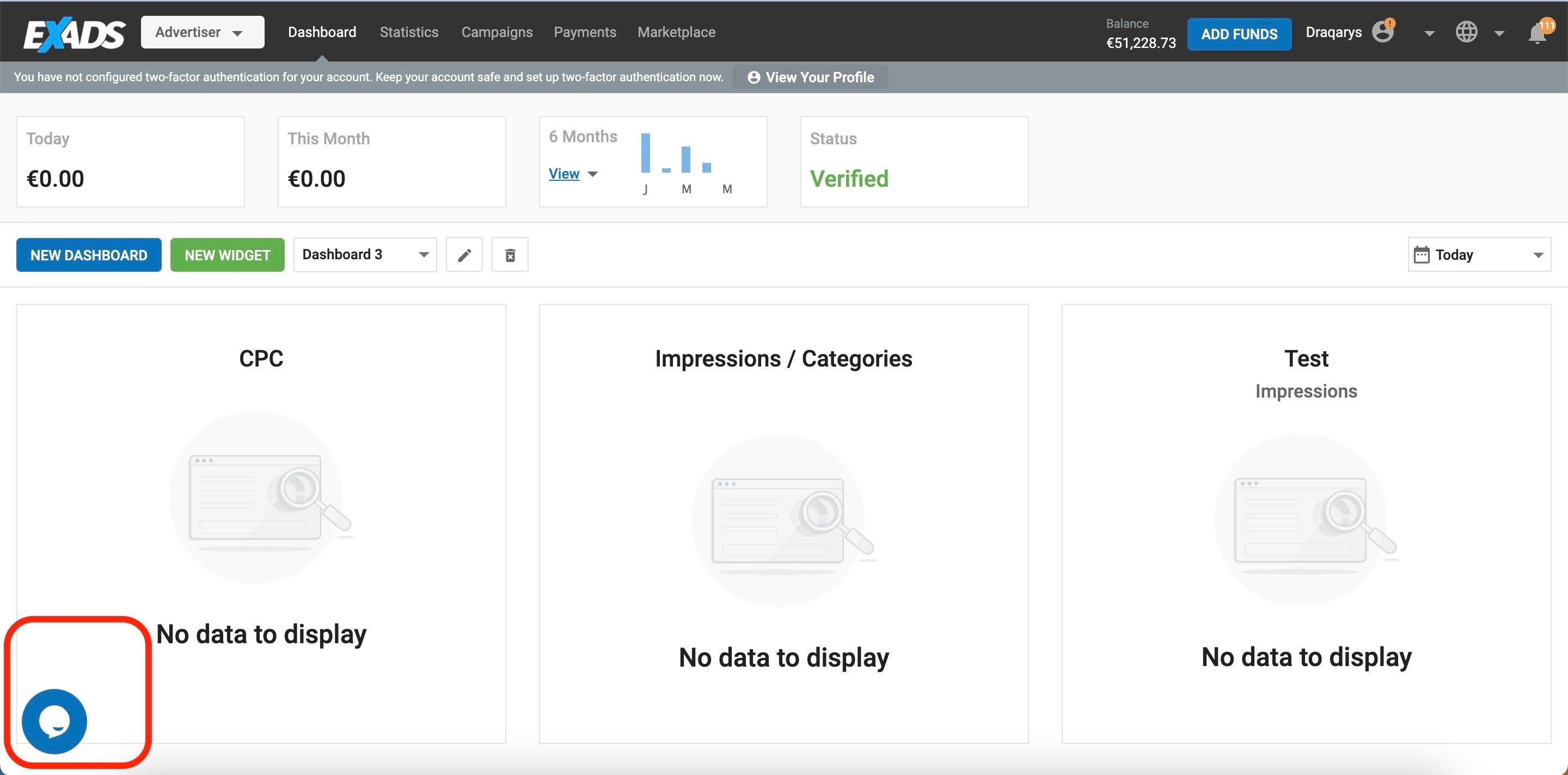 This will give your clients the ability to contact your support team whenever they need assistance, by simply clicking on the speech bubble icon. At the start of the conversation, they will need to provide their name, email address, a short message and then click on Submit.
With real-time access to this information, your team can engage in immediate conversations with clients and provide instant support. While it would be ideal to solve all requests in one interaction, sometimes it's not possible. In such cases, tawk.to's ticketing system serves as an alternative when real-time chats and calls cannot offer immediate solutions. By following up through email and tracking the entire conversation, businesses can ensure timely responses.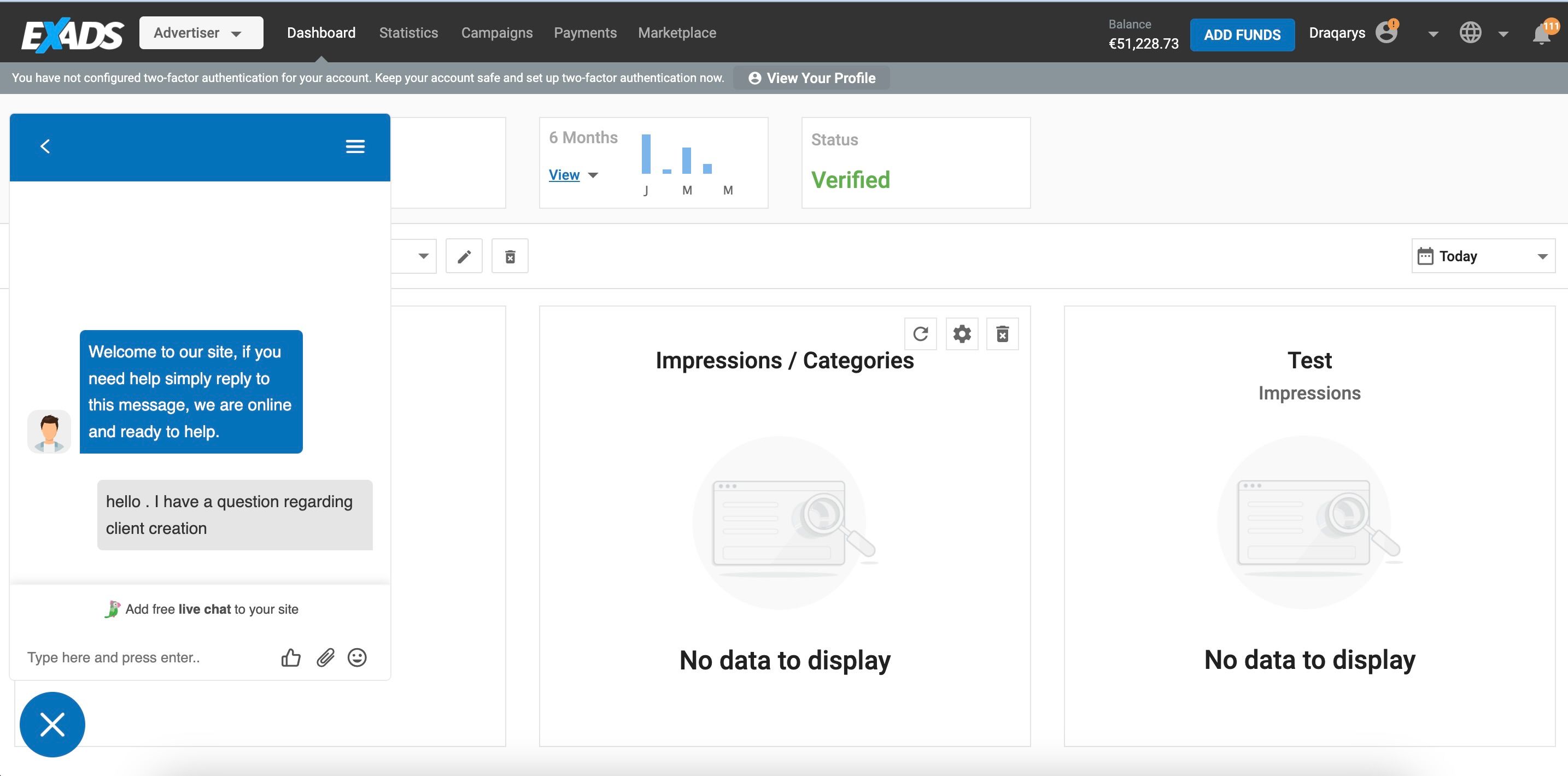 Conclusion
In summary, the flexibility and versatility of tawk.to align perfectly with our commitment to empower our clients. This instant and direct communication channel fosters meaningful interactions, enabling our clients to address advertiser and publisher queries, resolve issues, and provide advice.
EXADS offers a number of integrations that are available for the ad platforms that we build and can help you improve your customer experience and retention. If you would like to add tawk.to or any of the integrations on offer to your ad platform, don't hesitate to contact us!