Table of contents:
Ad networks have become instrumental in bridging the gap between publishers seeking monetization and advertisers targeting specific audiences across various websites. Whether you're a digital marketing agency looking to streamline operations or an entrepreneur looking to tap into the vast potential of digital advertising, starting an ad network can be a game-changing endeavour. In this article, we look at the steps required to start an ad network. Let's dive in!
What is an Ad Network?
An ad network is a platform that connects advertisers and publishers, so it's the mediator between advertisements and websites that wish to host them. An ad network's main objective is to mediate and regulate the connections between selling and buying, and the main advantage of having your own ad network is that you can be the umbrella over both publishers and advertisers and control their actions.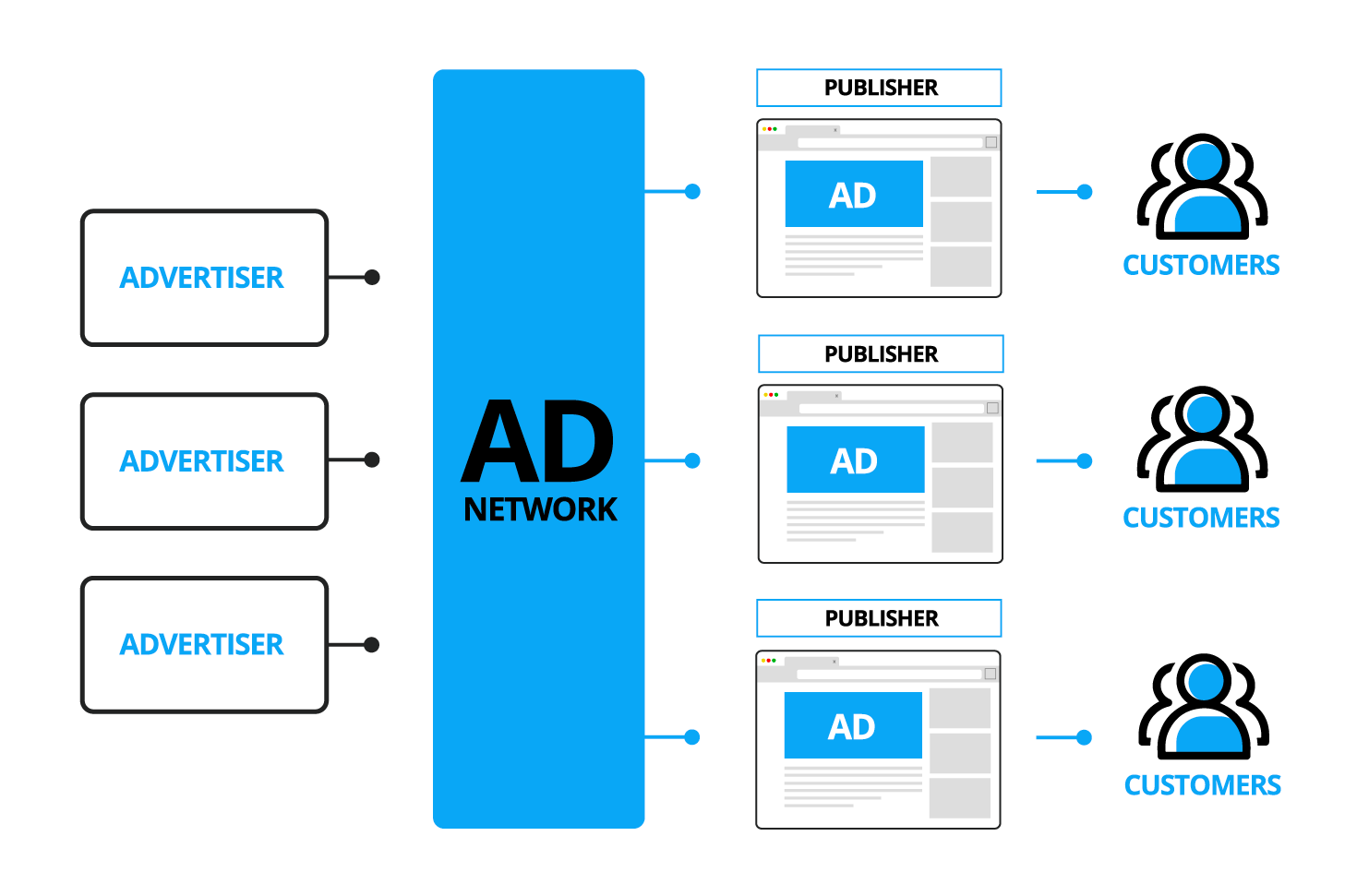 How to start an Ad Network
Starting an ad network can be an exciting venture with the potential for substantial growth and revenue. Below are some of the steps that you need to consider when embarking on this journey:
Market Research and Niche Selection:

Before diving into the ad network industry, conduct thorough market research to identify a niche that aligns with your expertise and has promising growth prospects. Consider niches with high demand, but not overly saturated. Understand the audience, demographics, and interests of that niche to attract both publishers and advertisers effectively.

Publisher Engagement:

Engaging with publishers is crucial as they provide the inventory of ad space you'll offer to advertisers. Reach out to reputable websites and content creators in your chosen niche who have a substantial amount of traffic.

Audience Quality and Safety:

Ensure that the publishers you engage with have genuine and organic traffic sources. Quality matters more than quantity. Advertisers will be interested in audiences that are engaged and relevant to their products or services. Implement thorough screening processes to filter out potentially fraudulent or low-quality traffic sources.

English-Speaking Countries Focus:

While it's valuable to have a global reach, focusing on English-speaking countries can attract high-quality advertisers and better monetization opportunities due to the purchasing power and language familiarity in these regions.

Audience and Conversion:

For your ad network to succeed, it's essential to offer advertisers access to the right audiences and offer publishers ads that will appeal to their end users. This will increase the likelihood of conversions, and make your ad network very attractive.

Minimum Impressions and Scaling:

Having a minimum threshold of 20 to 100 monthly impressions is a good starting point, but your ultimate goal should be to scale up. Continuously work on expanding your network of publishers and advertisers to increase the overall impressions and reach of your network. This will attract more advertisers and potentially result in higher revenue.

Relationship Building:

Cultivate strong relationships with publishers and advertisers by understanding their goals and providing them with valuable insights and recommendations.

Minimum Impressions and Scaling: Having a minimum threshold of 20 to 100 monthly impressions is a good starting point, but your ultimate goal should be to scale up. Continuously work on expanding your network of publishers and advertisers to increase the overall impressions and reach of your network. This will attract more advertisers and potentially result in higher revenue.
Compliance and Privacy:

Stay up-to-date with advertising regulations, privacy laws (such as GDPR or CCPA), and industry standards. Ensure that both publishers and advertisers adhere to these regulations, and prioritize user privacy and data protection.

Ad Technology and White-Label Ad Servers:

The technology you choose will play a vital role in the success of your ad network. A

white-label ad server

is a practical solution as it saves you time and resources that would otherwise be spent on developing your own ad-serving technology from scratch.
How to choose an ad server for your ad network
Opting for a white-label ad server over building an ad network from scratch offers numerous advantages that can significantly impact the success and efficiency of your advertising venture.
Building an ad network from scratch is an intricate and time-consuming process. It requires substantial resources, including software development, infrastructure setup, and ongoing maintenance. On the other hand, a white-label ad server provides a ready-made, fully functional solution that can be quickly integrated into your business. This significantly reduces the time to market and the associated costs, allowing you to focus on growing your network, acquiring clients, building relationships, and expanding your network's reach without getting bogged down by technical development.
When looking for the perfect ad technology for your ad network, some features are simply "must-haves":
White labeling

- total customization to match your brand identity and provide further trust from your clients

Real-time Reporting

- easy access to statistic data covering all aspects of the network's functioning, which can be stored and downloaded with a few clicks

Advanced Targeting

- the more targeting options available, the more effective both the buying and selling of inventory will be

API Access

-

allows you greater flexibility to integrate with or enhance other systems that you may be using, or expand current functionalities further.

Support

- while adjusting to new systems, it's normal to have questions and to need personal help on those first few steps. Having a direct channel of communication other than email is vital.
EXADS fully fledged ad network infrastructure, ready to go
With EXADS, all the topics mentioned above (and more) are covered:
White labeling

- Rather than undertaking the laborious task of creating everything from the ground up, you'll receive a complete

white label

ad server solution, seamlessly integrated into your business. Your clients won't be aware of EXADS' existence as the entire platform will be branded with your logo, color scheme, and domain, presenting a cohesive and consistent brand experience from start to finish.

Reporting

- gathering and analyzing data can be extremely time-consuming. Using EXADS, you gain access to a centralized platform that provides comprehensive information, enabling

real-time monitoring

of your ad network through a wide array of more than 50 metrics and 25 dimensions. Moreover, the customizable dashboards cater to your specific needs, allowing you to save and download reports effortlessly, facilitating seamless sharing with your team at any given point.

Targeting options

- with EXADS, you'll have access to unparalleled

targeting options

, meaning that you'll be able to accurately reach your ideal audience. From Category, Country, Region, Language, and much more, we've got you covered.

Self-service Platform

- you can invite your Publishers and your Advertisers directly to your ad network and they'll be able to create their ad zones and campaigns

on their own

. You'll also be able to define the criteria you'll apply before approving your clients as well as customize the features they'll be able to use.

Automatic Optimizations

- with our

Bidder

tool (which adjusts the bids for ad zones and blocks zones that don't convert), our landing page algorithms (which adjust traffic to go to your best-performing landing pages), our ad variations (that ensure your best ad variations will be prioritized) and

Smart Bid

(our pricing model based on machine learning that helps Advertisers to automatically determine an optimal bid for their campaigns by analyzing campaign data), we give you and your clients all the tools that will ensure maximum optimization throughout your ad network.

API Access

- we provide you with a full range of

ad server APIs

that allow you to go one step further and build your ad serving platform with all the specific requirements you might have, or even to customize your platform's front end with admin panel API. You can also use automation APIs to create campaigns, sites, and zones, as well as use the ad placement API to implement custom ad formats and the

statistics API

to build all the reports you might need.

Varied payment options

: EXADS has established partnerships with trustworthy payment providers, allowing

advertisers

to concentrate on their campaign results and ensuring

publishers

that they will receive their payments securely and promptly. The platform simplifies the process of handling payments, invoices, and refunds for a hassle-free experience.

Support

- with EXADS, you'll get dedicated technical and customer success support to help you maximize your ad network's potential. We'll not only help you with the decision-making process but also help you out every step of the way.
What else will I get with EXADS?
Malvertising Protection

- with our API callback system, we offer you an automated solution to avoid malvertising, lack of ad compliance, and bad quality ads through our integration with AdSecure

OpenRTB and Custom RTB Integrations

- you'll be able to effortlessly

connect with demand and supply partners

in one single platform, having also access to a large range of high-performing ad formats

Various pricing models

- from CPM, CPA, CPV to CPC, you just need to choose the

pricing model

that best suits your objectives
Benefits of using EXADS
For Administrators
Centralization of all operations, as well as automation of daily tasks

Consolidation of all relevant data in one place, with easy reporting and measurement

Payment management for the entire network is done with a click of a button and all finance-related details are stored in one place
For Publishers
No need to rely solely on programmatic inventory to sell it

Easy access to analytic information and reporting

Access to a wide variety of ad formats
For Advertisers
Ability to buy inventory from various publishers

All campaign data is stored in one place

Easy campaign creation process
How to start an ad network with EXADS
Getting started is a breeze. Simply get in touch with us using our Get Started or Contact Us Forms, and we'll promptly reach out to understand your specific requirements and business objectives.
Following an initial one-on-one call, we'll guide you through a demonstration of our platform. You'll also have the opportunity to explore the platform independently, while we remain available to support you at every stage.
Once you're confident about moving forward with us, we'll handle the standard contract procedures. Additionally, you'll provide us with your chosen white-label details. In less than two weeks, your personalized ad network will be up and running, tailored to your brand, and ready for action.
Conclusion
By entrusting your ad network to a robust ad server platform, you can harness a wealth of advantages that ultimately save you precious time, money, and valuable resources. With EXADS, the tedious task of building everything from scratch is eliminated, as you receive a fully white-labeled ad server seamlessly integrated into your brand identity. This fosters credibility and trust among your clients, reinforcing your position as a reliable and professional ad network provider. Let's embark on this exciting venture together, where we'll provide you with unwavering support and guidance at every stage. Are you ready to unlock the full potential of your ad network? Let's get started!