Having a good payment system for any SaaS application is a prerequisite to building customer loyalty. This is an even more important feature when we consider the fast-paced world of digital advertising. Successful advertising campaigns rely on the ability of implementing real-time optimisations which often require additional funds from advertisers for advertiser campaign budgets. Moreover, we want to make sure that the available payment methods are varied enough to cover most clients' requests and that they are safe, secure and compliant.
At EXADS we make it very easy for Advertisers to maximize their returns. Our integrations give advertisers the ability to quickly set up their payment methods and focus on their campaigns.
EXADS Payment Options for Advertisers
EXADS has integrated with six of the best and most popular payment providers whose features help Advertisers to top-up their accounts seamlessly. Advertisers can recharge their accounts through card payments, Wire Transfers or even cryptocurrency transactions. Each of these methods of payment has its own perks and advantages.
The card payment methods provide our Advertisers with a very fast, hassle-free experience, and a simple checkout process. We partnered with payment providers that allow Advertisers to make a manual recharge or auto recharge along with the option to save the card details.
Below, we have listed all the providers that are available to advertisers using our ad serving platform.
For Ad Server Administrators, all that is required is to provide their business credentials for each of the payment methods listed. Then once enabled, Advertisers will have the ability to add funds to their account and fuel campaigns. All funds deposited by Advertisers will land in the Ad Server Administrators relevant account associated with the payment method.

SecurionPay
With SecurionPay, EXADS provides a way for Advertisers to make credit and debit card payments. It also provides options for manual recharge, auto recharge and the option to save card details for future transactions.
By just enabling the auto-recharge feature, the Advertiser can keep their account charged and campaigns running at all times. The "Save card" option also makes subsequent purchases quick and easy.
SecurionPay delivers a very fast, hassle-free experience, and simple checkout process to EXADS' Advertisers.
Benefits: SecurionPay provides the easiest checkout process with good protection and security of customer information. Moreover, the "Auto Recharge" and "Save Card" options enable Advertisers to react quickly when required.
SafeCharge
With SafeCharge, EXADS provides its Advertisers with another seamless credit and debit card experience, as an alternative to SecurionPay. SafeCharge is known world-wide for being one of the most secure and reliable payment providers, making it the most popular choice for Advertisers.
Benefits: Given the good reputation that SafeCharge carries, Advertisers feel comfortable using this payment method.
Paypal
Paypal is a quick, safe and easy option for Advertisers to add their funds to their accounts. They also have the option to make auto-recharges whenever the account balance is low.
Paypal is one of the world's largest payment networks, present in over 200 global markets. Its notoriety and reputation makes it one of the preferred payment methods for Advertisers.
Benefits: As a trusted provider, PayPal provides a safe and fast service, removing the hassle of converting currency. All that Advertisers require is a Paypal account.
Wire Transfer
In a bid to answer to some of our clients' business requirements, EXADS also offers a wire transfer payment option. This allows EXADS Advertisers to add funds straight from their bank account.
Some advertisers are used to this payment method and use it regularly for their business, although a wire transfer can take up to two or three days to process.
Benefits: Wire Transfer is a convenient and safe mode of payment and is especially useful for large advertisers who transfer large amounts of money.
Paxum
With Paxum, Advertisers can pay invoices and view their transactions in a swift and easy manner.
As Paxum is recognised as one of the best e-wallet payment methods, Advertisers choose it for its low transaction fees, usability and maintenance.
Benefits: Paxum is one of the easiest payment methods available. All one needs is an internet connection to make a transfer using this payment method.
Circle
Through Circle, advertisers can add funds to their accounts using USDC Cryptocurrency.
Cryptocurrency is a digital payment method that provides a mode of exchange through various blockchain networks. Through these various blockchain networks, Advertisers can record their transactions and also track their asset transactions. Cryptocurrency provides a safe store of value to their currencies.
Benefits: There is no doubt that Cryptocurrency is going mainstream. Transfers are very easy to make and also highly secure.
Invoicing and Financial Management
Good financial management is based on having the records for all these transactions readily available and clearly categorized. Invoicing helps control the flow of payments, keeps track of each transaction and hence helps maintain a healthy financial state.
EXADS provides a well-designed and maintained invoicing system with different transaction types that help users such Ad Server Administrators, Financial Accountants and Advertisers to keep up with each transaction made.
EXADS facilitates many types of financial artifacts such as Proformas, Invoices, Balance Adjustments, Chargebacks, Credit Notes, and Refunds.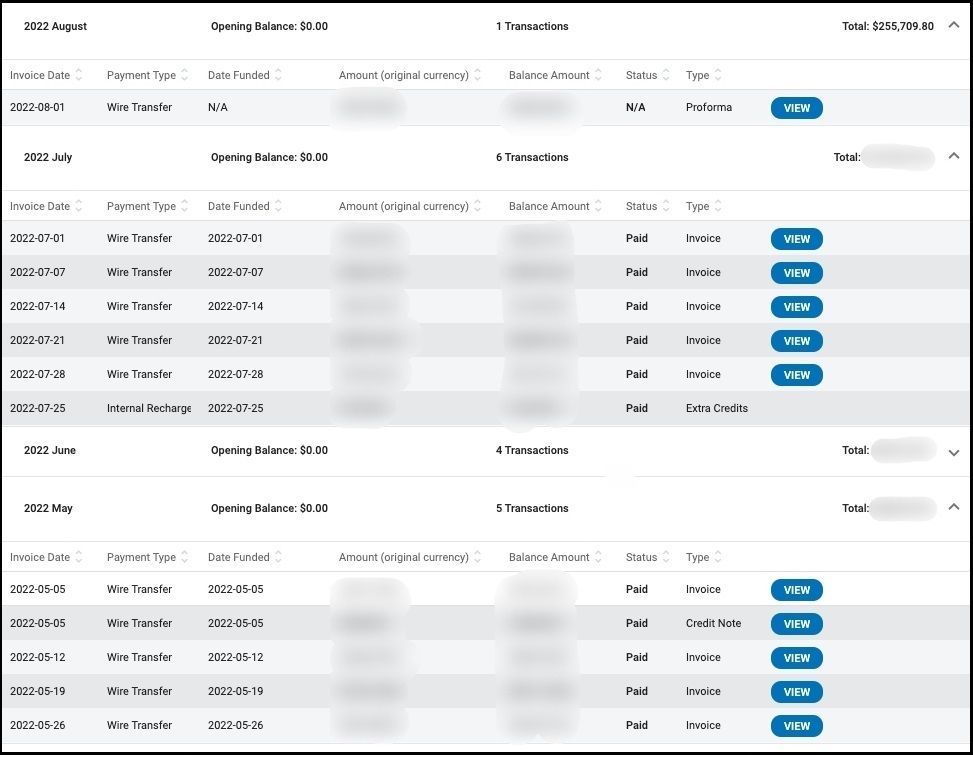 Proforma:

a proforma is a preliminary invoice that shows the amount due but is not the official document of the transaction. It essentially is a financial document to state that there is an assumption that funds are on their way. Once the payment is confirmed as received the proforma gets converted to an invoice and the funds are added to the Advertiser's account. This is mostly used in payment methods such as Wire Transfers where the movement of funds takes longer.
Invoices

: an invoice is an official document that records a transaction showing the amount for payment. For instant payments via Cards or Paypal for example, an invoice is generated automatically, while for Wire Transfers where the transaction may take longer due to timings between banks, a proforma is created.
Chargeback:

chargeback is more of a return of money to the Advertiser similar to a refund, but this comes from the credit card or bank account used for payment rather than from the platform to which the payment was made. Chargebacks are often used in cases of fraudulent or erroneous card charges.
Credit Note:

a credit note is an official document similar to an invoice. It notifies the Advertiser that they have been credited with a certain amount

and usually to reverse an invoice or for various other reasons.
Conclusion
We are proud to state that EXADS offers one of the most comprehensive ranges of payment options, having partnered with renowned, reliable and secure providers.
If you have any questions regarding our available payment options, or would like to start using EXADS, just contact us today, and we'll be happy to answer all your questions!