We are proud to announce that EXADS was recognized as the "Best Display Advertising Platform" in the 2023 international MarTech Breakthrough Awards program!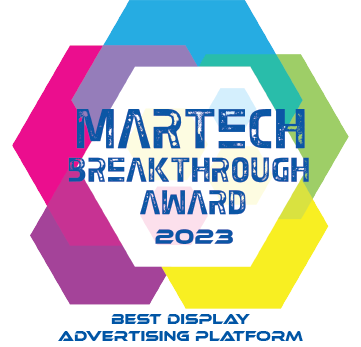 Currently in its 6th year, the prestigious annual awards program acknowledges the top companies, technologies, and products within the present-day global landscape of marketing, sales, and advertising technology.
Martech Breakthrough
, the leading market intelligence organization honors excellence and recognizes innovation, dedication, and success across a spectrum of technology categories, including marketing automation, performance marketing, AdTech, SalesTech, marketing analytics, content and social marketing, mobile marketing, and more.
This year, after thoroughly reviewing, scoring, and analyzing more than 3,500 nominations, from over 19 different countries, Martech BreakThrough selected EXADS to be on the impressive list of winners.
EXADS founder and CEO, Benjamin Fonzé stated:
"We're proud to receive the 'Best Display Advertising Platform' award from MarTech Breakthrough. This is a recognition of our drive to provide EXADS' clients with the advertising technology they need to thrive in a very dynamic industry. We want to empower businesses to take full control of their digital advertising with our white-label ready-to-go solutions. This award is another stepping stone in that journey."
James Johnson, Managing Director at MarTech Breakthrough also added:
"EXADS' display advertising platform is a robust and performant product that comes packed with premium features from the start. Their ad tech can be customized to suit any vertical, from E-commerce to FinTech. When we look at the challenges facing the advertising industry, we know that businesses can rely on EXADS' platform to reach the right audience, at the right time, with the right message. With EXADS, companies gain security, the targeting and analytics they need, and a wide variety of ad formats - all in a platform that's simple to set up and use."
Our Display Advertising Platform can be tailored to the requirements of a diverse range of publishers from publishing groups with multiple digital properties, to membership websites and even retailers. For example, membership sites seeking to provide hyper-relevant and non-disruptive advertising experiences to their audiences via first-party targeting. This category can include niche websites, e-news publications, forums, community websites, or dating platforms. Leveraging EXADS' advanced targeting choices alongside our versatile display ad formats like responsive, multi-format, and custom ads, publishers can effectively attain these objectives. Additionally, EXADS equips publishers with exceptional statistics and reporting capabilities, enabling real-time and detailed performance monitoring.
This acknowledgment not only validates our accomplishments so far but also ignites our momentum for the future. Our commitment to consistently deliver cutting-edge technology solutions that meet the evolving demands of the market remains as strong as ever!