Looking for the best platform to power your business? EXADS robust platform offers completely customizable white-label ad serving technology. We serve +12 billion impressions a day, and a wide variety of ad formats. Easy Setup, completely self-service and automatized, with advanced statistics and programmatic tools available.
Want to know more? Come meet us at the TES Affiliate Conferences, at Cascais Portugal, on 22-25 February 2023.
Book a meeting with our Product Director Barry O'Sullivan, our Chief Technology Officer Tiago Oliveira and our Customer Success Manager, Mariana Azevedo!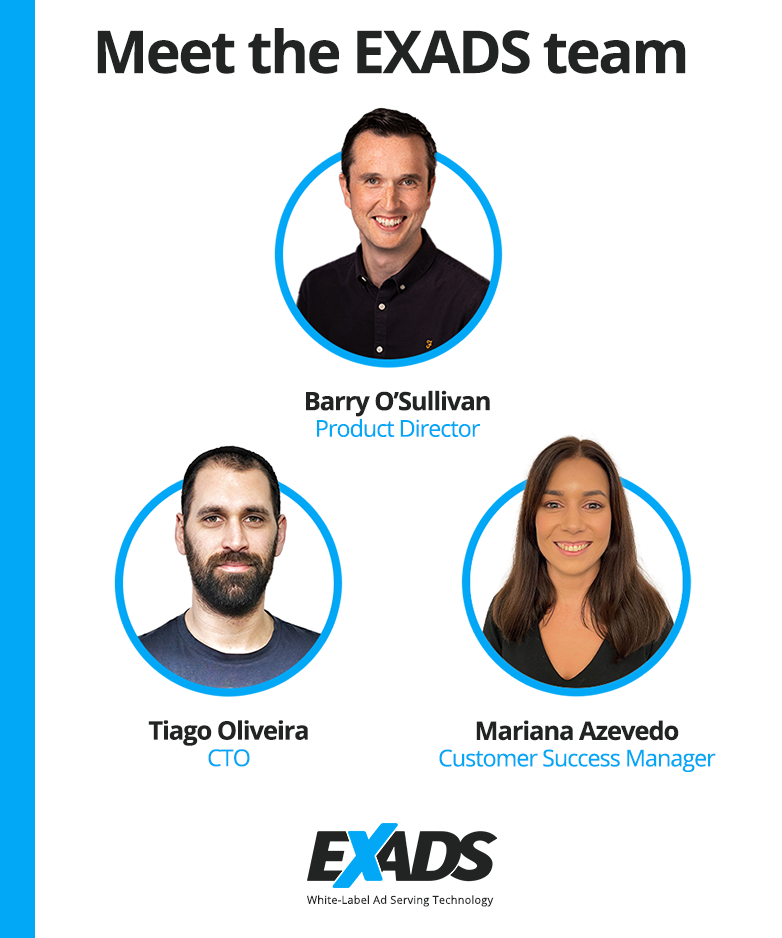 Why meet with EXADS?
At EXADS we build white label ad-server solutions for our clients. Our clients range from publishers looking to manage their ad spaces and campaigns more effectively, to large ad networks and advertisers looking for a programmatic ad serving solution.
With a complete suite of customisable features from logos, color options and ad formats, all the way to a unique ad serving domain, our white-labeled ad server gives you total control of your business. We have an extensive range of scalable solutions available and our team at TES would be happy to give you a quick demo:
Demand Side Platform (DSP)
Access a global audience with a DSP that allows you to easily integrate with multiple SSPs and ad exchanges. With EXADS' DSP you avail of all the powerful features you need, from the start: advanced targeting, automatic optimizations, in-depth analytics and much more.
Supply-side Platform (SSP)
Manage your inventory and maximize your returns when selling to advertisers from one single platform. The EXADS white label SSP solution can be fully tailored to meet all your ad needs.
Publisher Ad Server
Looking to manage your sites and zones more efficiently and circumvent ad blocking technology? Monitor the performance of your campaigns and get actionable insights with real-time reporting for over 50 metrics, 25+ filters and dimensions.
Ad Network Server
Discover our full white-label experience! Our ad network server takes care of your ad supply chain so that you can focus on expanding your business. Whether it is for desktop, mobile or tablet, our extensive range of high-performing ad formats has you covered!
Ad Server APIs
EXADS Ad Server APIs are the ultimate scalable solution for ad networks and agencies, big brands or SEM companies. Our flexible approach will help you reach your goals, save time and money.
Email Ad Server
Whatever email marketing platform you use, get more out of your email marketing integrating it with the EXADS ad server, to deliver best-in class email ad experiences to your audiences. It has never been easier!
Mobile Apps Ad Server
Access a huge range of mobile ad formats with our powerful mobile ad server and deliver highly targeted campaigns to popular app verticals such as Gaming, Social, Utility and Entertainment.
Native Ad Server
Use the EXADS Native Ad Server to automate your native ad supply chain so that you can focus on your campaign's strategy. Achieve higher CTRs and higher revenues on all platforms including desktop, mobile, social and apps.
Video Ad Server
Video is king! The value of video ads continues to increase, creating new conversion opportunities to achieve high revenues. The EXADS Video server gives you all the tools you need to take full control of your video campaigns.
Book a Meeting!
If you are attending TES and are curious to find out more, book a meeting with our Product Director Barry O'Sullivan, our Chief Technology Officer Tiago Oliveira and our Customer Success Manager, Mariana Azevedo!