EXADS white label ad server has compiled a Data Report comparing Q1 & Q2 of 2022. The aim of the report is to look at data and traffic generated by EXADS 1 January-30 June 2022.
EXADS' Business Intelligence team looked for trends and insights across the 2,176 billion impressions (12 billion daily average) served across EXADS clients' global ad serving networks for the two quarters.
Report Contents
Advertiser and Publisher Trends
Comparing Q2 with Q1, the number of active advertisers increased by 5.2% in Q2 therefore active ad campaigns also grew by 6.9% and the number of campaign variations also showed an increase of 5.09%.
On the Publisher side there was a slight decrease of active publishers by -2.7% which led to a decrease in active ad zones at -2.2%.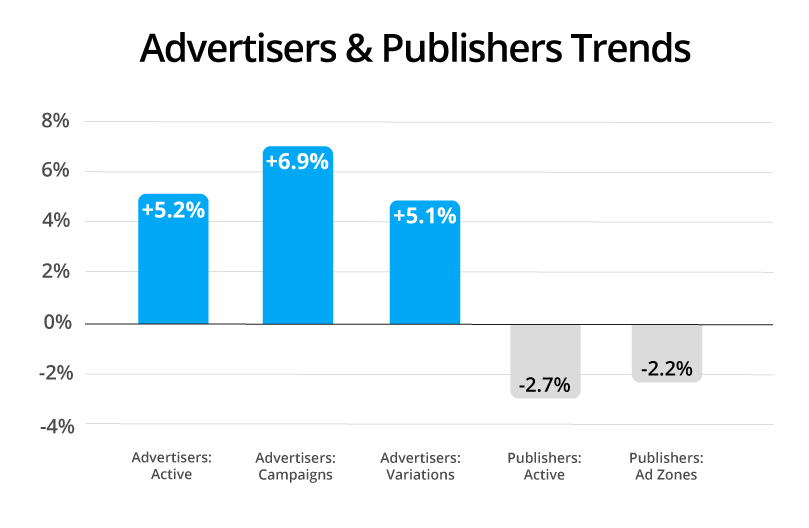 Insight: Despite slightly less ad zones for advertisers to bid on, the number of advertisers and ad campaigns grew. This signifies that clients across all EXADS' ad serving network were benefiting from selling ad zones more efficiently coupled with increased advertiser demand.
The click quality of the traffic sources increased. Looking at the ratio of clicks generated compared to impressions globally, in Q1 the CTR average across all formats and devices was 0.00314%, in Q2 this ratio had increased to 0.00324%, a comparative increase of 3.18%.
Impressions per Device Share
EXADS serves ads across Mobile, Desktop, Tablet, Smart TV and Consoles. There were some slight variations in impressions served per device across each quarter.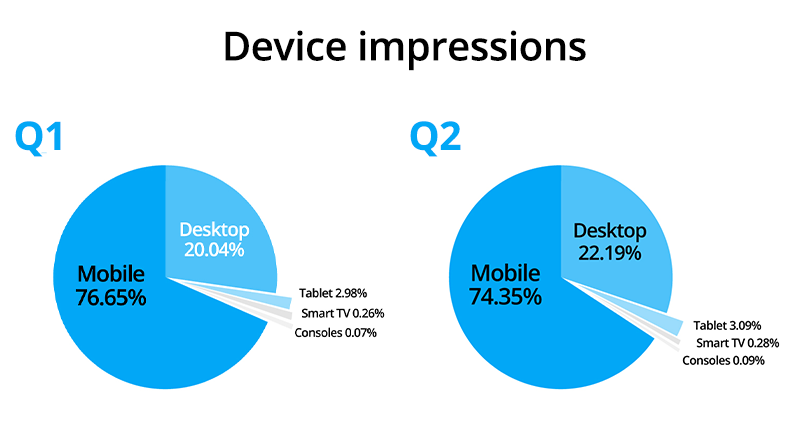 Mobile took the greatest share of impressions, always accounting for over 74% of overall impressions. In Q2 Mobile saw a slight drop of 5.4% compared to Q1 and in Q2 all other devices grew: Desktop by 8.3%, Tablet by 1.5%, Consoles by 11% and SmartTV by 7.3%. From these stats we can see that 2% of the impressions switched from Mobile to Desktop in Q2.
Tier 1, 2 and 3 Countries Impressions & Browser Share
The world is divided up into 3 tiers which evaluate the purchasing power of different countries or regions:
Tier 1 Countries

: The most desirable countries advertisers want to advertise in. The wealthiest with the highest levels of disposable income. Australia, Austria, Belgium, Canada, Denmark, Finland, France, Germany, Ireland, Italy, Luxembourg, Netherlands, New Zealand, Norway, Spain, Sweden, Switzerland, United Kingdom, United States of America.

Tier 2 Countries

: Countries with medium wealth and a lower level of disposable income. Andorra, Argentina, Bahamas, Belarus, Bolivia, Bosnia and Herzegovina, Brazil, Brunei, Bulgaria, Chile, China, Colombia, Costa Rica, Croatia, Cyprus, Czech Republic, Dominican Republic, Ecuador, Egypt, Estonia, Fiji, Greece, Guyana, Hong Kong, Hungary, Iceland, Indonesia, Israel, Japan, Kazakhstan, Latvia, Lithuania, Macao, Malaysia, Malta, Mexico, Montenegro, Morocco, Nepal, Oman, Panama, Paraguay, Peru, Philippines, Poland, Portugal, Puerto Rico, Qatar, Republic of Korea (South),Romania, Russian Federation, Saudi Arabia, Serbia, Singapore, Slovakia, Slovenia, South Africa, Thailand, Turkey, Ukraine, United Arab Emirates, Uruguay, Vanuatu.
Tier 3 Countries:

Developing countries with low wealth and no disposable income. Albania, Algeria, Angola, Armenia, Azerbaijan, Bahrain, Bangladesh, Barbados, Belize, Benin, Botswana, Burkina Faso, Burundi, Cambodia, Cameroon, Cape Verde, Chad, Comoros, Congo, El Salvador, Ethiopia, Gabon, Georgia, Guatemala, Guinea, Haiti, Honduras, India, Iraq, Jamaica, Jordan, Kenya, Kuwait, Kyrgyzstan, Laos, Lebanon, Lesotho, Macedonia, Madagascar, Mali, Mauritania, Mauritius, Moldova, Mongolia, Mozambique, Namibia, Nicaragua, Niger, Nigeria, Pakistan, Senegal, Sri Lanka, Suriname, Swaziland, Tajikistan, Tanzania, Togo, Trinidad and Tobago, Tunisia, Turkmenistan, Uganda, Uzbekistan, Vietnam, Zambia.
EXADS examined global data for the three tier groups for Q1 & Q2 2022.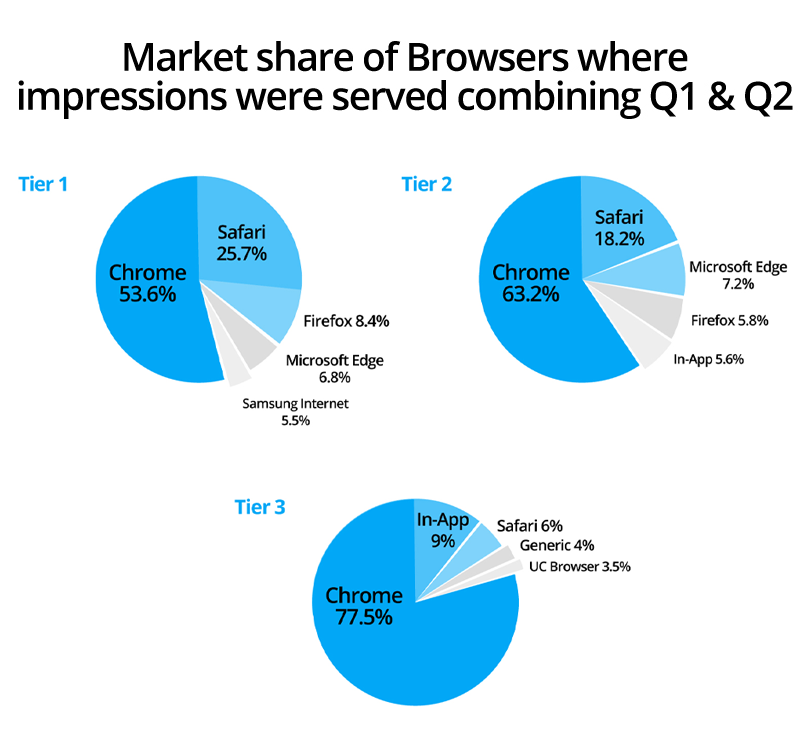 Insight: Chrome dominates as expected. Safari is strong in Tier 1 25.7% and Tier 2 18.2% which shows that affluent countries find Apple devices more affordable, in Tier 3 Safari only accounts for 6%.
RTB Connected Sources & Events
RTB Growth
EXADS clients added 13 more DSPs and 6 more SSPs in Q2.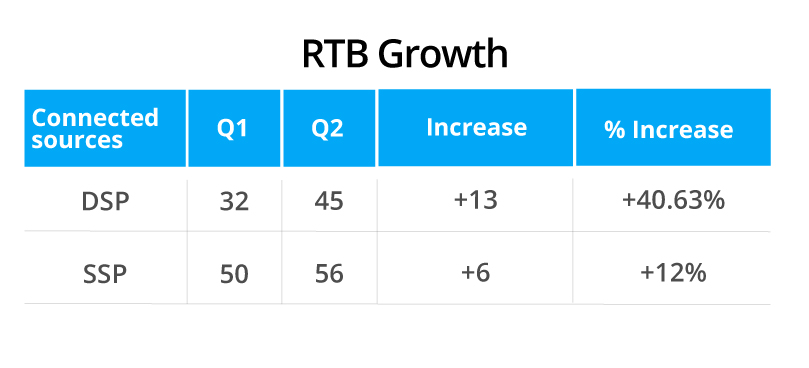 RTB Events
Comparing Q1 and Q2, the number of RTB events increased significantly in Q2.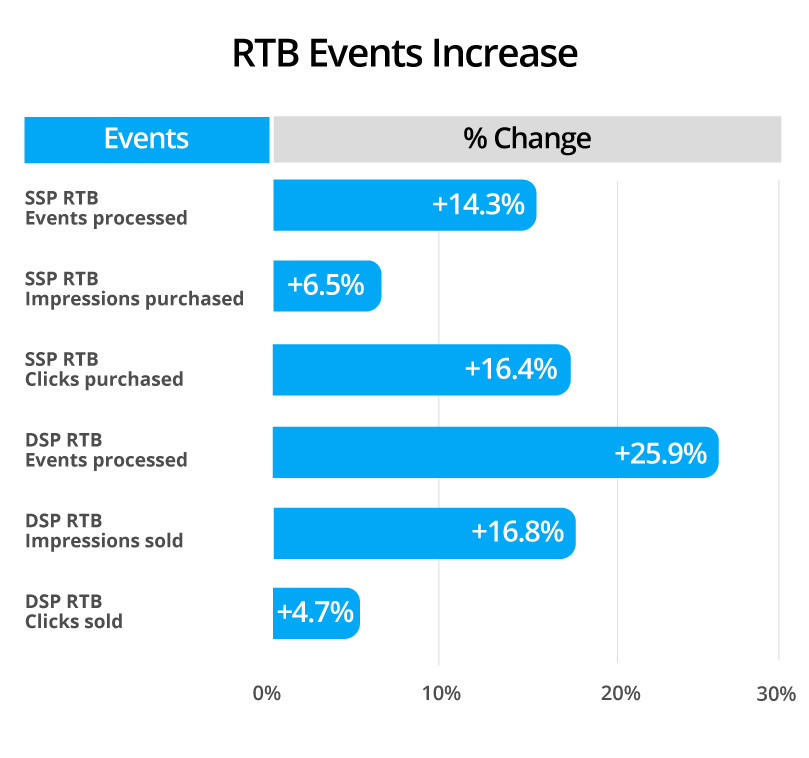 With these increased programmatic partners, EXADS has seen extensive growth across RTB events, the largest being DSP Events at 25.9%, and SSP events increasing by 14.3% that is inline with the addition of new plug in partners. This, in turn, has generated an increase in Impressions and Clicks purchased / sold.
Ad Format Trends
We looked at the percentage split of impressions served on all types of EXADS ad formats across all devices showing the percentage change in Q2 when compared to Q1: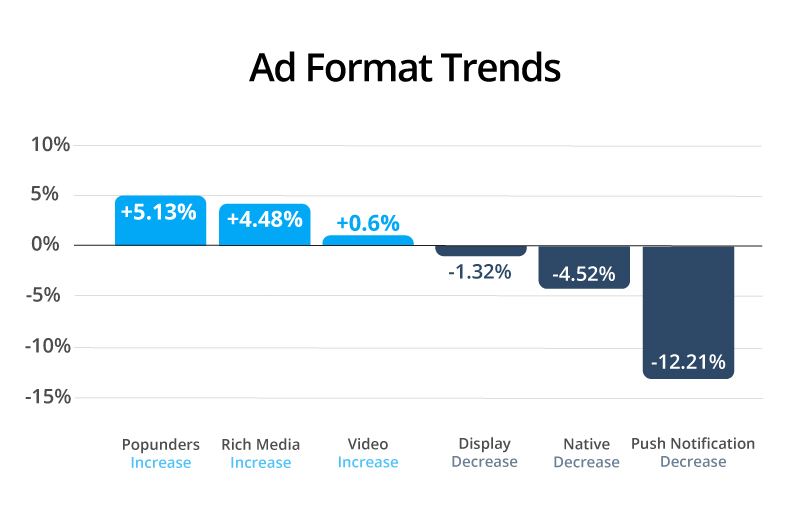 Large formats
Popunder and Rich Media format Fullpage Interstitial both saw large growth in Q2 on Mobile: 27.1% and 11.1% respectively. In fact, Popunder was the format with the second largest growth on Tablet at 12.8% and on Desktop at 27.1%.
In-Stream Video Growth
Although Video formats saw overall growth of 0.6%, this was driven by a big increase on all devices for In-Stream video as the preferred video format for advertisers. In Q2 In-Stream increased on Mobile by 10.1%, Desktop 29.5% and Tablet 19.5%. Oustream saw the biggest fall on Desktop at -14.9% and Video Slider was also down by -17.9% on Desktop. Both Slider and Oustream were down by -9% on Mobile and -6% on Tablet.
One prognosis for this could be that advertisers are seeing the added value of an In-Stream video ad. Although this video format is more expensive to bid on compared to Outstream and Slider formats, Because In-Stream is played to the end users before they can watch the piece of video content they selected, it provides a captive audience. The In-Stream format generates higher CTRs compared to Slider and Outstream video formats, and therefore, advertisers are testing the In-Stream format more as they could be gaining a higher ROI and better campaign results.
In fact, industry trends all point to growth in video advertising. In December 2021 IAB Europe and PubMatic invited advertisers and agencies to take part in an industry survey, in a bid to further the understanding of online video formats and the factors influencing buying behaviors across Europe. According to the survey:
56% of ad budgets are invested in digital with investment primarily being directed toward in-stream video advertising.

90% of respondents are allocating digital video budgets to drive brand goals.
According to ResearchAndMarkets.com the digital video advertising market is projected to witness a compound annual growth rate of 20.89% to grow to US$155.18 billion by 2026, from US$41.132 billion in 2019.
Plus there are changing consumer attitudes towards short video content. There has been large growth in the popularity of short format video apps on mobile including Tik Tok, Instagram Reels, a huge array of short video apps in India, the second most populated country in the world. When you combine that with the fact that 75% of all videos are consumed on mobile devices, it's easy to see why marketers worldwide have turned their attention toward mobile video advertising. In fact, HubSpot research states that 54% of consumers want to see videos from brands — more than any other type of content.
Email Marketing Growth
EXADS enables email list managers and publishers with membership sites to monetize emails with its Email Clicks ad format. Looking at growth trends for Email Clicks, 49.3% more Email Clicks were served in Q2 compared to Q1, Email Clicks purchased for Mobile devices grew by 50.5% compared to Q1 and 6.2% on Desktop.
Top 3 Ad Formats Per Device
Comparing Q1 and Q2, the following 3 ad formats per device showed the strongest growth in Q2 based on ads served: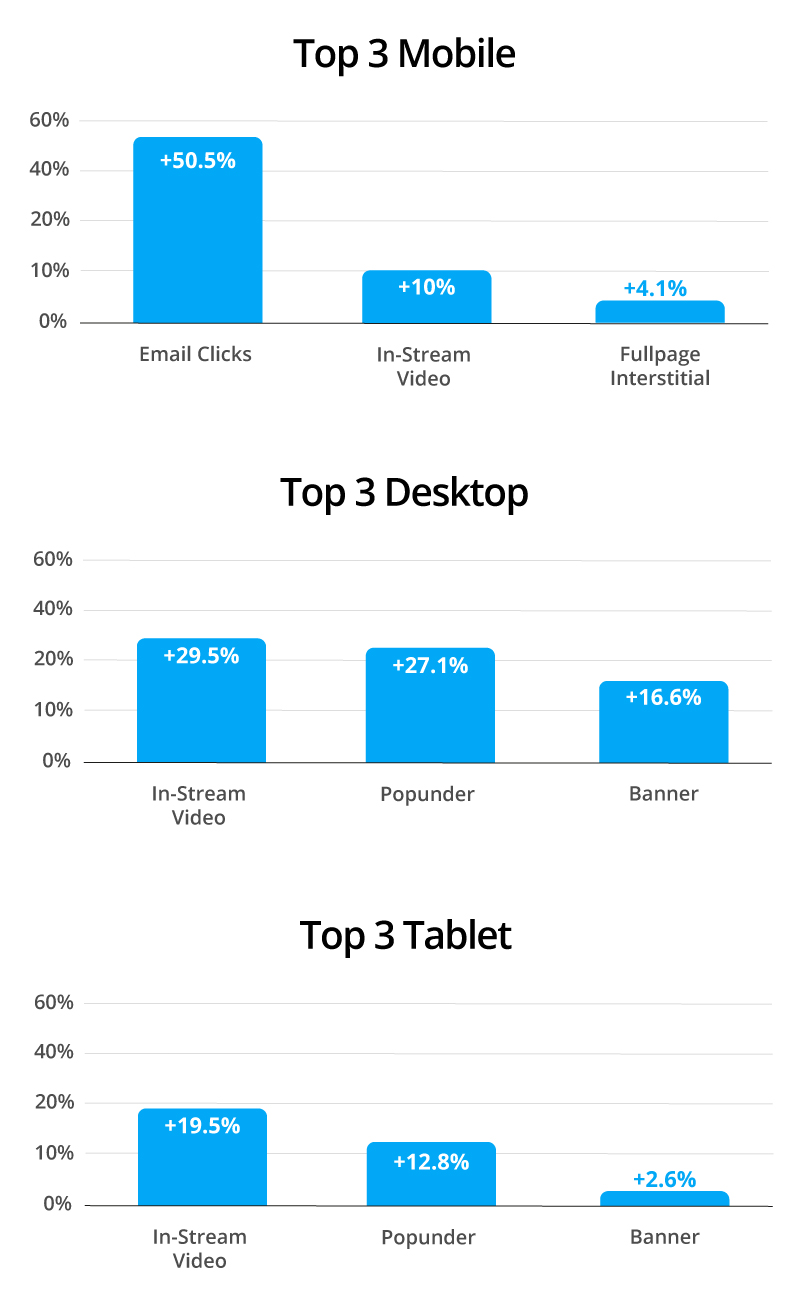 Banner, Native and Push Notification Trends
Display Banners were slightly down in Q2 on Mobile by -5.1% but up on Desktop by 16.6% and Tablet by 2.6%.
Native was down by -5.9% on Mobile, -6.8% on Desktop and -0.4% on Tablet, perhaps the biggest downward ad format trend was from Push Notifications down -27.6% on Desktop, -11.9% on Mobile and -10.2% on Tablet.
Conclusions
Mobile is still king: Despite a slight growth in Desktop impressions in Q2, mobile is still the king of devices with an impressions share at 75.5% compared to 21.1% for Desktop for Q1 & Q2 combined. This is part of a global trend according to Statcounter: Globally mobile device use was 60.73% in July 2022 compared to 55.89% in July 2021. Desktop has fallen from 41.36% down to 37% in the same time period.
Tier 3 countries account for over half the impressions served, with a total of 57.85% if we combine Q1 & Q2. Although the US and Europe is around 50% desktop traffic still, it's Tier 3 countries that use mobile devices as their only source of connecting to the internet and this ties in with the previous conclusion regarding the growth in mobile impressions. To put this in context Kinsta's report 'Mobile vs. Desktop Market Share and Usage Statistics In 2022' states that in Africa, mobile traffic vastly eclipses desktop at 64% compared to desktop at 34%, respectively. India has massive mobile traffic at 74%, compared to only 26% desktop usage and in Asia mobile usage is equal to Africa at 64%, with desktop computers at only 34%.
EXADS programmatic business is growing, as EXADS adds more SSP and DSP compatible integrations. In fact Programmatic as a model is growing globally. According to Statista programmatic ad spend has grown year on year with $493.16 billion set for 2022, rising to a projected $673.1 billion in 2025 and $724.84 billion in 2026. The US is a large chunk of this market with eMarketer claiming 2022 will be another record-breaking year for digital media buying, with the US digital ad market set to surpass $300 billion by 2025, making up more than 75% of all media spending.
Large format ads for Mobile: The best performing ad formats in terms of growth were: Email Clicks 49.3%, In-Stream Video 12.5% & large format ads Popunder 5.2% & Fullpage Interstitial 4.5%. In our top 3 formats per device, In-Stream video is top on desktop and tablet and second on mobile. In fact if you look at the top 3 ad formats for mobile all are large format ads: personal emails are often checked on mobile by end users and Emails display at full screen size, In-Stream video can be turned into landscape to watch on full screen on mobile and the Fullpage Interstitial is also a full screen ad, showing that large format ads are more popular to target at end users via smaller screened devices.