Table of Contents:
Digital ad spending is on the rise, as it adapts to evolving consumer behaviors, new tech developments, and challenging economic climates. What is becoming clear is that digital advertising is growing more intelligent and efficient, moving away from a broad approach to a targeted one, from tactical to strategic. We see the growth of areas like retail media, and Connected TV, and the emergence of new KPIs and attribution models.
Digital Ad Spending 2023 Projections
In this article, we refer to digital ad spend as all the money businesses spend on advertising their products or services on digital platforms, including websites, social media, mobile apps, and search engines.
This year, digital ad spending is projected to experience a growth rate of 9.5% and reach $638.50bn. However, this rate is slower than the 21% growth rate from 2022. This trend is expected to continue for the next few years.
AI is also having a significant impact on the digital ad landscape. AI-powered tools are becoming more sophisticated, allowing advertisers to reach their target audiences with greater precision and personalized experiences. This is leading to better ad performance and higher ROI for advertisers. GroupM's latest forecast predicts that by the end of 2023, AI will significantly impact advertising, influencing or being involved in at least 50% of the total revenue generated from advertising.
So far, 2023 has continued to see the expansion of CTV, shoppable commerce, in-app and in-game ad experiences, and advertising on e-commerce websites. According to GroupM's
report, digital display remains the most dominant advertising form in the retail industry, with a projected global spending of over $32 billion.
Digital Ad Spend Forecast
When looking at the ad spend forecast for the different segments of digital advertising, the markets for Video, Banner, and Search Advertising are experiencing substantial growth, primarily due to the rapid rise in social media usage and online shopping.
DIGITAL AD SPENDING WORLDWIDE
Source: Statista Market Insights
Looking further into the ad spending forecast and trends, specifically at the spending share between mobile and desktop, mobile is slowly but surely cementing its place as the preferred channel for digital advertising. By 2027, mobile is expected to have almost 70% share of the ad spend, compared to Desktop.
AD SPENDING SHARE DESKTOP & MOBILE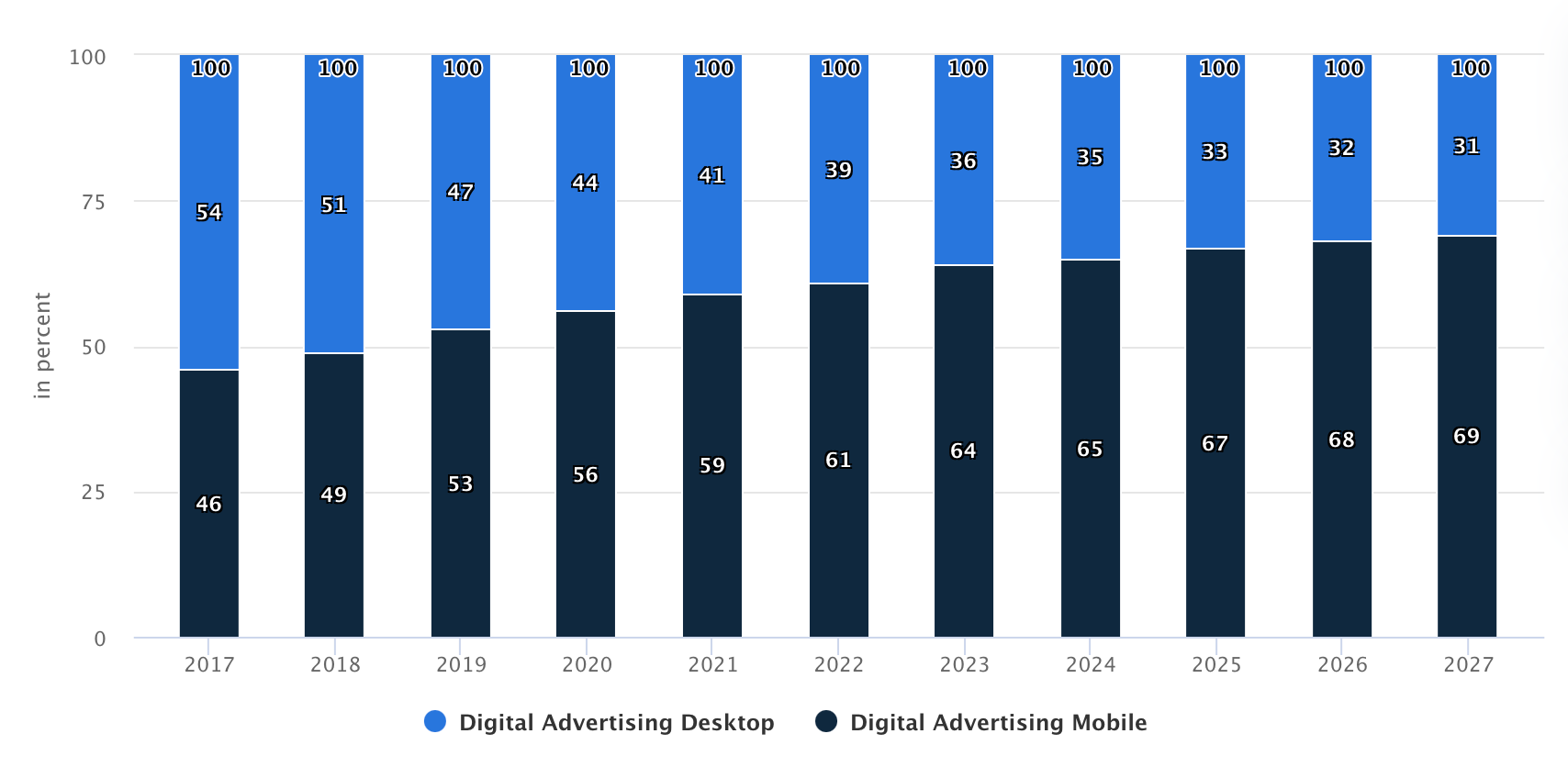 Source: Statista Market Insights
The projected trajectory for programmatic ad spend indicates a plateau at its current level, which has remained steady since 2021, with an 80% share for programmatic and 20% for non-programmatic advertising. However, there is a slight uptick anticipated for 2027, with programmatic estimated to reach 81% of the total ad spend. This equilibrium in spending proportions suggests that programmatic's dominance in the advertising landscape will likely persist in the foreseeable future, maintaining its significant share due to its numerous advantages, including precise targeting, automation, and data-driven optimization, which continue to attract advertisers seeking efficient and effective advertising solutions.
AD SPENDING SHARE PROGRAMMATIC VS NON-PROGRAMMATIC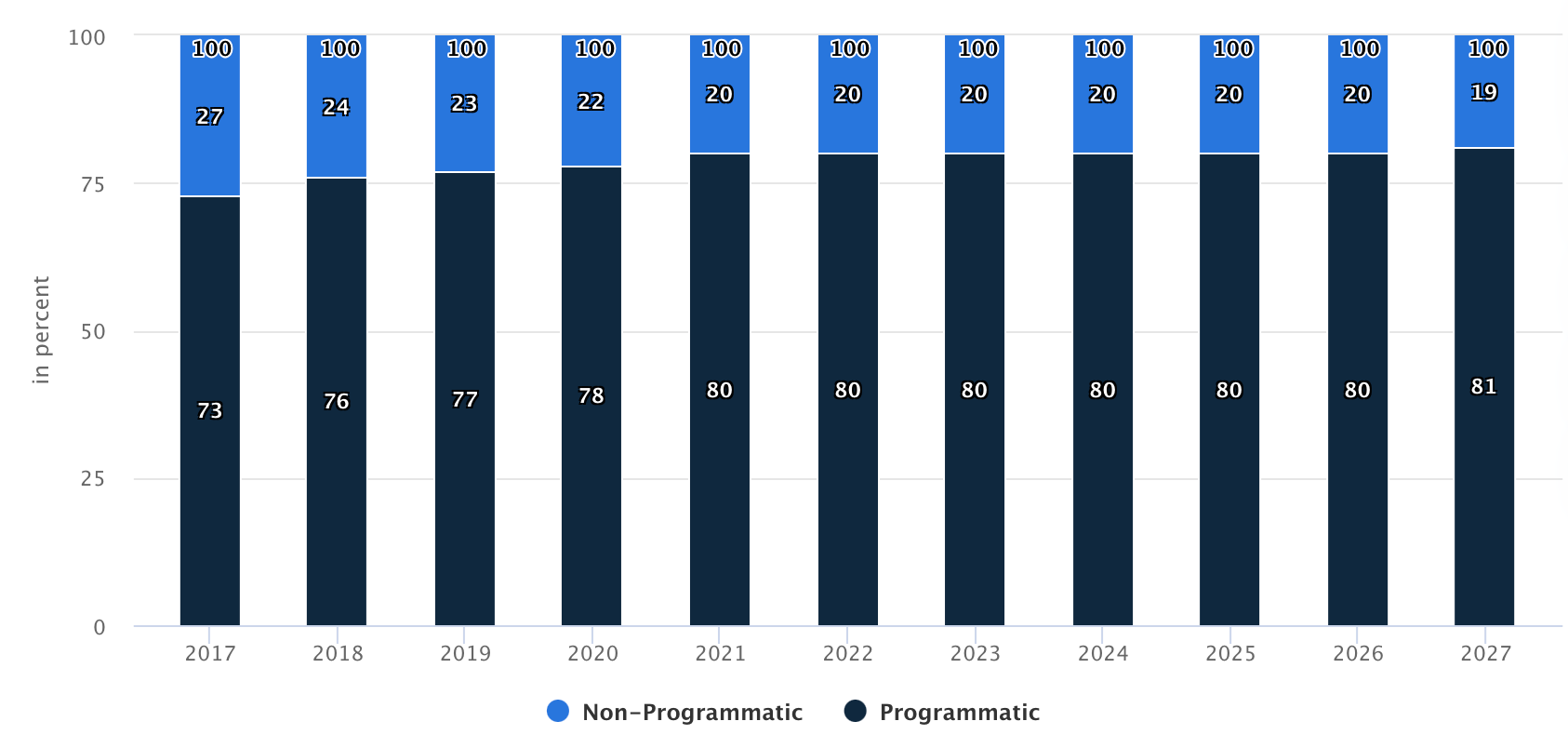 Source: Statista Market Insights
Growth Factors for Digital Ad Spending
Several factors are driving the growth in digital ad spending. The time that consumers are spending on digital platforms is increasing, mobile device usage is also increasing, and the ad tech solutions available allow brands to reach, engage and sell to individual consumers. This growth is also based on the evolution of two powerful segments: CTV and Retail Media.
CTV Ad Spending
The rise of CTV advertising is being driven by this channel's rapid adoption among both consumers and advertisers. Research from eMarketer reveals that CTV is projected to account for a significant 25.3% of digital media time in 2023. By 2025, adults are expected to spend over 2 hours per day (2:02) watching videos on CTVs. Even as early as 2023, the average adult is estimated to spend 1 hour and 46 minutes per day on CTV video consumption. This surge in CTV usage has led to a considerable increase in CTV advertising investment.
Despite the cost associated with CTV ads due to tight ad inventory and high demand, many advertisers are willing to pay a premium for CTV ads because of the high level of engagement among CTV audiences. Additionally, the range of advertising options on CTV is expanding, with AVOD (Advertising-based Video on Demand), FAST (Free Ad-supported Streaming TV), and short-video channels gaining prominence. For example, retail media networks are collaborating with CTV operators to establish a foothold in this growing market.
An analysis
among the clients of Tinuiti, one of the largest digital marketing agencies, shows that in the second quarter of 2023, the ad spending for YouTube CTV jumped 31% while for streaming services like Max and Netflix the growth was of just 6%. This growth is due to the fact that YouTube viewership on television screens has been steadily rising, and currently, the amount of time spent watching YouTube on CTV sets is equivalent to mobile viewing, both averaging at 15 minutes.
According to eMarketer, CTV advertising in the US is set to experience massive growth, with spending projected to rise from $ 20.69 billion in 2022 to $40.90 billion in 2026 (chart below). This upward trend indicates the increasing importance of CTV in the advertising landscape, with advertisers recognizing its potential for reaching engaged audiences and delivering impactful messages.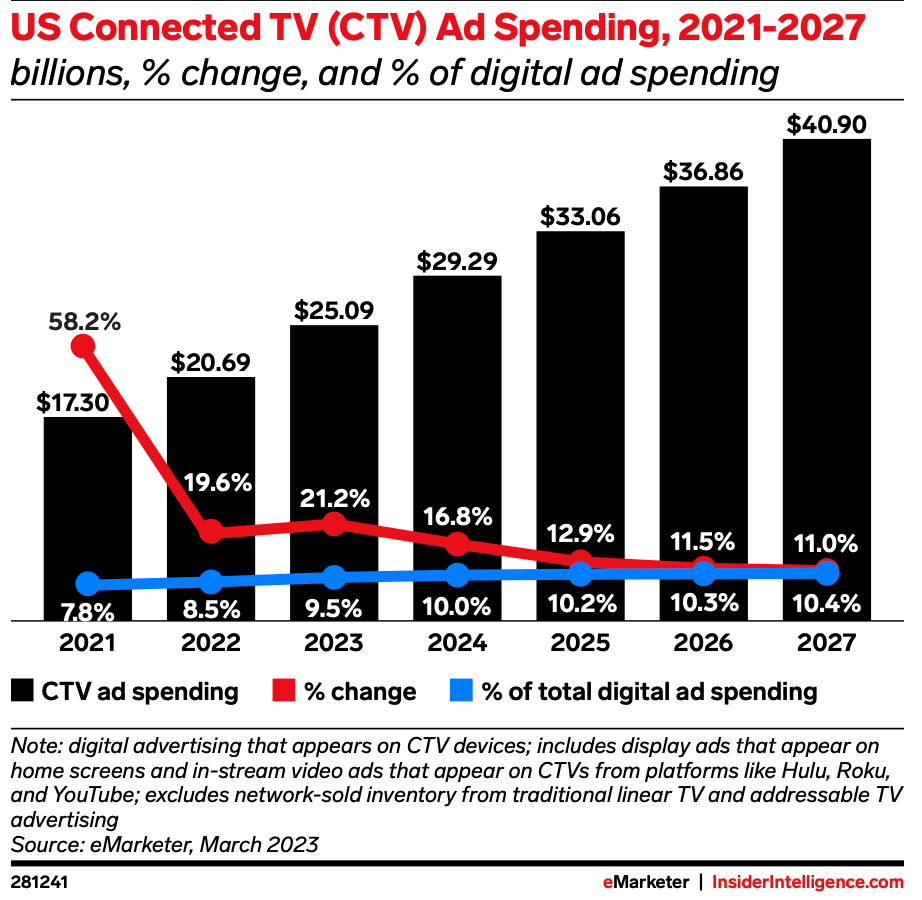 A survey conducted by Imagine Communications with ad agency buyers revealed that 44% of respondents currently purchase most of their CTV ads directly. However, nearly half of these respondents expect to reduce their direct buying in the next 24 months. This suggests a shift in CTV advertising, with more advertisers exploring alternative buying models, such as programmatic and other automated solutions, to effectively tap into the growing CTV audience and optimize their advertising efforts.

Source: Imagine Communications
Retail Media Ad Spending
Another growth factor is the rise of retail media. After the pandemic, it was expected for retail media to grow, however, it skyrocketed becoming the star of 2023.
This year, retail media emerges as the third most rapidly growing advertising channel, following digital out-of-home (DOOH) and CTV. By 2028, retail media is expected to represent 15.4% of the total ad revenue. (GroupM)
Research from eMarketer shows that in the US, Retail Media ad spending will reach $106.12 bn in 2027.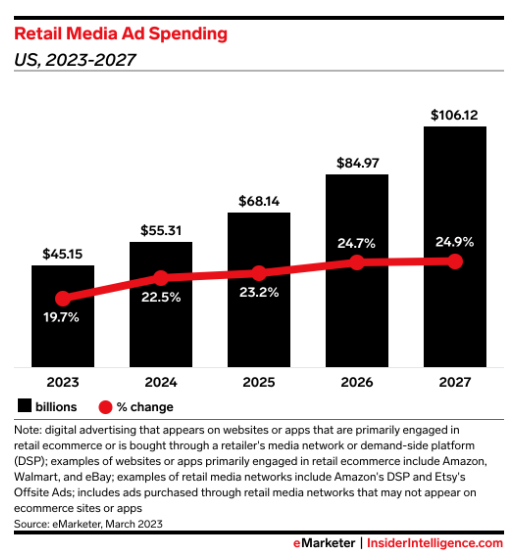 The expansion of retail media came naturally:
More people spend time shopping online

They have a wealth of first-party data that can be used for targeting

It gives retailers a better margin than the e-commerce business

It gives advertisers better access to their target audiences

Gives users a better advertising experience

Better performance measurement
The benefits of retail media advertising were quickly spotted by advertisers. Back in 2022, MediaRadar reported
that during the period from May 1, 2021, to the end of January 2022:
Over 23,500 companies (approximately 38,000 brands) invested in advertising on retail media networks.

14% bought ad inventory every month, indicating a consistent demand.

The advertiser retention rate from December to January stood at 59%, implying a majority of advertisers maintained their advertising activities.

24% of the companies that advertised in January 2022 were first-time buyers.
Retail media networks offer more than first-party data targeting, they also have the advantage of simplifying the connection between ad spend and sales. With ads so close to the point of sale, it becomes much simpler to link a purchase directly to a specific ad and to evaluate the ad's impact. This valuable data aids in making strategic decisions such as ad spend allocation.
Conclusion
In conclusion, the digital ad spending landscape is experiencing significant growth and transformation driven by factors like the remarkable rise of CTV advertising, its rapid adoption among consumers and advertisers, and the emergence of retail media as a star performer in 2023. With more people shopping online and retailers utilizing first-party data for targeting, retail media offers improved margins and efficient access to target audiences. As the industry evolves, CTV, retail media, and programmatic ad spending will play key roles, shaping the future of digital advertising and providing advertisers with increasingly sophisticated and effective solutions.
You can also take advantage of these trends with an ad serving solution from EXADS! Contact us today and let's start your journey to owning an ad platform developed for success!