Table of Contents:
While UpRival has established itself as a good ad server solution, some companies may seek alternatives that offer a broader range of features, enhanced control, and better support. In this article, we will look at how EXADS can answer these requirements and showcase why it is a better alternative to UpRival.
An Ad Server That Offers More!
Advanced Targeting Options
While UpRival offers some targeting capabilities, businesses with more specific audience segments may require a more advanced ad server.
Alternative solutions such as EXADS, can provide an extensive range of targeting options, including contextual targeting, behavioral targeting, retargeting and key/value targeting which allows the platform owners to use first-party data to segment their audiences. These additional features allow businesses to reach their ideal customers with greater precision, resulting in improved campaign performance.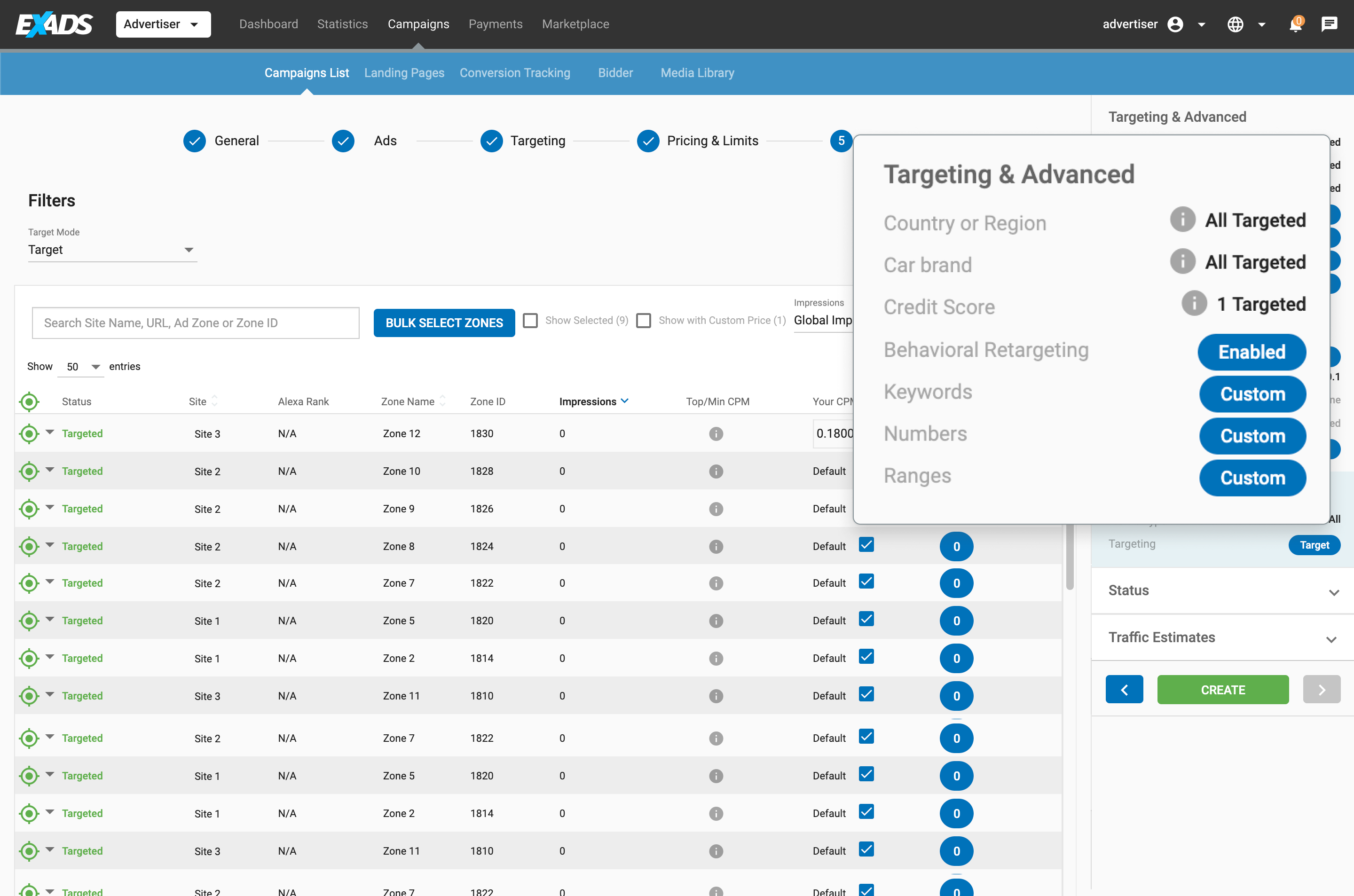 Advanced Reporting and Analytics
When it comes to advanced reporting and analytics, EXADS stands out as a superior alternative to UpRival. While UpRival offers valuable features like real-time statistics, custom reports, and visibility for over 25 metrics, EXADS takes it a step further by providing an even more comprehensive and robust reporting system.
EXADS goes beyond the basic custom reports offered by UpRival, as it allows businesses to create tailored reports that align precisely with their specific metrics and KPIs. What truly sets EXADS apart is its staggering array of statistics, with over 50 metrics, more than 25 dimensions and filters. This level of granularity empowers businesses to dive deep into their data, uncover actionable insights, and make data-driven decisions to optimize their advertising campaigns effectively.
Ultimately, EXADS provides an unparalleled level of reporting and analytics capabilities, ensuring that businesses have the tools they need to extract valuable insights and drive success in their digital advertising endeavors.
Automatic Optimizations
In terms of automatic optimizations, EXADS surpasses UpRival by providing advanced features that allow companies to effortlessly maximize their ad performance. While UpRival offers campaign optimizations through various settings, EXADS takes it to the next level with its automatic optimization capabilities.
A standout feature is the EXADS Bidder, which adjusts bids for ad zones based on the number of conversions received, while also blocking those zones that fail to convert. Moreover, EXADS empowers users to leverage rules for automatically blocking under-performing browsers, countries, devices, languages, mobile carriers, operating systems, sites, and zones, based on specified criteria within the Bidding Algorithm. This level of customization allows for unlimited additional rules, ensuring precise fine-tuning of the automation process.
Additionally, EXADS offers tools to optimize Ad Variations and Landing Pages, to ensure that the highest-performing landing pages or ad variations receive the majority of traffic. These optimizations allow advertisers to achieve optimal ad performance with minimal effort and maximum results.
Enhanced Support and Technical Expertise
EXADS goes above and beyond when it comes to providing enhanced support to its clients, setting it apart from UpRival. With EXADS, businesses gain access to a wealth of resources and assistance to ensure a seamless ad server experience.
One notable aspect is the advanced documentation provided by EXADS, which offers comprehensive and detailed guidance on utilizing the platform's features effectively. Additionally, EXADS offers round-the-clock 24/7 support, ensuring that businesses receive timely assistance and resolution to any technical issues or queries that may arise. This excellent support extends to access to a team of technical experts who possess in-depth knowledge of the platform and can provide personalized guidance and solutions.
Furthermore, EXADS takes customer support a step further by assigning a dedicated Account Manager to each client. This Account Manager serves as a single point of contact, understanding the unique needs and goals of the business and providing tailored support and strategic insights. Unlike UpRival, which may not offer such comprehensive support options, EXADS prioritizes customer success.
Diverse and Flexible Pricing Models
While UpRival provides pricing models such as CPC, CPA, and CPM, EXADS becomes again a better alternative as it provides a more extensive selection.
With EXADS, businesses can leverage:
Smart Bid which automatically determines the optimal bid for campaigns based on the likelihood of a user to convert.

Dynamic CPA, which allows for attributing different values to different actions, providing greater flexibility in campaign optimization.

CPV (Cost per View), where the cost is triggered when ten seconds of a video ad are displayed to the site visitor at normal speed.

Smart CPM, enables advertisers to bid for impressions at the best possible price, optimizing their ad spend.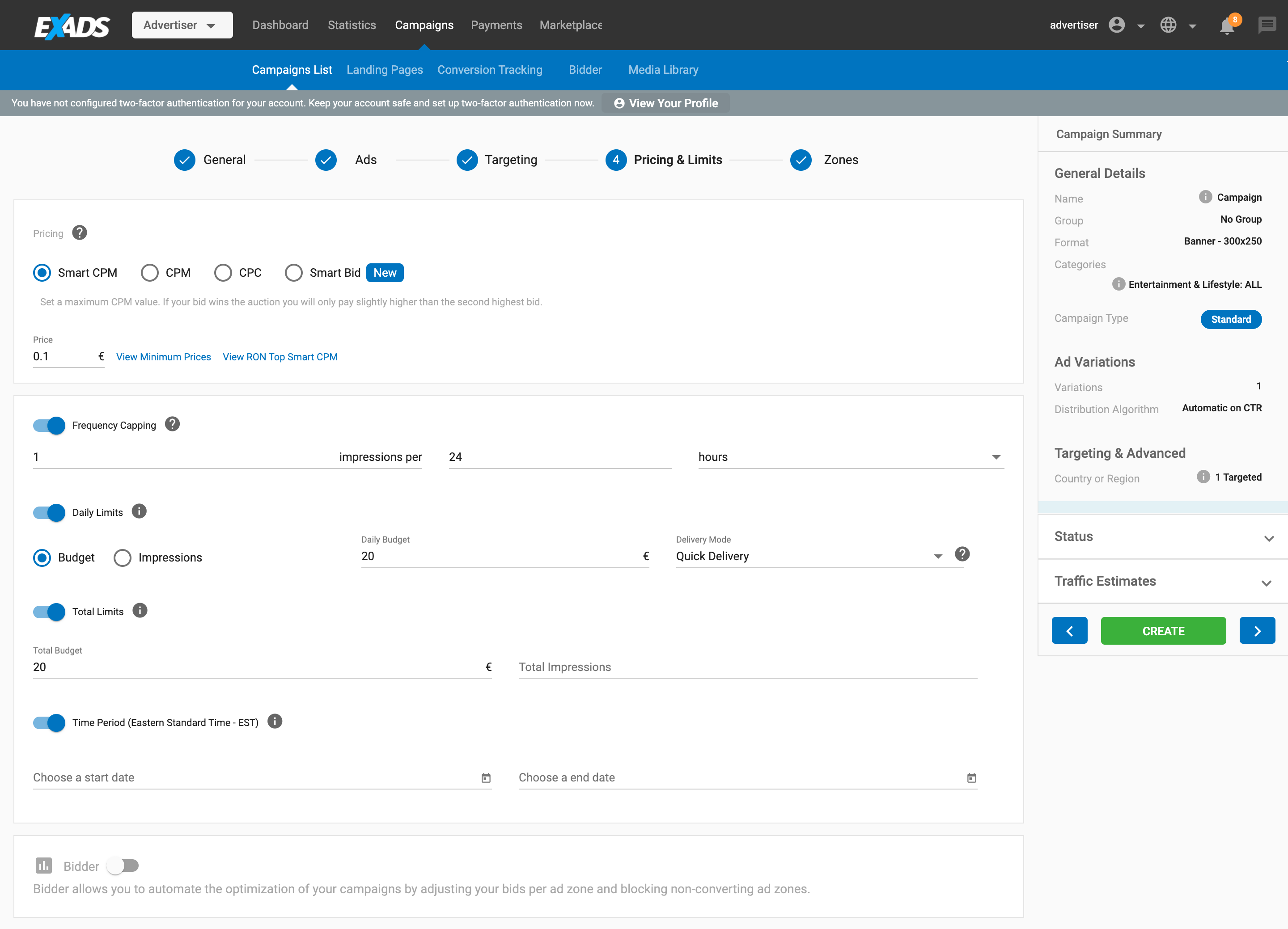 The latest addition to EXADS' range is the Smart Bid pricing model, which utilizes machine learning to automatically determine the optimal bid for campaigns based on comprehensive data analysis.
Whether businesses aim to optimize for conversions, clicks, views, or a combination of these metrics, EXADS provides the right pricing model to meet their specific requirements.
Programmatic Support
Moreover, EXADS' programmatic RTB integrations for Publishers and for Advertisers, can help businesses diversify, grow and increase their revenues.
EXADS offers a comprehensive solution with its Demand-Side Platform (DSP), allowing you to effortlessly manage your campaigns, media library, content, and enjoy automatic optimization for images, videos, and creatives. Our DSP is an all-in-one super platform, which we elaborate on in our dedicated blog post. With just one interface, you can incorporate all your programmatic supply and establish direct deals with advertisers.
Additionally, EXADS provides a white-label self-service solution designed specifically for publishers who wish to directly sell their inventory to ad networks, exchanges, and DSPs. Our Supply-Side Platform (SSP) can be customized to suit your business requirements, and within a matter of weeks, you can actively participate in programmatic real-time bidding (RTB) auctions or header bidding.
More features and options for your ad server!
EXADS proves to be a superior alternative to UpRival due to its extensive ad serving capabilities across various platforms. While UpRival focuses on serving ads on desktop, mobile, and in-app environments, EXADS takes it a step further by enabling ad serving on Connected TV (CTV), Digital Out-of-Home (DOOH), and Console platforms. This broader reach allows businesses to tap into additional channels and target a wider audience.
Moreover, EXADS supports advanced video ad formats through VAST (Video Ad Serving Template), VPAID (Video Player Ad-Serving Interface Definition) and VMAP (Video Multiple Ad Playlist), offering more flexibility and interactivity compared to UpRival's limited support for VAST for video ads.
Another crucial advantage of EXADS is its fraud and malvertising protection, providing an added layer of security and peace of mind for platform owners.
With EXADS, companies can leverage its expanded ad serving capabilities, advanced video ad support, and robust protection against fraud and malvertising, making it the preferred choice for advertisers seeking a comprehensive and secure ad server solution.
Conclusion
In conclusion, UpRival is a good ad server solution; however, the market offers alternatives like EXADS that can deliver an even more comprehensive and enhanced experiences. The additional capabilities mentioned in this article make EXADS a great alternative for companies aiming to maximize their ad performance. While UpRival remains a reputable option, exploring ad servers like EXADS can unlock a whole new level of features and possibilities, ensuring a superior ad serving experience. Contact EXADS today for a demo!