More businesses are turning their attention to white-label ad serving solutions as a means to reduce costs and increase efficiencies. As each business has different requirements and different expectations, it is imperative that ad technology providers have the flexibility and expertise to deliver ad serving platforms that are powerful and come packed with functionalities and features. Although Smart AdServer, also known as EQUATIV, offers some good solutions for Publishers and Advertisers, there are ad servers like EXADS whose offer is more comprehensive and customizable. In this article, we are going to look at EXADS as an alternative to Smart AdServer/ EQUATIV.
So, if you are looking for an alternative to Smart AdServer, or another ad serving platform, then you are in the right place! EXADS has the AdTech expertise and flexibility to provide you with the ideal ad server for your business.
EXADS Ad Platforms
With EXADS' powerful white-label ad serving technology, our teams can deliver customized ad platforms for advertisers, publishers, ad networks and agencies. EXADS ad platforms provide our clients with the tools necessary to grow their business and increase the efficiency of their advertising.
Since 2013, our teams of experts have been developing custom ad servers for clients who are active on a large range of verticals. From a fully-fledged ad network infrastructure, to Publisher ad servers, native, video, mobile or email ad servers, our ad platforms offer solutions for all the aspects of ad serving, cross-channel and cross-device.
Moreover, we support Publishers and Advertisers who want to diversify, grow and increase their revenues by using programmatic RTB integrations. This is why we have built some of the best capabilities to answer these demands.
EXADS Demand-Side Platforms (DSPs) allows advertisers and media buying agencies to automate their ad inventory buying process from different sources. With our all-in-one super platform you can easily add your programmatic supply, or create direct deals; everything can be done from one interface. You can manage all the aspects of your campaigns, media library, content, and have automatic optimization for your creatives and bids.
Our Supply-Side Platform (SSP) gives you full control of your ad inventory. EXADS SSP can be customized to meet all your business requirements and be up and running within weeks! You will be able to maximize the return on your inventory by taking part in programmatic RTB auctions or header bidding and selling to ad networks, ad exchanges and DSPs.
Even better, as the requirements of each business differ, we maintain a "Developers First" approach, making it very easy for clients to build their own ad platform based on our core modules, with EXADS APIs.
Ad serving features for a competitive edge
At EXADS we empower our clients with functionalities that deliver strong results fast, on all channels, including CTV, console and DOOH. We continuously develop new features that give our clients the competitive edge they need.
All of our features are available without additional costs, from the get-go. To ensure that you can fully benefit from all these, EXADS' advanced documentation, expert guidance and support are available to you 24/7.
All the ad formats you need
The engagement that your ads get from your targeted audience also depends on the ad formats you use. With EXADS ad serving platforms, you get plenty of ad formats to choose from, all of them built to the IAB industry standard and fully compliant with Chrome and the Better Ads Coalition.
Our vast range of ad formats ensures that you can always find the best option for all your messages and audiences. When compared with Smart AdServer, EXADS' list also includes formats such as Native Exit, Push Notifications, Popunders, Email Clicks and Video Sliders.
To make it easier, as an Advertiser you will have your own Media Library, where you can save all the creatives from your campaigns and reuse them whenever you want.
Vast choice of targeting options
Precise targeting means higher ROI for both Advertisers and Publishers and also a better experience for the end user. With EXADS you can target your campaigns towards those audiences that can help you achieve your goals, better engagement, and higher conversion rates.
In addition to Smart AdServer's targeting options, with EXADS you can also narrow your targeted audiences by mobile carrier, language, site or sub-ID. We want to give you all the options you need, whether it is keyword targeting or key/value pairing for contextual targeting, you can rest assured that EXADS has these features.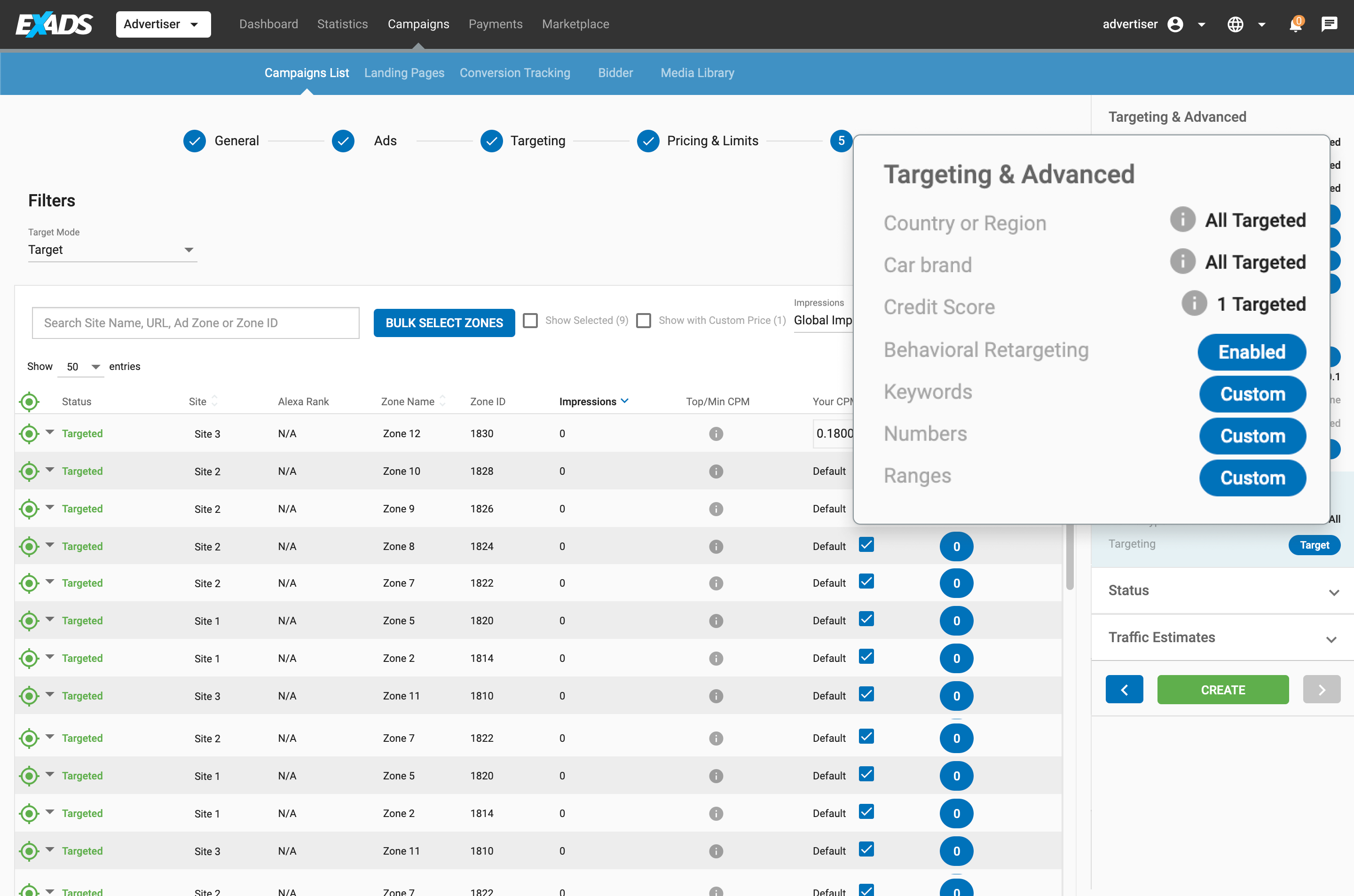 Powerful statistics
Access to real-time statistics is crucial when it comes to the digital advertising industry. Not only this, but also access to a wide range of metrics, dimensions and filters can make the difference between a successful campaign managed well and a campaign with average results. At EXADS we are proud to provide some of the most comprehensive statistics, with over 50 metrics, more than 25 dimensions and more than 25 filters.
To put all this data to good use and extract actionable insights, you can create reports by selecting data filters and saving those filter sets so you can always access the information you need at the click of a button. Additionally, with EXADS, you can create up to 50 customized dashboards to help you monitor your KPIs.
As well as having extensive analytics and statistics capabilities, EXADS also supports third party integrations which are often required by large clients.
Automatic optimization features
To increase the efficiency of internal teams and maximize revenues, EXADS is including in its offering a range of automatic optimizations.
One of these automatic optimizations is the Bidder. This feature helps Advertisers save time when it comes to bidding optimizations. Essentially, the Bidder intelligently adjusts the bid of the advertiser for ad zones according to how many conversions are received, and blocks those ad zones that don't convert.
You can also use rules to block under-performing browsers, countries, devices, languages, mobile carriers, operating systems, sites, and zones automatically according to rules set within the Bidding Algorithm. Furthermore, ​​you can create additional optimization rules that determine what gets blocked automatically. If you want to find out more about this feature, you can read our case study.
There are also automatic optimization features for Ad Variations and Landing Pages. These allow the advertiser to select from several traffic distribution algorithms in order to ensure that the best performing Landing Page or ad variation will always receive the most traffic.
Varied pricing models
Depending on the types of campaigns you create and your campaign goals, you can easily select the best fitting pricing model from the options available. EXADS covers almost the whole spectrum of pricing models, from CPA, Dynamic CPA, CPC, CPM, Smart CPM to CPV.
CPM, CPC and CPA are some of the most commonly used pricing models and the only options available with Smart AdServer. At EXADS, we try to offer our users more choices that align better with their advertising goals and add more value to their budgets:
Smart CPM, which allows you to bid for impressions at the best price possible.

Dynamic CPA, which is used when attributing different values to different actions.

CPV (Cost per View), which means that the cost is triggered when ten seconds of the video ad are displayed to the site visitor at normal speed.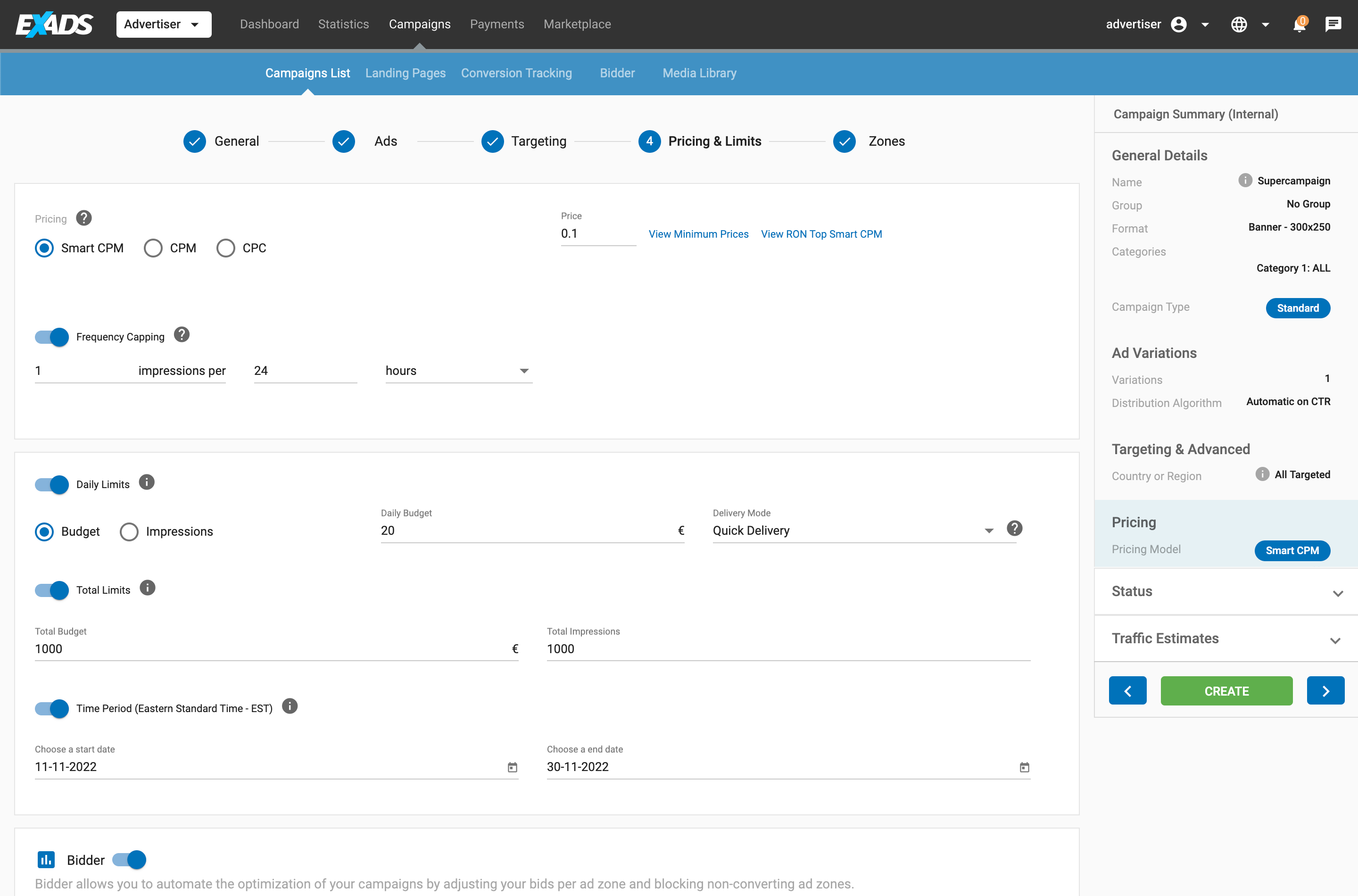 EXADS pricing documentation has all the details related to pricing models and when each of them is recommended to be used.
Check our our EXADS vs. Equativ page for a comprehensive comparison of what the two providers have on offer.
Start your journey with EXADS
EXADS' extensive list of self-service ad platforms can be customized to meet all your business requirements and bring your advertising to the next level with some of the best functionalities and features available in the market.
We are committed to delivering the best possible ad serving solutions and we know that this would not be possible without listening to our clients' needs and feedback. From the moment we start planning your new ad platform you can rely on our teams to support you and your business 24/7.
If you are looking for a better alternative to Smart AdServer or another ad server, book a demo with EXADS and let's start planning your journey with us!