Digital advertising is one of the most dynamic and competitive industries. Choosing the right technology that will help a business achieve its digital advertising goals and deliver high ROI is not an easy task. When it comes to choosing an ad server for your business, it is very important to define your requirements and understand how each contender can fulfill them.
Kevel is a well known ad tech provider that promises to "Build your ideal ad server". Indeed, using Kevel's API you can build a custom ad serving platform and avail of a number of features and functionalities. However, if you are looking for an alternative to Kevel, then you can read this blog post where we expand on the benefits of using EXADS as your ad serving technology provider.
Complete Range of Ad Serving Solutions
EXADS builds powerful white-label ad serving platforms, customized to the smallest detail for advertisers, publishers, ad networks and agencies. Our solutions provide all the functionalities necessary to maximize revenues while our teams provide all the support required to achieve this.
EXADS developed one of the best ad serving technologies on the market, offering everything from fully-fledged ad network infrastructure, to Publisher ad servers, native, video, mobile or email ad servers. Furthermore, we pride ourselves with very high client ratings in terms of ease of use and setup.
Publishers and Advertisers can diversify and increase their revenues with our programmatic RTB solutions which allow easy integration with the supply or demand partners of your choice.
EXADS has a vast expertise in building Demand-Side Platforms (DSPs) that act as an all-in-one super platform from where you can manage your campaigns, media library, content, and have automatic optimization for your creatives. You can add all your programmatic supply and create direct deals with advertisers, from one interface.
EXADS also has a white-label self-service solution for publishers looking to sell directly to ad networks, exchanges and DSPs. Our Supply-Side Platform (SSP) can be tailored to your business requirements and within weeks you can start taking part in programmatic RTB auctions or header bidding.
As our clients come from various industries with very different requirements, we maintain a "Developers First" approach, making it very easy for clients to build their own ad platform based on our core modules, with EXADS APIs.
A Feature Rich Ad Server Without Additional Costs
In the competitive landscape of digital advertising, advertisers and publishers need ad serving platforms with a vast array of features available from the get-go, without additional costs. This is why we empower EXADS customers with access to all of our features from the start.
Furthermore, we are committed to the continuous development of functionalities that are easy to use and have an immediate impact on customer revenues.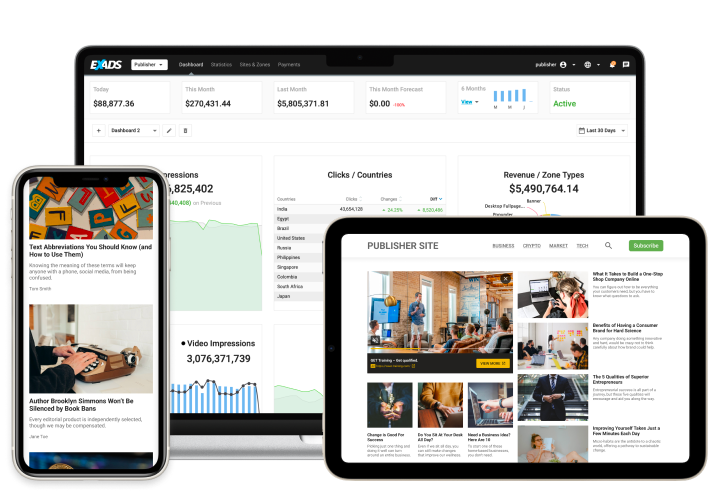 Large variety of Ad Formats
With EXADS you have access to all the high performing ad formats, built to the IAB industry standard and fully compliant with Chrome and the Better Ads Coalition. This ensures that you serve the ads you want in the format that is most fitting to your business goals. In addition to the ad formats supported by Kevel, our list includes popular formats such as Interstitial ads, Popunders, Push Notifications and Sticky banners.
EXADS also offers all three main video ad formats: In-Stream Video (VAST) which has the highest CTR and a very high conversion rate, Outstream Video which is a responsive video format that can be placed anywhere on a site, and Video Slider one of the most eye-catching ad formats.
Moreover, our ad serving solutions support VPAID which allows Advertisers to have more control over the display experience of their video campaigns. Through VPAID it is possible to provide rich ad experiences for viewers and collect ad playback and interaction details that are just as rich. This benefits publishers too as VPAID compliant video players enable a more diverse and interactive set of video advertising, and makes in-stream video inventory more appealing.
User Experience and Interface (UX and UI)
Having a powerful ad serving solution and numerous features is not enough. In order to maximize the efficiency of the tools available, one must be able to use them with ease. At EXADS, our team of UX designers understand this and they make sure that our products are designed with the end user in mind.
For every new feature we launch there is always an emphasis on the user experience it provides. Each touchpoint is carefully considered and designed. All of this special attention given to the end user results in an intuitive interface that facilitates a quick learning process, saving customers time and money.
Easy access to powerful Analytics
Monitoring the performance of your digital advertising can be an easy task when you can access all the information you need. For this purpose, we offer two great features:
Customizable dashboards allow you to create up to 50 dashboards where you can organize your data as you require. You can move widgets, change their size and have them display the information you need most.

Saved filter sets allow you to access reports based on filter sets that you have previously saved. This means that you don't need to recreate the same report each time you need it.
With over 25 dimensions, more than 50 metrics and over 25 filters you have access to all the data you need to optimize your digital advertising and to present reports to your own clients.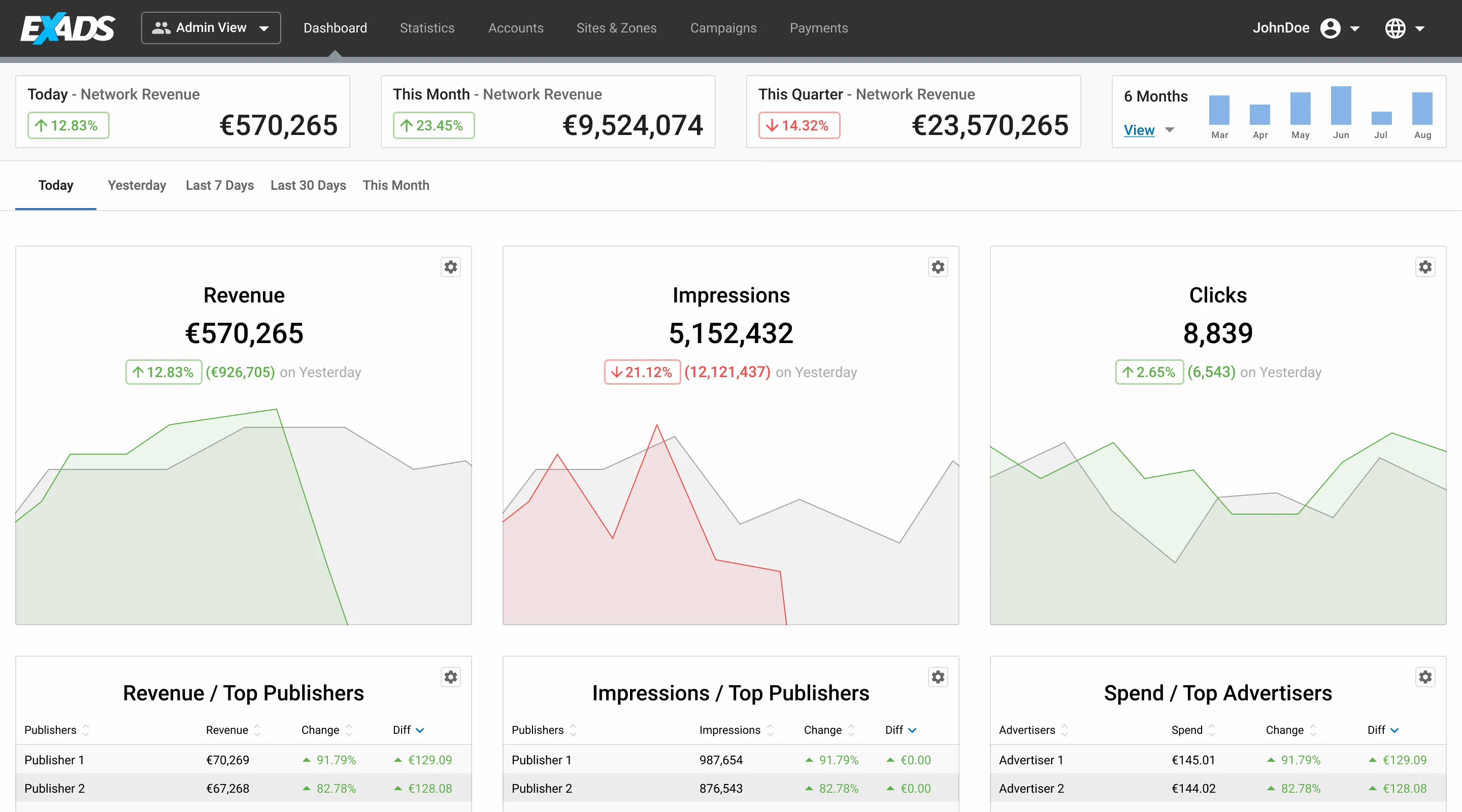 Automated Optimizations to save you time
Most ad servers offer some type of automated optimizations mainly related to the bidding algorithms. With EXADS, you can avail of our Bidder feature, which intelligently adjusts the bid of the advertiser for ad zones according to how many conversions are received, and block those ad zones that don't convert. A major benefit of the Bidder is that you can add as many rules as you need to fine-tune the automation.
On top of the Bidder feature, EXADS goes further by providing customers with automatic optimizations for their Ad Variations and Landing Pages. All that is required for this feature to start optimizing is the selection of traffic distribution algorithms from a list of options. This feature will then ensure that the best performing Landing Page or ad variation will always receive the most traffic.
Variety of Pricing Models
The pricing model you use for your digital advertising must align with your business goals and ultimately help you achieve your targets. As each model has its advantages and disadvantages, your decision must be based on your KPIs and the audience you want to target.
As the majority of ad servers allow you to pick your pricing model from the commonly used CPM, CPC and CPA, EXADS gives you more options by including pricing models such as:
Smart CPM, which allows you to bid for impressions at the best price possible.

Dynamic CPA, which is used when attributing different values to different actions.

CPV (Cost per View), which means that the cost is triggered when ten seconds of the video ad are displayed to the site visitor at normal speed.
You can find out more about our pricing models and recommendations in our pricing documentation.
Book a demo with EXADS today!
If you are looking for an alternative to Kevel or another ad server, try EXADS! Our ad serving solutions are fully customizable and can be deployed in weeks. Additionally all our packages include the whole range of features and 24/7 support from tech experts. Book a demo and let's start planning the ad serving solution you need!