Table of Contents:
Introduction
With an increasing number of businesses exploring white-label ad server options to streamline operations and optimize costs, the demand for powerful, flexible, and feature-packed ad technology providers has never been higher.
While Adserver.Online, offers viable solutions for businesses seeking efficient ad server, the industry demands options that go above and beyond. Enter EXADS, an ad server that aims to meet the diverse requirements of businesses from a large range of verticals. This article delves into EXADS as the ultimate alternative to Adserver.Online, providing businesses with unparalleled AdTech expertise and flexibility.
So, if you are looking for an alternative to Adserver.Online, or another ad server, then this article is a must-read! EXADS has the AdTech expertise and flexibility to provide you with the ideal ad server for your business.
EXADS Ad Server Versatility
EXADS' cutting-edge white-label ad serving technology opens doors to unparalleled possibilities. Our dedicated teams specialize in crafting bespoke ad platforms tailored for publishers, ad networks, brands, and agencies. These platforms are developed for business growth and efficiency in digital advertising.
For over a decade, our experts have been developing customized ad servers across a wide spectrum of verticals. From comprehensive ad network infrastructures to specialized Publisher ad servers, native, video, mobile, and email ad servers, EXADS offers solutions that span the entire advertising landscape. Our platforms are meticulously designed to address the diverse needs of cross-channel and cross-device advertising, ensuring a seamless and integrated experience.
But that's not all. We understand the evolving demands of the industry, especially concerning programmatic RTB integrations. To support businesses aiming to diversify, expand, and boost revenues, EXADS has integrated top-tier capabilities.
Our Demand-Side Platforms (DSPs) empower advertisers and media buying agencies to streamline their ad inventory procurement process. Our all-in-one super platform simplifies programmatic supply addition and facilitates the creation of direct deals, all through a unified interface. Manage every facet of your campaigns, from media libraries to content, and benefit from automatic optimizations for your creatives and bids.
On the flip side, our Supply-Side Platform (SSP) offers unparalleled control over your ad inventory. Tailored to meet your specific business needs, our SSP solution can be up and running in a matter of weeks. Take charge of your inventory by participating in programmatic RTB auctions, header bidding, and selling to ad networks, ad exchanges, and DSPs.
What sets EXADS apart is our commitment to a "Developers First" approach. We empower our clients to build ad platforms effortlessly, leveraging our core modules. These modules, including Statistics API, Ad Placement API, Admin Panel API, and Automation API, provide the building blocks for a customized ad serving solution that aligns perfectly with your unique requirements.
Powerful Features for a Competitive Edge
At EXADS, we provide our clients with powerful functionalities that yield rapid and effective results across various channels, including CTV and DOOH. We are constantly innovating, introducing new features to equip our clients with the competitive advantage they require.
To ensure you make the most of these capabilities, EXADS offers round-the-clock access to advanced documentation, expert guidance, and support. Our commitment is to empower you seamlessly, anytime you need assistance.
Custom Development
At EXADS we recognize that one-size-fits-all solutions often fall short of meeting specific business needs, and this is why we offer a high level of customization. Unlike Adserver.Online, EXADS believes in empowering its clients not just with pre-packaged solutions, but with tailored, competitive advantages that are essential for a profitable business.
Each business comes with its unique challenges and goals, and it requires a personalized solution. That's why we provide our clients with the opportunity to engage in custom development.
Our clients can enjoy a fully white-label experience, branding their ad platforms seamlessly to reflect their unique identity. Moreover, our clients can incorporate specific features and capabilities that are tailored to their particular use cases. Whether it's a specialized ad format, a unique targeting mechanism, or an innovative analytics tool, we work closely with our clients to understand their requirements and translate them into functional, competitive advantages.
A diverse array of ad formats is at your fingertips
The level of engagement that ads receive from their intended audience hinges on the ad formats employed. EXADS offers a wide selection of ad formats, all crafted in alignment with the IAB industry standard and fully compliant with both Chrome and the Better Ads Coalition.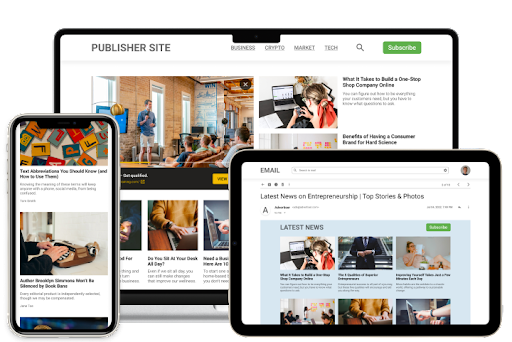 Additionally, with EXADS you can also access:
Custom Ads:

this flexibility allows our clients to incorporate industry-specific, category-specific, and audience-specific ad formats, tailoring their advertising approach to precisely fit their business needs. With direct API interaction, publishers can modify ad formats, tweak appearances, and add specific details to meet unique requirements.

Multi-format Ads:

they can revolutionize ad placements by dynamically accommodating diverse formats, like banners or native ads, within a single slot. The system automatically compares sizes and widgets, displaying the most lucrative ad, and expanding bid opportunities for publishers. This feature enhances monetization by increasing competitive eCPM rates and offering full customization for fonts, colors, and styles.

Responsive Display Ads:

also known as RDAs, they automatically adjust their size, format, and appearance to fit any standard IAB banner display ad space. Created using assets provided by advertisers, including images and text components, EXADS' system combines and refines these elements, generating banners of various sizes. True to their name, RDAs seamlessly appear across all devices, simplifying the ad creation process and ensuring consistent engagement.
Extensive Targeting Choices for Optimal Results
Precise targeting is the key to higher ROI for Advertisers and Publishers, ensuring a superior experience for end-users. At EXADS, we empower users to focus campaigns on audiences that align with their objectives, fostering better engagement and conversion rates.
Unlike AdserverOnline's targeting options, EXADS goes further by allowing users to refine their audience based on criteria such as browser, mobile carrier, OS, site, or sub-ID. We want to give you and your advertiser clients all the options needed to achieve your goals. Whether it is keyword targeting or key/value pairing for contextual targeting, you can rest assured that EXADS has these features.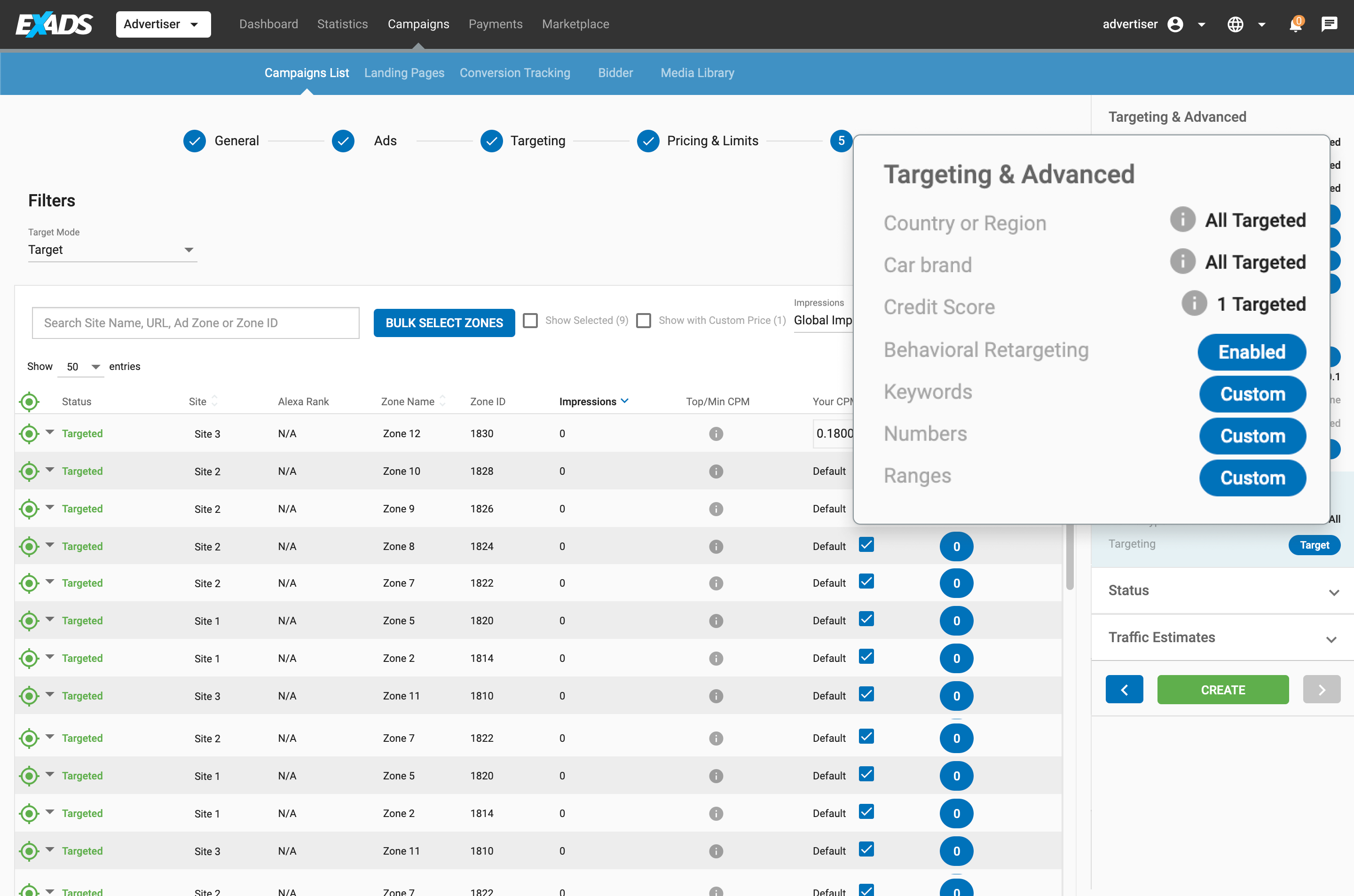 Robust Analytics for Informed Decision-Making
Access to real-time statistics and a diverse range of metrics and filters can be the difference between success and failure. At EXADS, we take pride in offering some of the most comprehensive statistics in the industry, boasting over 50 metrics, 25+ dimensions, and 25+ filters.
To harness this wealth of data effectively, you can create tailored reports by selecting specific data filters and save these configurations for instant access. Additionally, EXADS enables the creation of up to 50 customized dashboards, facilitating seamless monitoring of your key performance indicators (KPIs).
Moreover, EXADS not only provides extensive analytics and statistics capabilities but also supports essential third-party integrations often required by large clients. Stay informed, make informed decisions, and elevate your digital advertising strategy.
Bidding Automated Optimizations
At EXADS we are dedicated to simplifying our clients' efforts and to maximizing their revenues. To achieve this, we offer a suite of automatic optimizations, that make our ad platforms very attractive to advertisers, saving them valuable time and resources.
One such tool is the Bidder, an intelligent optimization feature that dynamically adjusts advertisers' bids for ad zones based on conversion rates, simultaneously blocking non-performing ad zones.
Additionally, our system allows advertisers to set up blocking rules, enabling them to block underperforming elements such as browsers, countries, devices, languages, mobile carriers, operating systems, sites, and zones. The flexibility of unlimited additional rules empowers advertisers to continuously refine automation, ensuring optimal outcomes for their campaigns.
Another powerful feature that EXADS offers is Smart Bid. This is an optimization feature that helps Advertisers automatically determine an optimal bid for their campaigns by analyzing campaign data such as:
The likelihood of a user to convert

The campaign's historical information

Contextual real-time signals
To make an informed decision when choosing your ad server, check out our comprehensive Ad Server Comparisons.
Start Your Journey with the Best Adserver. Online Alternative - EXADS
EXADS offers an extensive array of self-service ad platforms, tailored to align seamlessly with your unique business requirements. Elevate your advertising efforts to new heights with market-leading functionalities and features meticulously designed for your success.
Our commitment to delivering exceptional ad serving solutions is grounded in understanding our clients' needs and feedback. From the initial stages of planning your customized ad platform, our dedicated teams stand by you, providing unwavering support 24/7.
If you're seeking a superior alternative to Adserver.Online or any other ad server, take the first step by scheduling a demo with EXADS. Let's embark on this transformative journey together!