Table of contents:
Finding the ideal white-label ad server can be a game-changer. If you're in search of an alternative to AdKernel, look no further. Enter EXADS, your ultimate solution for seamless functionality and unparalleled customization. While AdKernel offers white-label capabilities, EXADS takes it a step further, providing matching features and an array of advanced options. Imagine a platform that aligns perfectly with your brand, offering diverse ad formats, comprehensive analytics, and cutting-edge video capabilities – that's what sets EXADS apart. Tailored to meet your unique needs, EXADS ensures your digital advertising strategy is present and impactful, making it the top choice for those seeking an alternative to AdKernel.
Join us on this journey to discover why EXADS is the perfect alternative you've been searching for.
EXADS - The Ultimate White-Label Ad Server
EXADS prides itself on being a white-label ad tech provider that offers a comprehensive range of self-service and customized solutions to a wide range of industries and businesses. Whether you run a membership website, manage a publishing group, operate an e-commerce business, or handle marketing and ad campaigns as an agency, EXADS has the perfect solution tailored just for you.
We extend our expertise to diverse sectors, including mobile apps, training platforms, dating websites, and even gambling platforms. From comprehensive ad network infrastructure to specialized publisher ad servers, and from native and video to mobile and email ad servers, we cover all aspects of ad serving.
For the past decade, our dedicated team has been developing our ad server, crafting one of the most comprehensive offerings in the market. With EXADS, you can rest assured that your advertising needs are in capable hands. Our robust ad server solution is not limited to specific channels or devices; it supports cross-channel and cross-device ad serving. This means your ads reach the right audience, on the right devices, and in the right context, maximizing their impact and ensuring your message is delivered effectively to your target audience.
EXADS Interface: Seamlessly Intuitive
When seeking the perfect alternative to AdKernel, consider EXADS, where an intuitive user interface meets the aesthetic requirements of your brand. We understand that businesses need more than just functionality. They need a platform that aligns seamlessly with their brand's identity. EXADS offers an interface that works effortlessly and looks good, ensuring it mirrors the unique essence of each business it serves. For this reason, our UX design team spends a lot of time refining each element of the platform's interface.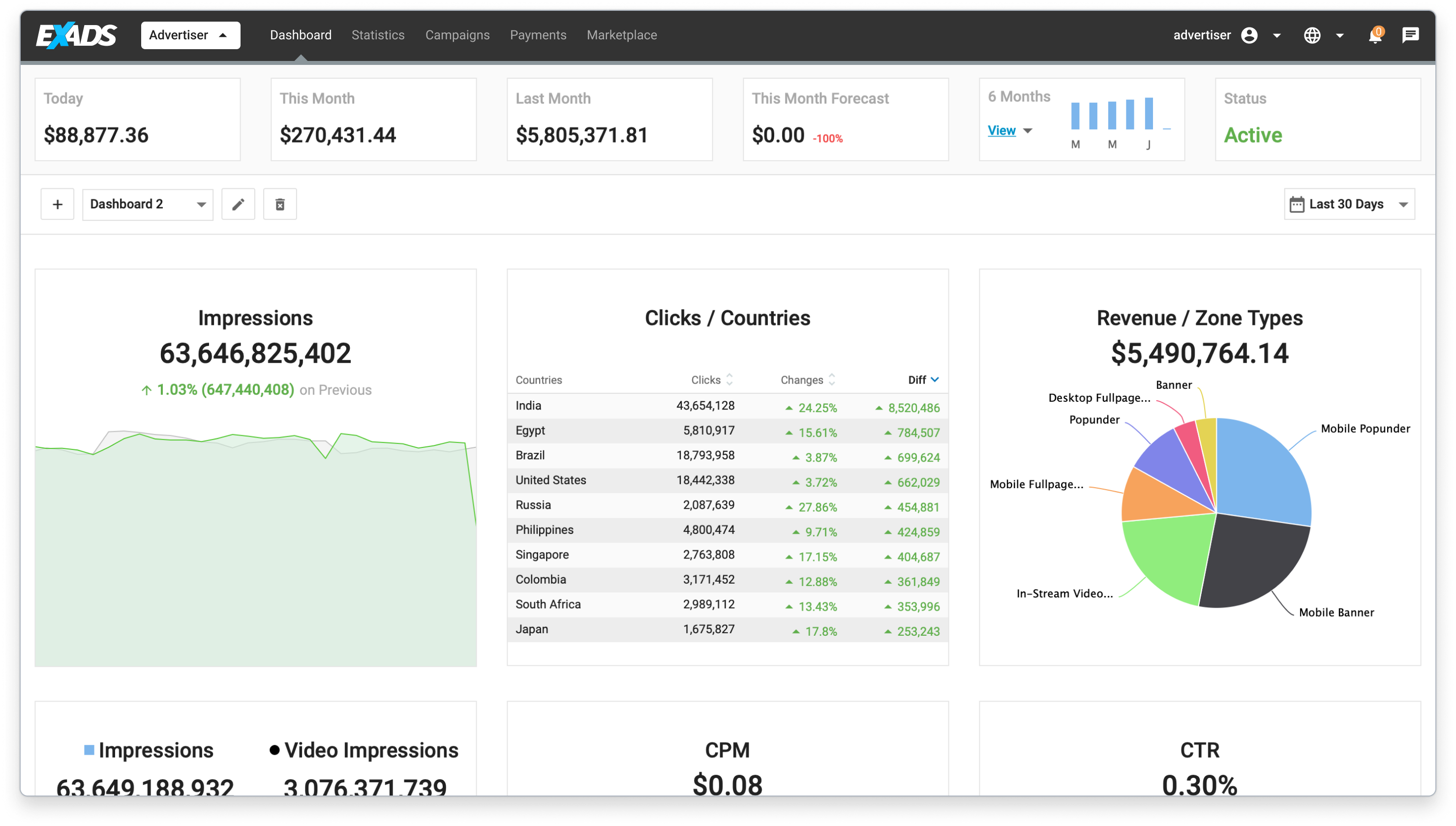 Our intuitive interface is designed for both ease of use and visual appeal, matching the look and feel of the brand. EXADS ensures that every interaction with the platform is not just productive but also visually satisfying. This attention to detail is what sets us apart – we believe in providing an excellent user experience aligned with all the other elements that build a brand.
In addition to our intuitive interface, we provide businesses with comprehensive support through advanced documentation that is detailed and easy to understand. EXADS aims to ensure that our clients and their advertisers and publishers have the tools and knowledge they need to use our ad serving platforms efficiently.
With EXADS, businesses discover more than just a powerful AdKernel alternative; they find a partner dedicated to delivering a seamless, and excellent user experience, perfectly tailored to their brand's identity.
EXADS' Rich Spectrum of Ad Formats
The variety of ad formats available can significantly impact a campaign's success. AdKernel might offer a good array of options, including display, native, video, pop-under, and push notifications, but let's talk about a game-changer: EXADS. What sets EXADS apart is its vast selection of ad formats, designed to cater to every need in the digital advertising sphere.
From multi-format ads that seamlessly adapt to different platforms and devices to responsive ads that ensure optimal viewing experiences, EXADS empowers its clients with unprecedented flexibility. But that's not all; what truly distinguishes EXADS is its commitment to customization. With the ability to create custom ad formats tailored to specific branding requirements and campaign objectives, EXADS clients can rest assured that they're not just using an ad format – they're using the ad format they need.
The Potential of Multi-Format Ads
Multi-format ads refer to ad placements that dynamically adjust to accommodate various ad formats, such as banners or native ads, within a single placement. Within this slot, the system facilitates the comparison of different banner sizes and native ad widgets, selecting and displaying the most lucrative ad in the Multi-Format ad zone.
This capability significantly broadens the range of bids available for a publisher's impressions, granting advertisers entry to inventory that was previously inaccessible.
Multi-Format Ads offer several key benefits for publishers. Firstly, they enhance effective monetization by increasing competitive eCPM rates through a variety of ad formats, leading to higher revenues. Publishers have full control, allowing them to select multiple ad formats and customize native widgets with specific fonts, colors, and styles.
These ads seamlessly integrate visually, with containers resizing automatically to match winning ad formats, ensuring a perfect display without disrupting site content. Setting up Multi-Format Ads is hassle-free, requiring only one script for each ad placement, simplifying the process. Additionally, publishers can conduct A/B testing, experimenting with different ad placements to optimize performance. With straightforward setup procedures and detailed instructions provided by EXADS, Multi-Format Ads offer an easy and effective solution for publishers looking to maximize their revenue potential.
The Flexibility of Custom Ads
Additionally, using the Ad Placement API, EXADS clients can create custom ad formats, freeing them from standard templates. Through direct interaction with the API, publishers can modify existing ad formats, altering their appearance and adding extra details to match specific requirements. They can even introduce unique JavaScript renderers with custom features. Publishers can fully personalize how ad formats appear on their website, enhancing the user experience and attracting better-quality traffic.
In essence, the Ad Placement API empowers EXADS clients to integrate their customized features into the ad server. This allows them to efficiently incorporate industry-specific, category-specific, and audience-specific ad formats, tailoring their advertising approach to precisely fit their business needs.
This flexibility allows EXADS clients to engage with the audience in unique ways, enhancing user experience. It also boosts the impact of ad campaigns, helping brands succeed in the digital world.
The Benefits of Responsive Display Ads
For digital advertising, adaptability is key, and that's precisely what responsive ads offer. An RDA, or Responsive Display Ad, is a type of banner ad designed to automatically adjust its size, format, and appearance to fit any standard IAB banner display ad space.
These RDAs are generated automatically using assets provided by the advertiser, including images, and text components like title, description, and brand information. The EXADS ad serving system then combines and tweaks these creative elements to create banners of various sizes. True to their name, RDAs are fully responsive, ensuring they appear seamlessly across all types of devices. This adaptability not only simplifies the ad creation process but also guarantees that content is consistently engaging.
EXADS gives advertisers the power of responsive ads and many other creative choices. This means they can try out different ideas and make a strong impact on their audience. EXADS provides a wide range of options, helping clients be more creative and push the limits of digital advertising.
Unrivaled Analytics and Metrics for Strategic Advertising
While AdKernel boasts strong analytics capabilities and the ability to integrate with third-party systems, EXADS takes data analysis and campaign evaluation to the next level. So what makes EXADS a great AdKernel alternative? Not only does EXADS support seamless third-party integrations, ensuring a smooth flow of data between platforms, but it also provides an extensive array of metrics for users to evaluate their campaigns and ad zones effectively.
With over 50 metrics at their disposal, platform administrators, their client advertisers and publishers can use EXADS to gain a comprehensive understanding of their performance. These metrics go beyond the basics, offering detailed insights into user engagement, click-through rates, conversion data, revenue, and much more. These real-time metrics can be filtered and segmented in a variety of ways, allowing for a deep campaign or ad zone analysis.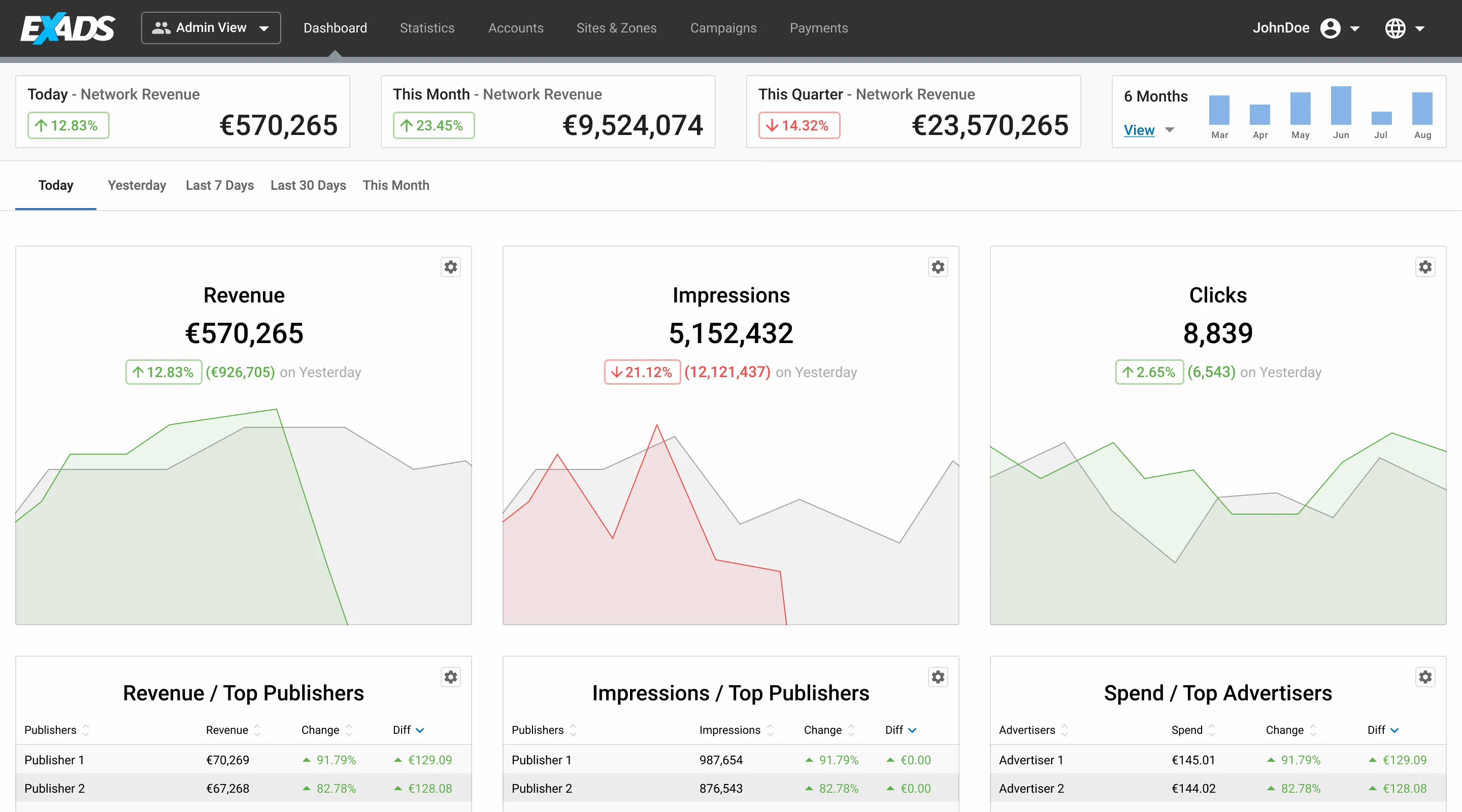 EXADS Statistics API
Moreover, EXADS provides access to Statistics API, meaning that businesses can have their analytics solutions tailored to their unique needs and preferences. The EXADS Statistics API allows businesses the flexibility to fetch statistics grouped by multiple dimensions simultaneously. Additionally, it enables data filtering based on specific criteria such as country or even a single ad zone. This level of customization ensures that businesses can access precise, detailed insights to refine their advertising approaches.
The EXADS Statistics API offers efficient and cost-effective solutions for businesses. Its lightweight and scalable design minimizes server and bandwidth usage. Utilizing RESTful API architecture, it can manage large amounts of data requests, without slowing down or crashing.
EXADS' Array of Powerful Features
Our ad server comes packed with an array of robust features designed to elevate your advertising game. Here are just a few:
Fine-tune audience reach with precision. EXADS, offers 15 different levels of targeting criteria, ensuring your message reaches the right audience at the right time: 1st party targeting, contextual, behavioral retargeting, ad zone targeting, and more.

Automatic optimizations: distribution algorithms that maximize the reach of the most effective marketing materials. Smart Bid, powered by machine learning, analyzes campaign data to optimize bids and ensures the desired target ROAS or CPA is hit, effortlessly. Additionally, The Bidder automates bid adjustments by ad zone, creating white lists, and applying rules to fine-tune campaigns across various dimensions.

Ad block recovery solution, helping to regain lost revenue and show ads to users who have ad blocking software installed and switched on.

On the administrative front, EXADS simplifies the management of online advertising businesses. From a single interface, businesses can oversee all aspects of their advertising. Plus, our system integrates seamlessly with third-party platforms, increasing efficiency.
Conclusion
To sum up, if you are looking for a robust and versatile alternative to AdKernel, then EXADS can be the right choice for your business. offering not just a user-friendly interface but a comprehensive suite of advanced features. Offering a user-friendly interface and a comprehensive suite of advanced features, EXADS covers all bases. Get in touch with us today to explore how EXADS can transform your digital advertising strategies, making them more effective, engaging, and ultimately, more profitable. Your journey to enhanced digital advertising starts here.