As the digital advertising industry is constantly changing and evolving, the needs of businesses active in this space follow suit. A business will start using an ad server that fits its needs at a certain point in time. Consequently, these requirements become outdated and that is when it is time to look for a better solution. So, if you are looking for an alternative to AdButler, or another ad serving platform, then you are in the right place! EXADS has the AdTech knowledge and flexibility to provide you with the ideal ad server for your business.
EXADS Solutions
EXADS helps advertisers, publishers, ad networks and agencies build their own powerful ad platforms and customize them as required. EXADS offers scalable solutions that ensure you have the tools and support to grow your business at the pace you want and increase your revenue.
For the past ten years our teams have been developing one of the best ad servers in the market. From a fully-fledged ad network infrastructure, to Publisher ad servers, native, video, mobile or email ad servers, EXADS covers all the aspects of ad serving, cross-channel and cross-device.
Moreover, our programmatic RTB integrations for Publishers and for Advertisers, can help businesses diversify, grow and increase their revenues.
With EXADS you can have a Demand-Side Platform (DSP) where you can manage your campaigns, media library, content, and have automatic optimization for your images, videos and creatives. It is an all-in-one super platform explained in our DSP blog post. You can add all your programmatic supply and you can create direct deals with advertisers, from one interface.
EXADS also has a white-label self-service solution for publishers looking to sell directly to ad networks, exchanges and DSPs. Our Supply-Side Platform (SSP) can be tailored to your business requirements and within weeks you can start taking part in programmatic RTB auctions or header bidding.
As our clients come from various industries with very different requirements, we know that there can't be a "one size fits all" solution. This is why we maintain a "Developers First" approach, making it very easy for clients to build their own ad platform based on our core modules, with EXADS APIs.
Better and bigger features
EXADS Ad Formats
You can avail of our vast range of ad formats, all of them built to the IAB industry standards and fully compliant with Chrome and the Better Ads Coalition. Our list includes formats such as Instant Messages, Native Exit, Popunders, Sticky Banners, along with Video formats, Email formats, push notifications and more. You can also save all your creatives in the Media Library and reuse them whenever you want.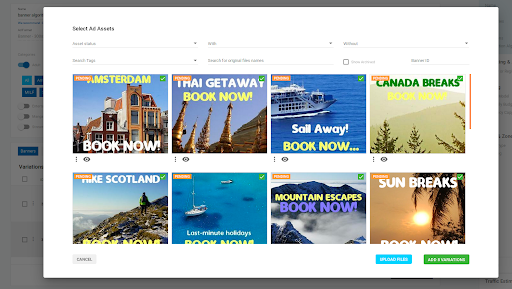 EXADS Targeting Options
Impactful targeting translates into higher ROI for both Advertisers and Publishers, while providing a better experience for the targeted audiences. At EXADS we provide unrivaled targeting options that help you achieve a better message reception, better engagement, and higher conversion rates.
Additionally to the targeting options that AdButler offers, with EXADS, you can reach narrow audiences targeting them by domain, IP range, mobile carrier or sub-ID. EXADS clients can even use Custom Targeting settings to ensure that they are serving ads to clearly defined audiences. Other options include language, time-scheduling, behavioral retargeting and much more.
EXADS Analytics
Optimizations are the key to success in digital advertising. In order to know what optimizations to implement, one must have access to reliable real-time analytics and intelligent data analysis.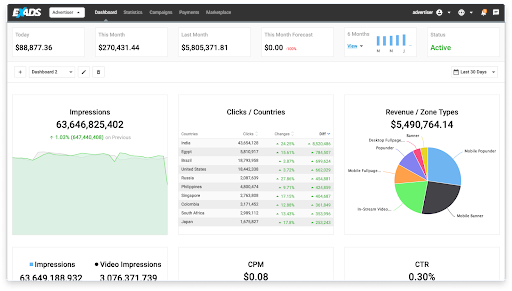 As an alternative to AdButler analytics capabilities, with EXADS, you can create customized dashboards where you can select from over 25 dimensions, 50 metrics and 25 filters. Moreover, you can save your filter sets and access the reports you need from the Saved Reports drop-down tab, copy or download your reports to share them with others. EXADS can also integrate and provide third party analytics.
EXADS Automatic Optimizations
Bidding optimizations can be time consuming; this is why with EXADS' Automatic Bidding Optimization you can intelligently adjust the bids for ad zones according to how many conversions they get and block those that don't convert. Our Bidder tool allows you to block under-performing browsers, countries, devices, languages, mobile carriers, operating systems, sites and zones automatically, according to rules that you set.
EXADS Pricing Models
The pricing models available when using EXADS cover the whole spectrum of options available in the ad serving industry. You can select from CPA, Dynamic CPA, CPC, CPM, Smart CPM or CPV.
CPM, CPC and CPA are the most commonly used pricing models. Nonetheless, at EXADS, we try to make things better for our users so we implemented models like Smart CPM, which allows you to bid for impressions at the best price possible, and the CPV model (Cost per View) which means that the cost is triggered when ten seconds of the video ad are displayed to the site visitor at normal speed.
You can find out more about our pricing models and see EXADS' recommendations in our pricing documentation.
EXADS listens and delivers
This is just a glimpse into the features that are available to EXADS clients. Our commitment is to continue adding improvements that make the lives of our clients easier, and above all will increase their ROI within weeks of establishing an ad server solution with us.
At EXADS, we listen to our clients and on top of the tech support we offer, we incorporate their feedback into our product roadmap to help us develop and deliver the best possible ad serving solutions.
If you are looking for a better alternative to AdButler or another ad server, try EXADS! Book a demo and let's start building your ideal ad serving solution!