Although we have seen a push from the digital world to evade the influence of Google, the tech giant continues to be a dominant force in this space. So much so that at least three of its projects can sway the direction of the digital advertising industry.
To place it all into context, Google's advertising revenue has slowed down. Its rivals and newer players are starting to erode its advertising business. This was also highlighted in The Economist: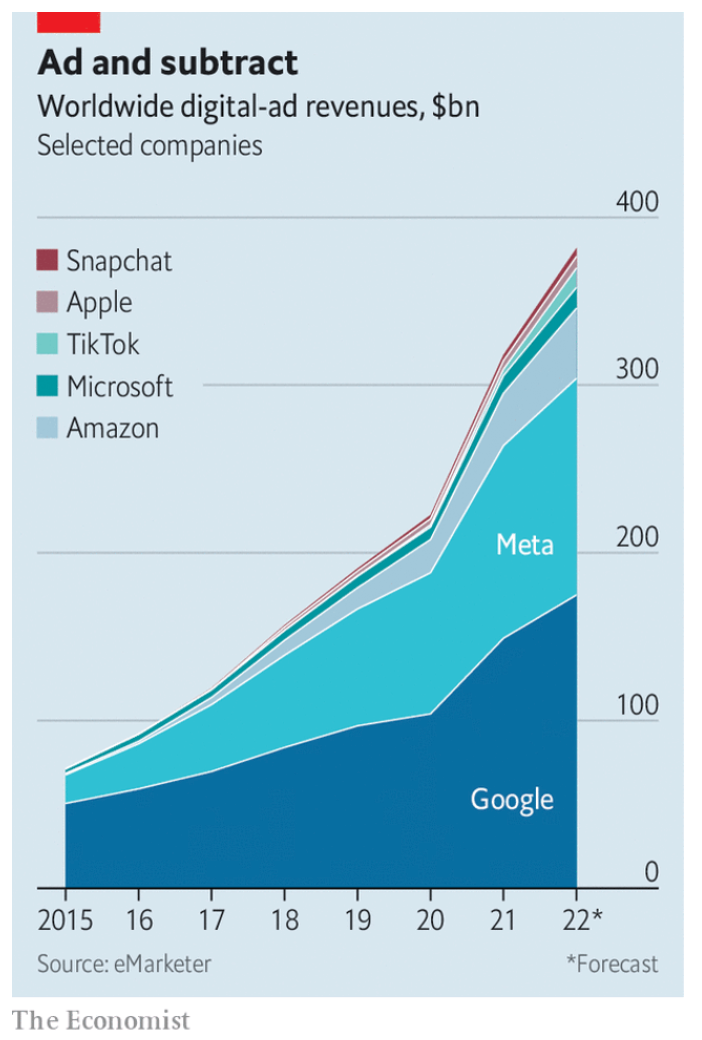 Furthermore, given the three hour GAM outage from last week, more businesses are looking for alternative solutions that would ensure a constant revenue flow.
The Deprecation of 3rd Party Cookies
Google's plans to eliminate third party cookies in 2023 and replace them with Topics API has been postponed once again. In July of this year, the company announced that it is extending its deadline to the second half of 2024.
In the official announcement Google attributed the delay to the feedback received from developers, publishers, marketers, and regulators, which for them was clear: the Privacy Sandbox requires more time to be tested. Google also added that they want to give advertisers more time to adjust to the new API.
One thing we can safely assume is that Google still has work to do on the Privacy Sandbox to achieve their goals. Although removing third party cookies will benefit Google as they have an unrivaled amount of first party data, they are also being monitored by the Competition and Markets Authority (CMA), the UK's antitrust regulator, so they have to ensure that certain competition standards are met.
Manifest V3 and Ad Blockers
In 2023, Google will be updating its Chrome extensions from Manifest V2, to Manifest V3, which essentially will see a new "declarativeNetRequest" API replacing the current "webRequest API". Google is stating that Manifest V3 is "more secure, performant, and privacy-preserving than its predecessor".
The MV3 however might render ad blockers useless as extensions will not be able to modify the web requests anymore; instead it will ask Chrome to modify them on its behalf. The catch is that the set of rules that this process will be based on, will be reduced by 90%.
This could mean that starting June 2023, when Chrome Web Store will no longer accept Manifest 2 extensions and existing extensions will be hidden from view, Chrome users will have no choice but to see ads.
With developers already looking at workarounds to ensure that ad blockers can overcome the impact of MV3, 2023 will certainly be an interesting year for Ad Tech. No solution can be fully tested unless it is tested in a live environment, so this is something that will peak the interest of the industry. You can read more about Manifest V3, in one of our previous blog posts.
User-Agent (UA) Reduction and Client Hints (CH)
This is another Google initiative affecting Chrome, which is meant to improve user privacy. The User Agent is the software that facilitates the interaction between the end user and the web content: web browsers, media players and plug-ins. This software allows web applications to gather information about the end user. This information is then used to optimize the user experience and better tailor the application's content to the user context. For ad tech, this is a crucial step that allows better targeting for ad placements.
In short, by reducing the information found in a typical UA string, Google is reducing the passive fingerprinting of users. However, through the introduction of User Agent Client Hints, web applications can still obtain the same information but they have to make an explicit request for it.
The User Agent Client Hints mechanism will increase user privacy and give web applications only the relevant information in a better formatted way. The downside is that companies will have to put time and resources into adapting their offering if they want to maintain their quality of service.
For the advertising industry, the impact of this initiative, though not supported by all browsers, will be latency in ad delivery and also pressure on ad tech companies to adapt to the new standard while also supporting the old one.
Conclusion
For 2023 Google is sharpening its focus to try and gain more ground in front of its competitors. This is clear if we look at some of the initiatives that they are planning on rolling out in 2023, and those that they are pushing back.
So how can businesses evade Google's dominance? Simply put, they can't since Chrome is still the number one browser used to access the internet, with over 60% share of the market. For the time being, everybody in the ad tech industry has to pay attention to the latest Google developments and adapt.

We also put together a list of ad tech trends for 2023, in which we highlight the main areas of interest for this year.