Table of Contents
Ad serving technology continues to evolve at a rapid pace and one way of keeping on top of the latest developments is to look at the pipelines of the most influential companies in the world of ad tech. In this article we look at key ad tech trends for 2023 and examine the opportunities and challenges ahead. What is the future of ad tech in 2023 and beyond?
Google initiatives
With the digital and ad tech landscapes evolving rapidly, there is always one force that has the power to draw the attention of everybody in the industry: Google.
In 2022, Google's ad revenue registered a slower growth than in previous years under the pressure of its competitors and newer players. Subsequently, Google has made a few interesting announcements last year, regarding initiatives that can have a big impact on advertising. The tech giant states that all of its initiatives are aiming to improve user privacy, performance and efficiency.
One of these was the deadline extension for third cookie deprecation to the second half of 2024. Google said that it will allow developers, advertisers, marketers and regulators more time to prepare for a cookieless future. However, it seems clear that Google has not reached their goal yet with the Privacy Sandbox, and they need to work more on it.
A second initiative is the launch of Manifest V3 for Chrome extensions, which could have a direct impact on the ability of ad blockers to function. You can read more about this in our previous blog post Google's Manifest V3 (MV3) Impact on Ad Blockers and Ad Tech.
The third initiative with a potential disrupting quality is the reduction of User Agent (UA) and the introduction of Client Hints for Chrome. While this will improve user privacy, it will require web applications to make specific requests for information about the user so that they can deliver the same customized user experiences as they did via UA. The impact will be felt by the ad tech industry in an increased ad delivery latency due to the extra requests needed. Moreover, as this standard is not yet supported by all browsers, web application developers will have to support both the old UA and the new standard (UA-CH).
With all of these initiatives, it seems that Google is trying to gather momentum for its advertising business in a bid to return to high-growth revenues. However things don't seem to be going according to plan. Just recently, Google left its GAM users in the dark, with a service outage of almost 3 hours. On top of the monetary losses suffered, this event gave a lot of businesses another reason to focus on back-up plans and alternative ways of selling their inventory.

Will Google maintain its strong hold over the ad industry in the years to come? It certainly appears so, but we need to keep "All eyes on Google"!
First party data reliance
One of the ad tech trends that will continue in 2023 is the drive for first party data. With Firefox and Safari starting to block third party cookies on their browsers, marketers have been expecting the same for Chrome users for a few years now. For this reason, a lot of businesses have already started to gather and leverage their first party data.
First party data offers the ability to deliver a highly targeted and personalized experience to audiences which is a win-win situation for all parties involved. Although the first data pool is not as big as it was with third party cookies, the quality of the data is definitely superior and provides a deeper understanding of customer needs and preferences.
Google, Facebook or Amazon are prime examples of how huge companies have used their first party data to establish themselves as advertising giants. Outside of this triopoly, large media publishers have taken the lead in using their first party data by successfully establishing their own ad tech "Walled Gardens". The New York Times, Business Insider and many more have monetized their first party data on their terms via these closed-type platforms.
The door remains open to industries such as retail, travel, streaming services and others. Same as Amazon, companies activating in these industries have the added advantage of having richer data from their users, making them very attractive to advertisers seeking a better return on their investments.
In 2023 we are going to see an even bigger emphasis on privacy and data regulations so it is highly likely there will be an increase in the number of companies turning their attention to their own first party data to devise collection and monetization strategies.
Contextual targeting for all
The requirement to protect user privacy will continue to be at the forefront of ad tech developments making contextual targeting the star feature of 2023 and beyond. The report Contextual Advertising - Global Market Trajectory & Analytics estimates that the global contextual advertising market will reach $376.2 Billion by 2027. Companies like TikTok and Reddit have already taken steps in this direction and many more will follow suit.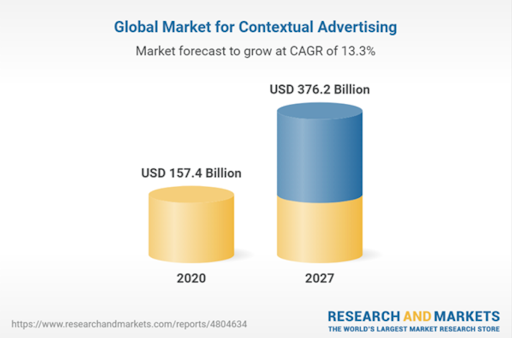 EXADS for example is offering tools for contextual targeting such as Keyword targeting and Key/Value Pairing targeting. So, what is contextual targeting fixing? Users are no longer targeted based on their past behavior with ads following them all over the internet. Brands can better place themselves in front of their audiences and deliver more suitable experiences without being disruptive.
This means that in 2023 we are going to see more ads being shown in relevant contexts and environments. As an example, when you browse a website related to ski gear, you will be shown ads for ski trips, ski wear and so on.
Seeing ads that match the content of the website or keywords associated with it, increases the chances of those ads to resonate with the user, achieve higher CTRs and ultimately a better ROI.
CTV leading the way in 2023
As Covid-19 kept all of us inside of our homes, there was a global shift in media habits and streaming services benefited fully from it. A study from eMarketer predicts that the US ad spend on Connected TV (CTV) will increase from $14.11 billion in 2022 to $16.34 in 2023 and $18.29 billion in 2024. For Europe, IAB's report on Attitudes to Programmatic Advertising, published in October 2022 showed that more than 50% of advertisers, publishers, agencies and ad tech consider CTV as a key to programmatic growth.
Although streaming services have long been associated with ad-free models, this is no longer the case. With YouTube, Hulu, and Roku accounting for almost half of current ad spend, this space is just about to get bigger. In November 2022, Netflix launched its ad-supported tier in the US, Canada and 9 other countries. Netflix is in discussions with studios to try to include more content, in the hope of making this tier more attractive. Disney+ also launched its ad-supported tier in December of last year, keeping the ads to a 4 minutes per hour ratio. Paramount Plus has priced its ad supported tier at just $5, half of the ad free version.
All of the above signal the fact that streaming companies are cementing the path to establishing Walled Gardens for themselves. The abundance of data they hold could make them potential competitors of the giant walled gardens of advertising, such as Google, Facebook and Amazon. Moreover, Hootsuite's global report shows that 93.5% of internet users are watching content via streaming services: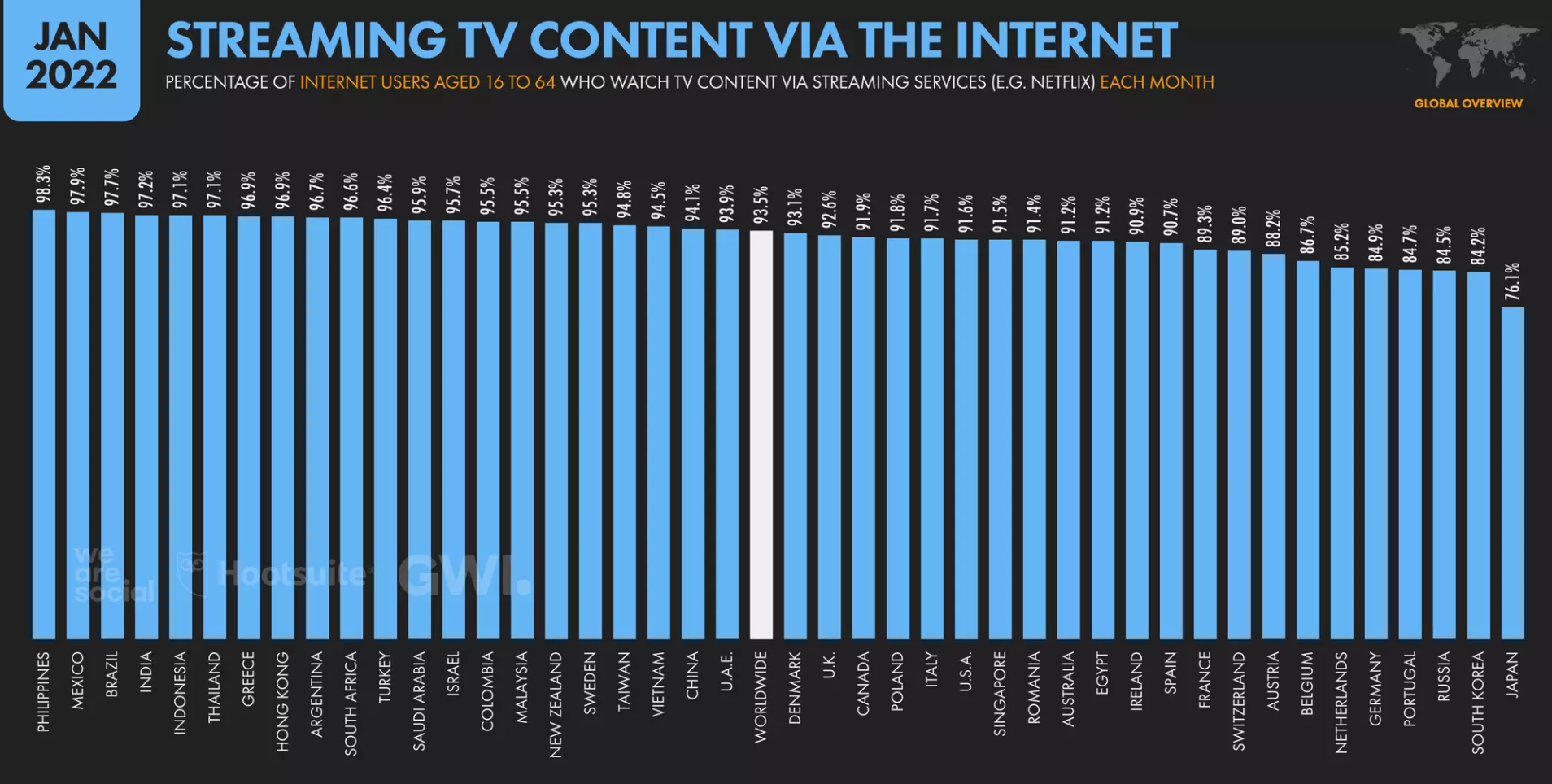 Source: Hootsuite
The major challenge that CTV advertising faces is measurement with the big issue being the identification of users across different platforms. Nielsen was one of the first companies that made developments in CTV advertising measurement. Their approach was seen as flawed by many; however, Roku has teamed up with Nielsen to enable measurement and evaluate CTV inventory's unique reach and frequency. The two companies claim that through their collaboration advertisers will be able to reduce waste and ensure relevant targeting for their ads. Other companies that are offering CTV advertising measurement solutions include iSpot and Adjust.
Brands and agencies are still looking for better measurement solutions and are expecting to have the same metrics available to them as they have for other advertising channels. Therefore, 2023 should be the year when we are going to see very interesting things happening for CTV advertising.
The rise of white-label ad servers
Factors like high costs for in-house resources, development and training, coupled with post-pandemic financial pressure and an imminent global recession are pushing companies towards off-the-shelf advertising solutions. White-label ad servers like EXADS offer the cost efficiencies and access to cutting-edge technology that many are seeking.
The white label software as a service (SaaS) model is becoming more attractive to companies looking for affordable platforms that can be customized to their requirements. By employing a white-label ad server, brands can have complete control over their advertising campaigns and the much coveted transparency in the inventory buying process.
Moreover, white-label ad servers such as EXADS come packed with powerful features and functionalities that allow advertisers and publishers to maximize their revenues via direct deals or programmatic advertising. White-label platforms enable the serving of various ad formats on all channels: Console, CTV, Desktop, DOOH, In-App or Mobile with the added benefit of automatic optimizations for bidding, traffic distribution and creatives.
The speed at which these platforms can be launched is also a key factor. It is a well-known fact that building an in-house solution is time consuming. Maintaining an in-house platform and further developing its capabilities is a never-ending process. With providers like EXADS, companies can have their own platform launched in weeks without having to worry about the technical infrastructure, maintenance or new feature development.
Adding 24hr human technical support and dedicated client support teams to this mix, white-label ad servers are the way of the future for a lot of large and small companies who want to protect their brands while ensuring maximum efficiency for their internal teams.
Video killed all other ad formats
With the CTV market starting to grow and mature and social platforms like Instagram and Twitter expanding their video features, it doesn't come as a surprise that video will be the star ad format for 2023 and beyond. We also highlighted this in a previous article that discussed ad tech trends.
Video ads can command the attention of audiences like no other format. They are compelling, engaging and capable of conveying messages consistently across all channels and devices.
The Content Marketing Institute found that 78% of content marketers are expecting their organization to invest/continue to invest in video in 2023 and Statista is forecasting that digital video consumption will surpass TV viewing time between 2022 and 2026.
So what are the strategies that are more likely to dominate video advertising?
Social media video ads are expected to account for almost 35% of all

social ad spend

in 2023 as over half of social media users prefer video content.

Shorter video ads that are concise and snappy are becoming the norm when there is so much video content available and so little time to catch the audience's attention.

Shoppable video ads are becoming a favorite: seeing detailed product videos and being able to purchase the products instantly is very popular with millennials.

Live stream video ads are also on the radar as live streaming is gaining popularity with brands who use them to connect in real-time with their audiences.
Advertisers and publishers need the right tools to take advantage of the immense potential of video ads. EXADS Video Ad Server is ideally placed to allow businesses that want to make the most of video ads to thrive, supporting a large range of video ad formats and video features while continuously innovating in this space.
Conclusion
The current socio-economic climate world-wide has affected forecasts for 2023 as many businesses are exercising caution in terms of investment and growth predictions. Without a doubt, 2023 is going to be an interesting year in terms of ad spending, audience behavior and expectations, and use of advertising channels.
With the same certainty we can say that EXADS will continue to stay agile and ahead of the industry challenges. We will develop products and features that will empower our clients and users to navigate this rapidly changing landscape. Contact us today to see how we can help you succeed in 2023!
This article was originally published in MarTech Series on 27th of December 2022.