Table of contents
Introduction
Responsive Display Ads are used by 84% of businesses as of 2023, as shown in Google Ads statistics
. This format has grown in popularity due to the fact that it reduces the amount of creatives required for the different types and sizes of banner ads. RDAs, as they are commonly known, help to save time and resources, but also allow advertisers to combine text and images for higher impact display campaigns. At EXADS we offer both Responsive Display Ads and Multi-Format Ads, giving our clients two performant tools that are required in a competitive market. In our previous blog post, we looked at the benefits of multi-format ads, so now, let's take a look at the various benefits of Responsive Display Ads.
What are Responsive Display Ads?
Responsive Display Ads, or RDAs are used by advertisers and publishers as the default ad format on the Google Ads Display Network. An RDA is a banner ad that automatically adapts its size, format and appearance to fit any standard IAB banner display ad placement. RDAs are created automatically from an advertiser's uploaded assets: images and texts (title, description and brand). EXADS ad serving system then combines and adjusts the creative elements into the following different banner sizes:
160×600

300×100

300×250

300×500

728×90

900×250
As the name suggests, they are fully responsive, so they display seamlessly across all devices.
As an ad network, offering RDAs to your advertisers means that they are automatically supplied with a full range of banner creative assets for their campaign. This allows them to target any banner ad zone across your publisher network.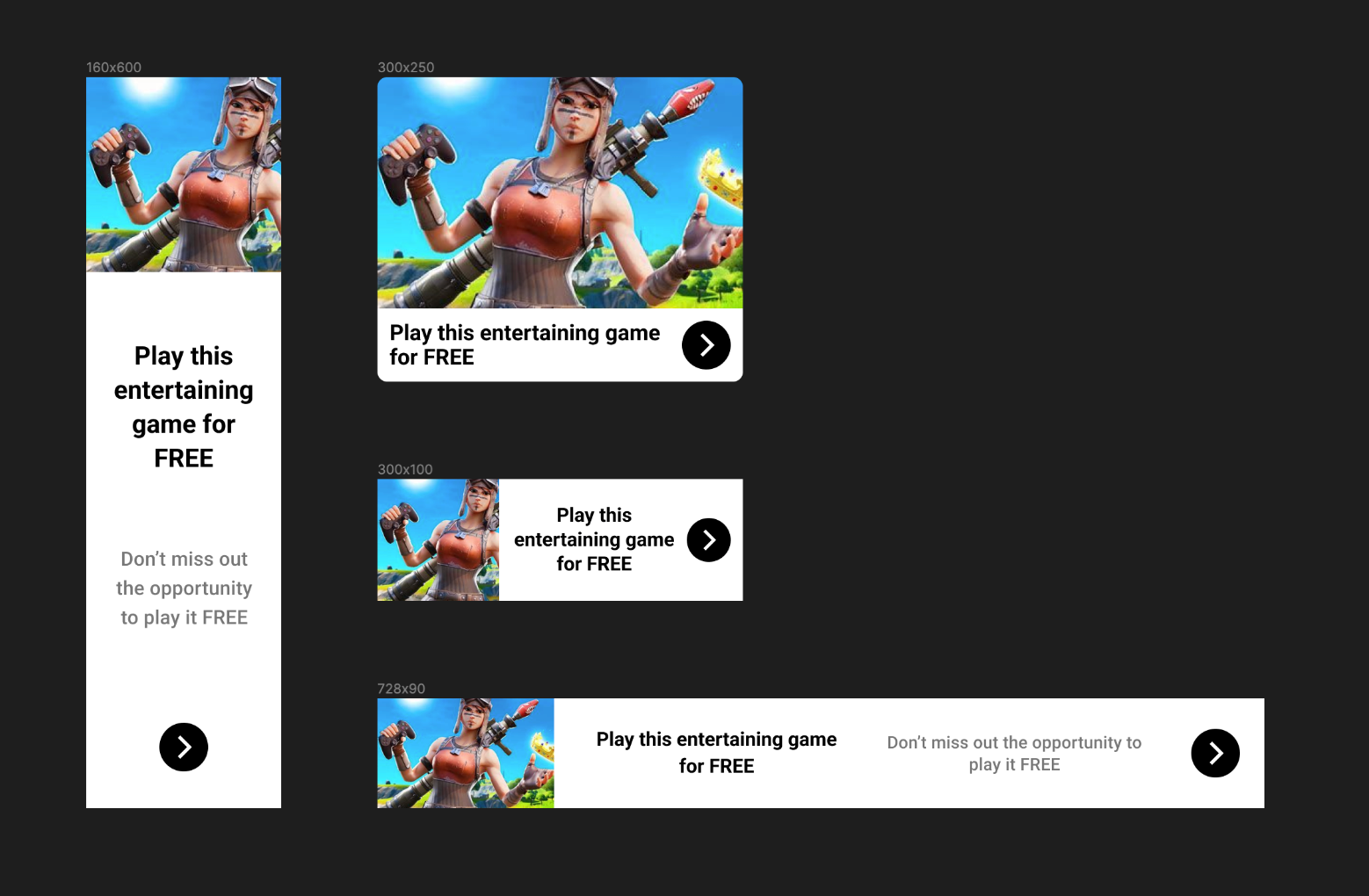 EXADS RDA Ad Network Experience
Responsive Display Ads offer multiple benefits to ad platform owners, such as:
Increased reach:

RDAs can automatically adapt to different ad sizes and formats, enabling them to display on all devices. This increased flexibility can help your advertiser clients reach a larger audience.

Better performance:

By testing multiple variations of the same ad, RDAs can help your advertiser clients identify the best performing ad copy and images and banner ad size. This can lead to better click-through rates, conversions, and overall ad performance.

Simplified ad creation:

Creating RDAs requires less effort and resources than creating multiple ads for different sizes and formats. This is a great feature that you can offer to your advertising clients to get campaigns up and running for testing almost immediately.

Improved user experience:

RDAs are designed to fit seamlessly into the content of a website or app, providing a more natural and engaging user experience. This can help reduce ad fatigue and increase user engagement.

Increased banner inventory sales:

With the ability to create several banner ad sizes for your advertiser clients, this increases opportunities to monetize your publisher clients' different sized banner ad zones. You can also encourage publishers who limit the banner sizes on their site to test out other banner sizes to attract RDA advertisers.

No setup required:

To

enable RDAs on your ad server

, all you need to do is to ask your EXADS Customer Success representative to enable it for you. By default, this feature is configured off on all Ad Servers.
RDAs can help to deliver more effective and engaging ads to audiences, while also simplifying the ad creation and management process for advertisers and publishers.
EXADS offers this feature for all of its white-label ad serving solutions. With Google already offering RDAs you will be offering your clients the same experience as Google Ads. Enabling RDAs will help you increase revenues and position your ad platform as a market leader in monetizing display advertising.
EXADS RDAs Publisher Experience
The Responsive Display Ads feature offered by EXADS brings a variety of advantages for publishers and the opportunity of increasing revenues. Due to an intuitive user interface, the complexity of using RDAs is kept to a minimum. As long as the feature is enabled on the ad server, any publisher can benefit from it.
Benefits of Responsive Display Ads for publishers
Attracts more advertisers to bid on ad zones: Some advertisers have limited design resources for ad creatives, this can impede them from creating a large range of ad variations to test and limit them by the lack of different sizes for their banner creatives to test out different sized banner ad zones. EXADS' systems ability to create Responsive Display Ads, opens up more available inventory for advertisers to target, which leads to more demand for the various publisher banner display ad zones.
Aligned with the IAB industry standards and Google: All RDAs are guaranteed to meet the industry standard ad weight because EXADS' system automatically creates the RDAs to be fully aligned with the IAB industry standards and Google Chrome's recommendations, so RDA ad zones are fully compliant with Google.
A great end user experience: RDAs are designed to fit seamlessly with a website's different ad zone sizes, RDAs do not produce ad creatives that are displayed squashed or pixelated, because the format is fully responsive. This provides a great end user browsing experience.
Qualified clicks means higher eCPM: Advertisers include a brand name in their RDA asset texts. This brand name is then displayed to end users on the RDA banner creative. This means that the end user knows that the RDA is an ad, and will only click on the ad if interested in the offer. This ensures qualified clicks for advertisers, making the RDA banner zones more competitive, which in turn brings higher bids, leading to higher eCPMs.
Easy to enable: If the feature is enabled on the ad server, publishers only have to enable the setting for RDAs in the admin panel while creating Banner and Mobile Banner zones.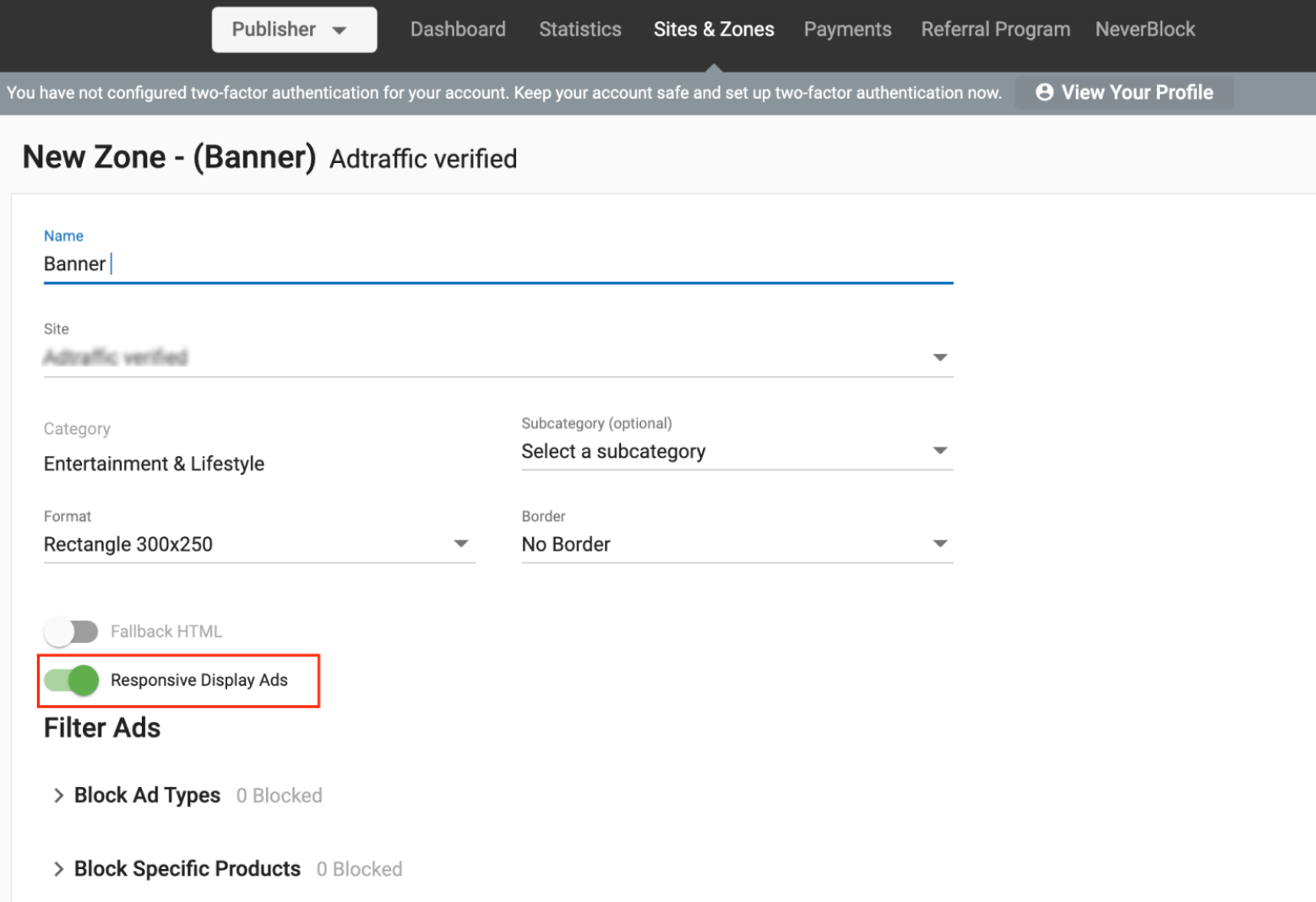 EXADS RDA Advertiser Experience
The EXADS platform is packed with creative tools for advertiser clients to optimize their campaigns and generate the maximum number of conversions. Let's have an overview of the benefits that using the platform's Responsive Display Ads can offer to your advertisers clients.
Benefits of Responsive Display Ads for advertisers
Easy RDA campaign set up: featured within the Native Ad campaign set up within the advertiser admin panel there is a Responsive Display Ads checkbox. This will allow the system to create the RDAs for the creatives uploaded to Native campaigns. Essentially using content from the Native campaign and then serving the ad to responsively display within the allocated banner zone. RDAs can be used together with the other native ad zone types or just to create specific campaigns for RDAs.

Launching campaigns quickly: Advertisers can launch a campaign targeting all display inventory (Native, Push, IAB banner sizes, etc) from a single creative, once again saving them lots of time, as a result freeing time to work on new campaigns, generating the potential for more revenue for both them and you.
Cost effective: RDAs offer a cost-effective solution to reach target audiences without investing time and money in design work. With just a couple of high-resolution images and texts, EXADS' system will automatically create banner ads of different sizes and image/text combinations to provide several variation sizes to test across different devices and banner zones.
Save time: They free advertisers from having to create multiple creative assets to target specific banner ad zones. Essentially, they save time for managing ad inventory and creatives within ad groups and campaigns, so that they can dedicate it to performance improvement.
Increasing data for optimization: Having a large range of different sized banners available to test can bring great optimisation opportunities. For example if an advertiser generally runs campaigns for 300×250 banners and that's the assets that they currently have, RDAs automatically bring different display sizes for them to test. This creates more test data and could reveal that they generate more conversions using different formats than the usual.
Conclusion
If you are looking for a third party ad server that offers Responsive Display Ads among many other powerful features, or if you want to find out more about our Responsive Display Ads, get in touch with us!